Governor Newsom signs executive order for storm relief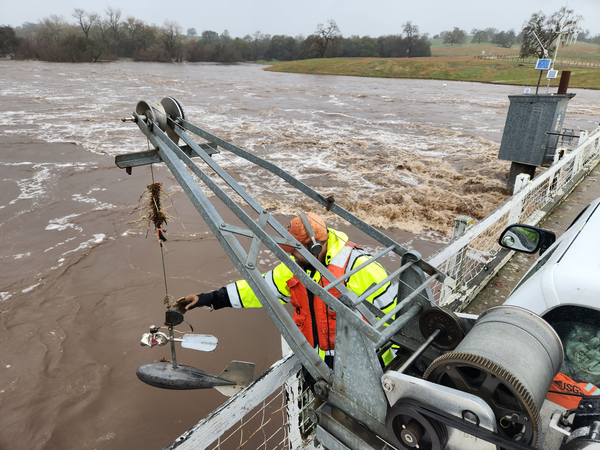 California Governor Gavin Newsom signed an executive order on Jan. 16 to support the emergency response to the series of winter storms that have afflicted the state since the end of December, providing aid to impacted communities.
The order suspends limitations on work hours and the period of employment for certain employees involved in the emergency response. In addition, it waives fees required to obtain replacements of official documents such as birth certificates. The order also aids health care facilities and schools in coping with the aftermath of the storms.
California experienced nine total atmospheric rivers starting from Dec. 31, resulting in heavy flooding, power outages, evacuation orders, landslides and dangerous conditions across the state. According to AP News, the recent storms have caused at least 20 deaths across California and one case of a missing child in San Luis Obispo County.
According to the National Oceanic and Atmospheric Administration (NOAA), atmospheric rivers occur when narrow atmospheric areas carry large amounts of water vapor from the tropics, which are then released as rain or snow, leading to flooding, mudslides and widespread damage in affected areas if the atmospheric river is strong enough.
Advanced Placement (AP) Environmental Science student Keesha Gondipalli (12) notes that the class frequently discusses climate change's impacts on weather and nature, especially in the context of the winter storms.
"We have discussion groups, and there was one time where we had wildfires, and so my group [had] a wildfire discussion and talked about what biodiversity is destroyed from it or how climate change is changing ocean currents or air currents, for example El Niño and La Niña," Keesha said. "Also [we discussed how rain is] getting heavier because of climate change."
Newsom first declared a state of emergency in California on Jan. 4, allowing for the state to dedicate resources to relief efforts, such as the use of the California National Guard. On Jan. 9, President Joe Biden announced his support for California's Presidential Emergency Declaration, only one day after Newsom's request, and on Jan. 14, Biden also announced his approval of California's call for a Presidential Major Disaster Declaration, only two days after Newsom's request. The Presidential Major Disaster Declaration allows eligible California residents in the Merced, Sacramento and Santa Cruz counties access to support and relief services, and provides California state, tribal and local governments with support and funding.
Upper school Spanish teacher, Green Team adviser and member of the Faculty Sustainability Committee Diana Moss encourages students to learn more about climate change and its impact on the environment to create change.
"[Students should] educate themselves, educate themselves, talk about climate change, talk with your parents, what are they doing at home that we could do better?" Moss said. "I think we have to get away from just viewing climate change as this gloom and doom inevitability. We have the tools, and we know what we need to do, and we just are not doing it; We need to be doing it faster. I feel like the only way this can happen is [if] a lot of people start talking about it, start demanding from our policymakers the kind of policies that we need to get the changes that we need to have happen."