'We're not colorblind:' Upper school commemorates members of the community during LGTBQ+ month
A sea of rainbow stickers glimmers in the sun, placed on the sweatshirts, masks and even foreheads of students. Scattered around campus, Gender-Sexuality Alliance (GSA) members offer these stickers to students, celebrating National Coming Out Day.  
Upper school students commemorated National Coming Out Day on Oct. 11, where GSA participants handed out rainbow-themed stickers to students. Celebrations continued throughout October, internationally commemorated as LGBTQ+ History Month, with speaker events where members of the LGBTQ+ community at Harker shared their stories about coming-out and their experiences.. GSA member Fern Biswas (10), who identifies as Lesbian and uses they/them pronouns, spoke on their favorite parts of LGBTQ+ History Month celebrations.
"I really love the assembly that GSA members typically do," Fern said. "It's really brave for people to go up in front of the entire school and say their identities, and it's always made me feel safer at Harker because if someone can go up and say it behind a microphone to the entire school, it makes me feel a lot more connected to the community in that sense."
GSA also held a speaker panel on Oct. 21, including Jacob Fernandez (12), who identifies as Gay, Lucy Anderson (11), who identifies as Lesbian, Aastha Mangla (12), who identifies as Non-Binary and Queer, biology teacher Eric Johnson, history teacher Donna Gilbert, who identifies as Lesbian and AP U.S. history teacher Dr. Chuck Witschorik, who identifies as Gay. The panel discussed topics such as self-acceptance, coming out experiences, reflections on LGTBQ+ advocacy and labels, as well as other subjects regarding LGTBQ+ issues.
"I feel like labels are sometimes helpful," Dr. Witschorik said. "And sometimes they're an approximation. And like on a rainbow flag, there's a lot of different places on the spectrum, such as the colors and the rainbow. And so I find myself generally, sort of in an area of that, but it's also flexible and approximate."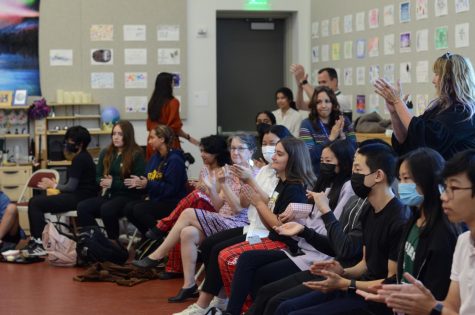 National Coming Out Day, observed annually on Oct. 11, began in 1988 on the anniversary of the National March on Washington for Lesbian and Gay rights, which involved 500,000 participants who pursued equal rights for the LGBTQ+ community. Harker has celebrated National Coming Out Day since 2002.
"National Coming Out Day doesn't just commemorate the moment where I was saying, 'Oh, I'm this and this is my sexuality and this is my gender,'" Fern said. "It also commemorates the period of years where it was a lot of work, time and effort on all of our parts to get to where we are now."
The GSA established in the fall of the 1999-2000 school year. Founder and advisor Abel Olivas, who identifies as Gay and uses he/him pronouns, helped introduce celebrations of LGBTQ+ members in the Harker community through the GSA and the recognition of important milestones that are now honored annually. Although the administration hesitated in founding the GSA and encouraging open conversation regarding LGTBQ+ topics, they eventually gave support to the students and opened a path for Harker to become the safe space it is today. 
Namrata Karra (12), who identifies as straight and uses the pronouns she/her, believes the Harker community can always progress further in terms of acknowledging and supporting LGBTQ+ members.  
"A lot of people go about their day saying, 'I'm gonna say things that make me comfortable, I'm not going to step out of my comfort zone and try to acknowledge other people's pronouns,'" Namrata said. "I think that's something we can work on where it's not about your convenience [regarding] someone else's comfort."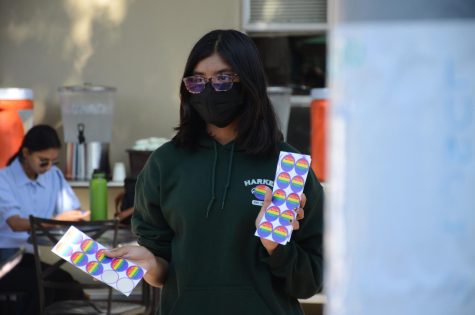 In 2018, GSA began the tradition of passing out stickers to students and teachers during lunch as a way for Harker to show support for the LGBTQ+ community. GSA member Hannah Jeon (9), who identifies as Lesbian and uses any pronouns, passed out stickers during lunch and appreciates the openness that the upper school encourages.
"In middle school, there wasn't as much light shed on LGBTQ+, but then in [the high school], it's more of a regular topic of discussion," Hannah said. "It's really fun to see how everyone is accepting towards the stickers and respectful too." 
Upper school theater teacher Jeffrey Draper, who identifies as Gay and uses he/him pronouns, also respects schoolwide efforts to embrace all members of its community, regardless of identity. 
"[Harker] is a really great institution for all kinds of acceptance," Draper said. "We're not colorblind; I love that we have all these affinity groups that celebrate each other so fully and so constantly, and I feel that [National Coming Out Day] is just an extension of that."
Coming out can be challenging, but the Harker community offers resources and support for anyone seeking help or advice while navigating their journey of acceptance.
"Don't suffer in silence," Olivas said. "I invite [people] to come to a GSA meeting because people at the GSA are at various points in their own path, in their own journeys, so to speak. Try to connect with someone and get some support, whether it's on an individual basis or from a group like the GSA."