Temperatures reach record highs in week-long heat wave, upper school cancels outdoor activities
A record-breaking heat wave on the West Coast raised temperatures to over 100 degrees Fahrenheit at the upper school campus, leading to the cancellation of outdoor activities this week.
As per school policy regarding high temperatures, outdoor sports activities, including cross country, golf and tennis practices, basketball pre-season workouts and certain P.E. options, did not take place over the past two days, according to athletic director Dan Molin. Football practice moved inside the gym, where they are sharing the facility with the girls volleyball team. In addition, the cross country team did not compete at the Firebird Invitational on Tuesday, which meet organizers canceled due to the heat. In an email sent to the parents Wednesday evening, upper school nurse Debra Nott announced that, with temperatures forecasted to exceed 100 degrees, this policy would continue for today.
"The athletes' safety is our number one priority, so I'm glad we were able to practice what we preach in that respect by canceling practices today," cross country head coach Kevin Oliver said. "When it gets to these extremes, triple digit temperatures, I do think it makes sense to avoid high levels of exertion entirely."
As means of coping with the high temperatures, students have stayed inside air-conditioned buildings and avoided sunny areas on campus. Many students have chosen to eat lunch in indoor seating areas, such as in the auxiliary gym or Manzanita Hall, rather than outside in the heat.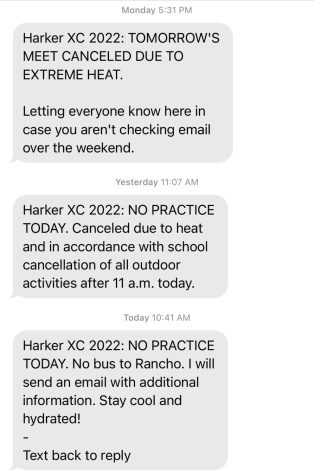 "I'm very tired — every time I walk out, it's not great," Associated Student Body Vice President Gordon Chen (12) said. "Aux [is the best building to be in]. It's really cool in there, and there's the water supplies and everything. It's great."
The heat wave across California has set all-time high temperatures in some parts of the Bay Area; in San Jose, the high of 109 degrees on Tuesday broke the record for highest temperature last set in 2017. The National Weather Service has issued an excessive heat warning for the San Francisco Bay Area that will remain in effect until 8 p.m. today.
To stay safe and healthy in higher temperatures, the California Office of Emergency Services recommends avoiding direct sunlight, and, if possible, staying indoors. Hydration is also important, specifically, not just drinking water when feeling thirsty. 
"Be sure your child has a full water bottle tomorrow morning and it would be a good idea to include some ice," Nott said in an email sent out to all parents Monday evening. "No child should bring a jacket to school. All teachers and staff will be encouraging students to drink plenty of water and we have filtered water stations for refilling water bottles throughout the day."
Some California residents have faced rolling blackouts over the past few days due to record-high strains on the electricity grid. For the duration of the heat wave, the California Independent System Operator recommends that households refrain from utilizing major appliances, turn off extraneous lights and set their thermostats at or above 78 degrees between the hours of 4 p.m. and 9 p.m., when the electricity grid is most highly strained. 
The heat dome, the main cause of the heat wave, forms when a high pressure area traps air underneath it. The sun heats up the stagnant air, leading to increasing temperatures. While climate change may not have directly caused this particular heat dome, the frequency of these unprecedented and unpredictable weather conditions is increasing in part due to climate change.
The Weather Channel forecasts that temperatures will peak at 103 degrees Fahrenheit today at around 3 p.m. and 96 degrees Fahrenheit tomorrow. Temperatures will drop to around 80 degrees starting Saturday.