School meeting recap 8/23/22: First week of school, performing arts and fall sports updates
Associated Student Body (ASB) President Kris Estrada (12) began the first school meeting of the 2022-23 school year on Tuesday. 
Model UN Secretary Generals Mir Bahri (12) and Krish Maniar (12) performed a skit introducing the organization and how conferences work through comedic scenarios. They then announced Model UN's plans to travel to New York and Oregon for conferences. By joining the Model UN Schoology group and visiting their booth at Club Fair, students interested in the organization's activities will have the opportunity to sign up and receive emails and updates. They also announced the Model UN Kickoff event to be held on Sept. 16 from 4 to 8:30 p.m., where students can learn more about the club, enjoy dinner and attend a mock conference.
Director of Performing Arts Laura Lang-Ree reminded students about the Conservatory Kickoff, which occurred on Wednesday evening. Students learned about classes, performances, ensembles and other opportunities offered by the Harker Conservatory spanning from instrumental music to theater and dance. She also spoke about upcoming auditions for a variety of performing opportunities including the fall play, spring musical, dance production and Student Directed Showcase (SDS), which are open to all students.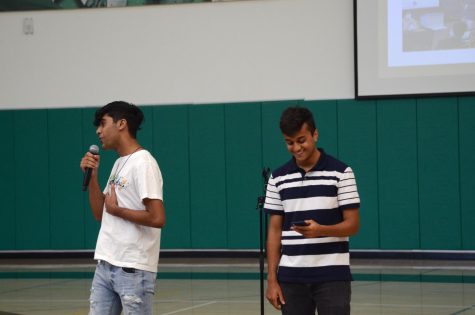 She then turned the spotlight towards instrumental music teacher Jaco Wong, highlighting availability in the Harker Orchestra, which is going on a trip to New York and Carnegie Hall in the spring, and prompting those interested in joining to contact Wong via email or in person. 
Finally, on behalf of the dance department, Lang-Ree discussed the opening of after-school dance schedules and confirmed that class choices and times will be posted on Schoology after the meeting. She further encouraged students to participate in performing arts and thanked them for supporting their friends, even if they are not performers or crew.
Co-Admin Kabir Ramzan (11) welcomed everyone to the new school year before introducing HarkerDev, the school's software development student organization. He continued by describing the current applications run by HarkerDev. The Harker Bell Schedule displays the schedule—including special or adjusted days—for the next month, the lunch menu and ASB reports, as well as customizable color schemes and class names. Links to all other HarkerDev applications like Harker Announcements, Spirit Point Trackers and the GPA Calculator are available at their home site. More apps are currently in development, so Kabir encouraged students to stay tuned for updates.
Kabir also noted that Harker Pay, the payment app connected to students' accounts, will no longer be available for use, so club fundraisers will be done via cash or other payment platforms. Additionally, volunteer hours can no longer be submitted through HarkerDev applications, so reports should be sent directly to Director of Community Service and Student Activities Coordinator Kerry Enzensperger.
Kabir finished off by announcing that fall applications for this year's HarkerDev cycle are now open. The preliminary application form can be found here.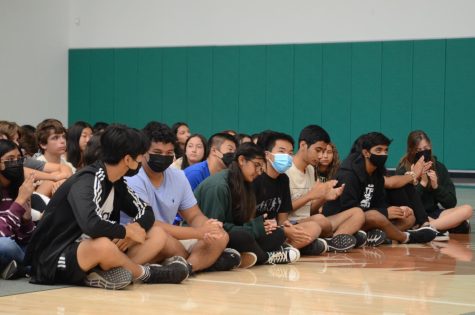 Following Kabir's announcement, Harker Journalism's strategic team for this year shared updates about their various publications with the upper school community. 
Winged Post co-editors-in-chief Sabrina Zhu (12) and Sarah Mohammed (12) announced that the first issue of the Winged Post is coming out this Friday and will be distributed during lunch.
Harker Aquila co-editors-in-chief Sally Zhu (12) and Isha Moorjani (12) and Harker Aquila and Winged Post Managing Editor Arjun Barrett (12) encouraged students to visit the Aquila site and check out the latest articles there.
Humans of Harker editor-in-chief Tiffany Chang (12) and Humans of Harker co-managing editors Michelle Wei (11) and Olivia Xu (11) explained the Humans of Harker program, which involves creating a profile for every senior that will be published on Aquila. All seniors should stay on the lookout for emails from Harker Journalism reporters, who will be reaching out to schedule interviews between now and the end of the school year. 
TALON yearbook co-editors-in-chief Lavanya Subramanian (12) and Lakshmi Mulgund (12) announced that the Spring Supplement will be distributed to all sophomores, juniors and seniors in early September. Students may follow @harkertalon and @harkeraquila on Instagram for more information and updates on Harker Journalism's publications throughout the year. 
Next, upper school Athletic Director Dan Molin introduced Assistant Athletic Director Alfredo Alves, along with this year's new athletic staff: Head Athletic Trainer Wes Howard, who came to Harker after 24 years of professionally playing for the San Jose Sharks, and Strength and Conditioning Coordinator Lauren Brown, who came from her previous coaching job at Dartmouth College. 
Molin also mentioned that this is the final week to join fall sports. Options include cross country, cheerleading, football, boys water polo, girls water polo, girls volleyball, girls golf and girls tennis. Winter sports are just around the corner, so students should watch out for emails if they are interested in joining the basketball or soccer teams.
All student athletes should drop their athletic bags off at the locker rooms in the Zhang Gymnasium when they come to school, as no athletic bags will be allowed around campus. The door to the locker rooms will open at 6:30 a.m. every morning, but the Zhang Gymnasium building will remain closed until 3 p.m. Additionally, no food or drink is allowed in the stands. Students will also be receiving an email later this week regarding afterschool P.E. credit.
Finally, BB Ajlouny (12), Abhi Namala (12) and Zain Vakath (12) delivered the first Eagle Update of the year. 
After teaching the basics to the Class of 2026, students collectively "put their eagles up" for the first time this year, celebrating all of the student athletes this fall.
On Tuesday, both girls varsity and junior varsity volleyball played Archbishop Riordan at 4 p.m., while frosh girls volleyball also played Riordan at the Auxiliary Gym.
On Thursday, frosh girls volleyball plays Branham High School, followed by junior varsity playing Branham High School and varsity playing Branham High School. 
On Friday, boys varsity football plays Harbor High School at an away game at 7 p.m. 
On Saturday, boys junior varsity water polo plays Stevenson High School, followed by boys varsity water polo and girls varsity water polo also playing Stevenson High School. These are all away games.
To conclude the meeting, upper school Division Head Paul Barsky congratulated frosh and sophomores for successfully finding their classes on the first day of school. Barsky also said he had received a note over the weekend reporting that some Student Handbooks had been thrown into the bushes. He reminded everyone that as a community, students should always remember to respect the school and the environment, as they head into the start of the school year.