Frosh class attend orientation, sophomores, juniors embark on class trips to kickstart school year
by Ella Yee, Co-News Editor
August 22, 2022
As an annual tradition celebrating the start of a new school year, the incoming ninth grade class attended orientation at the upper school campus while sophomores and juniors participated in ropes courses and rafting off-campus trips on Thursday.
The junior class met at 6:10 a.m. on the upper school campus before taking a three-hour bus ride to the South Fork of the American River. Students first attended a safety orientation led by guides from the O.A.R.S. rafting company and then suited up in life vests and helmets. After a quick lunch, the juniors separated into their advisory groups and entered the rafts, where the O.A.R.S. guides instructed them on proper rowing techniques before taking off.
"It was really nice to get together since we haven't had an off campus class trip in a while due to COVID," Kaitlyn Wang (11) said. "For our sophomore class trip, we went to the middle school campus, but I thought the place we went [for rafting] was a good location with lots of activities to do."
Though the advisories first practiced rowing in coordination and following commands in calmer waters, the tour included class I, II and III whitewater rapids, with classes covering different terrains and increasing in difficulty, spanning approximately 12 miles in total. Throughout the tour, students had chances to voluntarily leave their rafts and swim in the river. In parts of the river that had rock obstacles or turbulent rapids, some juniors unexpectedly fell into the water, requiring assistance from fellow students to climb back into their rafts.
"I think junior year is good timing for [the rafting trip]," Business and Entrepreneurship teacher and junior advisor Michael Acheatel said. "Sharing that tight of a boat or pulling each other out of the water might have been a little much to ask for a freshly bonded group, but it gave our advisory an opportunity to not only laugh and goof off but also do some teamwork."
Sophomores met on Davis Field at 7:30 a.m. before a two-hour bus ride to the ropes course located in the Santa Cruz mountains. Upon arrival, they split into groups consisting of a few advisories to participate in team bonding activities. In one activity, students formed a circle with their left palms open and their right index fingers above a neighbor's palm. To win the game, students had to pull their right hand away and catch their neighbor to the left.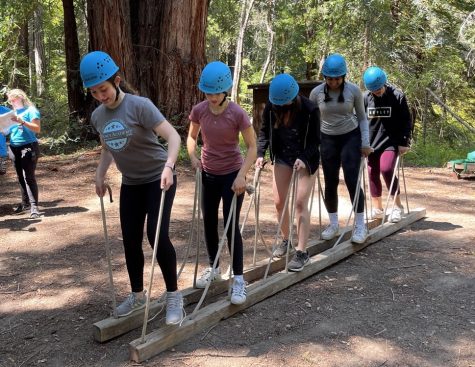 The sophomores then moved on to the ropes course, which involved a variety of wooden obstacles. After a break for lunch, they returned to climbing on the ropes course in the afternoon.
"I thought the trip was an excellent opportunity for us to do some team bonding," Alex Huang (10) said. "My favorite part of the day was when I stood on the ground and helped other people climb by encouraging them and pulling the rope so that they wouldn't fall off. I've done rock climbing before, but I've never helped someone else do the climbing, so it was a new experience for me."
Frosh orientation began at 10:15 a.m. in the Nichols Atrium, where students had the opportunity to meet new people and reconnect with familiar faces. After a few minutes of mingling, freshmen gathered by advisory to introduce themselves to their fellow advisees.
"I'm new to Harker this year, so meeting and getting to know everyone was pretty exciting," Aashvi Ravi (9) said. "[It made me feel like] the rest of this year is going to be really fun."
The class then headed out to Davis Field for activities led by Apex Adventures, a company that organizes various team bonding events. Advisories competed against each other in a series of challenges that involved communication and cooperation, such as filling a column with water to raise a rubber duck or sorting themselves based on numbers from playing cards without talking.
"Freshman orientation is a great tradition," Anika Akkiraju (9) said. "My older brother played the exact same games and even talked to me about them right before orientation. He made it sound really fun, which it turned out to be."