Ballgowns and bow ties: Students prepare fashion statements for prom
"Cinderella never asked for a prince. She asked for a night off and a dress," romance novelist Kiera Cass said in a Bustle interview.
While many upper school students still approached their princess, prince or even friends in a series of promposals, they decided to live their happily-ever-afters for prom in style.
Prom fashion is a key aspect of the prom experience. Students make shopping excursions to local malls and boutiques with friends over weekends, hoping to select the perfect outfit, while others pass around their phones during lunches to show off their selection. Prom fashion has evolved as trends come and go, with babydoll dresses being the trademark of 1971 prom, two-piece sets making waves in 2016, muted colored suits trending in the 1930s and bright-colored tuxedos appearing in many 2019 proms. Some perennial trends among prom dresses include sequins, full ball gown shapes and mermaid skirts, which hug the body till the knee and then flare out dramatically.
After returning to campus from a pandemic, the upper school prom takes place on Saturday at Winchester Mystery House, making it the first prom for both seniors and juniors, who embraced the formal wear for the event in their unique styles. Here are the thoughts of students from both classes on their style and outfits for prom.
Reagan Ka (12)
I got [my prom dress] from a designer called Teuta Matoshi. Since I didn't get to have a prom last year, I really wanted to go all out this year, and I really admire Teuta Matoshi. I think a lot of her dresses are really beautiful, and I've been dreaming of having this dress. Now, this is my first and last prom, so I really just want to go all out.
I feel like my style is all over the place, some days I dress more androgynous and some days I'm more feminine, so this really embodies my more feminine side, and I really love that. It makes me feel like a princess.
Spencer Cha (12)
I'm wearing a tuxedo. It's pretty traditional. I actually bought it [instead of renting] because I needed one for a bunch of things this spring, so I bought it from Hugo Boss.
Priya Rohra (12)
I got [my dress] from Trudy's because a lot of my friends and I went there together. I'm not a particularly picky person, but when I tried that dress on I couldn't see myself in any other dress. It was a "you know it's the one" moment. I actually chose my dress first out of my friend group, so it was cool to go with some of my other friends and watch them experience that moment.
This is extremely different from what I normally wear. I went in with no expectations. I think I wanted something bright and fitting, but you always tend to leave the store with something that you never normally go for. One of my really close friends, she really wanted an open back with a more muted color but she came out with a one-shoulder, very disco-y, bright purple dress.
Richie Amarillas (12)
For prom, I'm actually going to wear a pretty basic black tuxedo, black pants, shiny black shoes, no colors this time. I usually like to go colorful. For example, for matriculation my sophomore year I wore hot pink, and for prom last year, I wore a pink suit. For Student Directed Showcase [and Hoscars], I wore a purple suit.
But for this prom, I want to look sharp. I don't take a lot of things seriously, because I don't want there to be a lot of pressure in life. I like to just take things cool and slow, and that's why I like wearing colors, but now I'm graduating, and I'm mature, and I'm a big boy. I'm wearing black because I'm kind of graduating from all that. I'm a man now.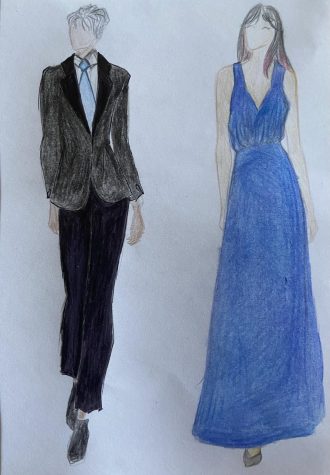 Ashley Ma (11)
I got this dress on Saturday. It's navy blue and floor length. I got it on a [trip] to Valleyfair, and I went with my mother — she has lots of opinions. I knew I wanted something in a solid color, because something about florals annoys me a little bit; especially like in a prom setting, I feel it's too casual. I also wanted a darker color because my hair is red, and I wanted a color that would work with the hair.
Aneesha Asthana (11)
One thing for sure is that I'll wear earrings and they'll be nice. I have earrings that come in all fun shapes and sizes, like I have one that looks like a disco ball . . . I might wear those. And I have some that look like famous paintings.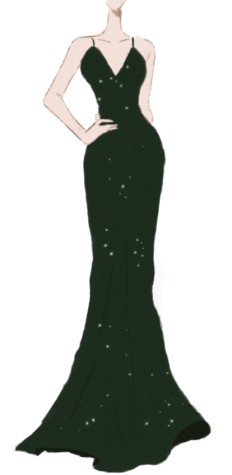 Ashley Barth (12)
I got the dress at Trudy's which is in Pruneyard [Shopping Center] in Campbell.
I tried on a lot of different dresses, and I love wearing dark green, so that is the main reason why I chose this dress. Most of the dresses I tried on where more form fitting at the top and loose on the bottom, and I was drawn to that cut since the beginning, and I chose this simply because of the color.
Of course, I'm excited for prom because the actual dance will be fun, but I honestly don't know what to expect since the longer dresses are a bit difficult to move in.
Gordon Chen (11)
I am going to be wearing a black tuxedo [and] black dress shirt with a gold bow tie and pocket square to match my personality [because] gold is one of the only non-generic colors. I chose a tux instead of another tux because it's traditional, it's prom, might as well go all out.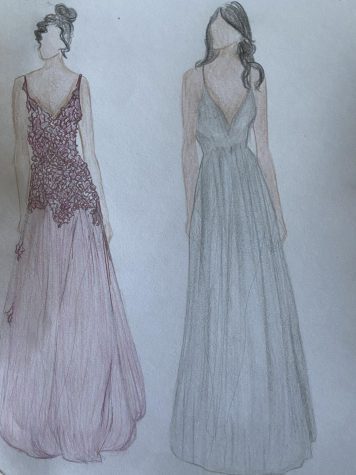 Zeel Thakkar (12)
I liked this dress because I didn't want anything too fitting and wanted to look more on the elegant side, so I really like how simple this dress was, but also that it had nice elements to the top part. I liked the cut as well.
I was going for a more delicate vibe. I would usually wear jewel tones or something darker, a deeper color, so this dress was definitely very different from what I would normally wear.