School meeting recap 1/25/22: Culture Week, Valentine's Grams and Chinese New Year festivities
by Julie Shi, Reporter
January 28, 2022
Associated Student Body (ASB) president Dawson Chen (12) started the school meeting this Tuesday.
The Student Diversity Coalition (SDC) announced Culture Week would be held from Feb. 21 to Feb. 25 and discussed its scheduled activities. Events will include the Culture Performing Arts Showcase, Culture Day Booths and Culture Week Art Exhibit. Those who wish to participate should sign up by today at tiny.cc/sdccultureweek. 
The Student Diversity Leadership Gathering (SDLG) will be held virtually on Feb. 5 and will host schools across the bay area. Students may register at this link.
The Student Events Committee played a Valentine's Grams promotional music video featuring the committee parodying Justin Bieber's "What do you mean," with lyrics providing information on the Grams, little goodie bags students, faculty and staff may send to friends and significant others for Valentine's Day. Afterwards, committee members Jacob Huang (11) and Yejin Song (12) announced the logistics of purchasing the upcoming Valentine's Grams. They will be sold this week from Wednesday to today during lunch and after school for $5 and will contain a personalized note, heart shaped chocolates, a teddy bear and either a red rose representing romance or a gold rose for friendship.
TALON Yearbook Organizations Editor Rachel Ning (11) shared logistical information about club photos, which took place this Tuesday in the quad during morning office hours and would continue during lunch. All club officers should have received an email with their designated club photo time and information on how the process will work. 
After the "put your eagles up" chant, Harker Spirit Leadership Team (HSLT) Co-Secretary of Athletic Affairs BB Ajlouny (11), HSLT Outreach Coordinator Elvis Han (12) and HSLT Co-Secretary of Athletic Affairs Zain Vakath (11) led this school meeting's Eagle Update. They reminded anyone interested in swimming to attend the interest meeting, which took place this Tuesday at 1 p.m. in the visiting team room in the Athletic Center. Spring sports begin next Monday, so all athletes should register for the season and have their Magnus paperwork filled out.
Varsity boys soccer defeated Woodside Priory this Wednesday and earned a huge 3-0 victory over Sacred Heart Prep on last Friday to remain undefeated as they maintain sole possession of first place in the West Bay Athletic League (WBAL). The team dominated Eastside College Prep 7-0 this Monday to improve to 9-0-1 overall.
Varsity boys basketball crushed Pinewood on Friday Jan. 21 in a 81-77 victory to improve to 8-7 overall and 2-3 in league play. Bowen Xia (9) scored 24 points in the win. The boys lost the first of a back to back matchup against league leader Sacred Heart Prep this Monday and had their rematch this Tuesday.
Varsity girls soccer maintains their perfect season at 11-0 after their 6-0 victory last Friday over Eastside College Prep. They had a match this Tuesday after school against Pinewood.
Varsity girls basketball remains undefeated with 15-0 with their 42-20 win at Sacred Heart Prep last Friday. The girls played Menlo on this Tuesday in a non-league matchup before traveling to Eastside College Prep this Wednesday. They will host Eastside College Prep today. 
The kitchen distributed chocolate cake yesterday for National Chocolate Cake day.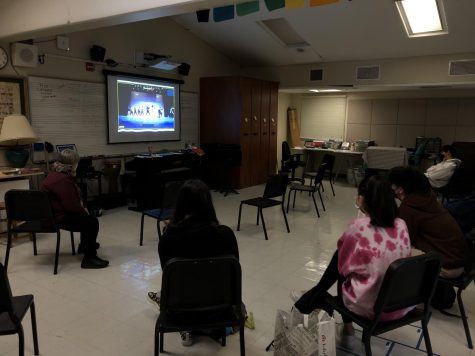 BB played his video documenting the preparation process behind the upper school dance production. Choreographers and dancers, including upper school dance teacher and varsity dance team director Karl Kuehn, senior choreographers and routine members, talked about the process of preparing and practicing for the production in a series of interviews and vlogs.
The dance production will have three showtimes: 7:30 p.m. today and 2 p.m. and 7:30 p.m. tomorrow. All three of the shows are sold out, and free live streaming will be provided for the Friday night show.
Andrea Thia (12) and Shahzeb Lakhani (12) announced Chinese National Honor Society and International Outlook Foundation's partnership to celebrate Chinese New Year's festivities taking place throughout the next week. They explained the legend behind the tradition of giving red envelopes, or "hong bao," to friends and family during Chinese New Year. Students, faculty and staff may buy hong bao either by filling out a purchase form at tiny.cc/nchshongbao, or for $2 each outside of Manzanita during lunch. The envelopes will be delivered during advisory next Wednesday. All proceeds will go to International Outlook Foundation's initiative to fund rural Chinese schooling with winter jackets, school supplies and financial aid.
Michelle Liu (12) from Art Club and Alex Lan (11) from ASB Community Service Committee announced the second town hall meeting for the quad mural project, which was held this Tuesday during long lunch from 1:00 to 1:25 p.m. in the art building. The first town hall collected general ideas for the mural's themes, and resulting artists' sketches will be shown at today's town hall. The town hall will be collecting specific feedback and suggestions, and final developed designs will be presented for school wide voting early February. Any questions or comments may be submitted at tiny.cc/muralth2.
Co-presidents of Protecting Animals Worldwide (PAW) Club Sawyer Lai (11) and Tiffany Chang (11) joined Lucy Ge (12) from Key Club to announce the clubs' joint blanket-making project. The blanket making session was held yesterday during long lunch from 12:45 to 1:45 p.m. in upper school English teacher Beverley Manning's room. All materials will be provided to hand make the blankets, which will be donated to animal shelters. Participants will receive volunteer hours.
Upper school English teacher Dr. Beth Wahl announced the return of the National Shakespeare Competition and the Shakespeare Monologue Contest at Harker. Interested students attended a meeting in her classroom in Main 5 and received the approved list of Shakespeare monologues available to choose from. Students who missed the meeting but wish to compete may email Dr. Wahl at [email protected] to gain access to the monologues. The winner of Harker's Shakespeare Monologue Contest will also be able to perform a Shakespeare sonnet of their choosing.
Ethics in Technology Forum co-presidents Krish Maniar (11) and Mir Bahri (11) announced around table discussion that happened yesterday from 12:55 p.m. to 1:25 p.m. in upper school English teacher Charles Shuttleworth's room, Main 17, that would delve into ethical and moral issues surrounding coding and gene editing. They also announced the club would be holding their Ethics in Tech conference around mid-April, and reminded students to look out for more information regarding the conference in the coming weeks.
Youth Activism Club president Mir and co-vice presidents Kris Estrada (11) and Riya Arora (12) announced a round table discussion that took place this Tuesday from 12:55 to 1:25 p.m. in upper school history and social science teacher Carol Green's room, Shah 102. The discussion covered a variety of pressing topics, ranging from the freedom of the press to the omicron variant's impact both locally and beyond.
The school meeting closed with an announcement that the snack bar would be open afterwards and would contain hot chocolate and hot tea to accommodate for the cold weather. Students were reminded to purchase Valentine's Grams.
A previous version of this article incorrectly referred to Youth Activism Club co-vice presidents Kris Estrada (11) and Riya Arora (12) as Krish Maniar (11) and Riya Gupta (11). The article has been updated on Feb. 4, 2022 to reflect the correction of this error.
A previous version of this article incorrectly referred to Chinese National Honor Society as "Chinese National Honors Society." This article has been updated on Jan. 29, 2022, to reflect the correction of this error.