Do in-class breaks matter?
In light of a new indoor drinking policies, students and faculty responses reveal a school-wide need to prioritize wellness
Every day her Introduction to Journalism classes meet, upper school journalism teacher Whitney Huang gives all her students a five-minute break, sectioning off the 85 minutes into two blocks with a small open space where students have the opportunity for free time — a chance for a sip of water and some reflection.
Victor Gong (9), a student in the class, walks out side the classroom, breathing in the fresh air, his water bottle swinging from his wrist as he sits on a nearby bench outside with his classmates. Some of the students are on their phones, some are talking and some leave to use the restroom.  
"[The five-minute break] is a good time for us to use the restroom, drink water, refresh and relax our mind to concentrate on the second half of the class," Victor said. "I think it's helpful because you can get mentally tired, so you need that break to regain your attention, so you do better in class." 
For Victor, this break provides him with time to socialize with the people around him, getting to know his classmates since he cannot usually talk to them during class time and time to go outside, removing his mask to drink water and stay hydrated without disturbing his class. He asks them about everything — from how they solved a certain problem during math class or how they are finding the course material.
Due to online learning during the pandemic, Victor felt like he was not able to engage in a lot of communication with his classmates. Now that classes are in-person, he treasures the opportunity to socialize during class breaks. 
In preparation for the return to on-campus learning, administration introduced a new COVID protocol last spring where students must keep their masks on at all times when they are indoors in order to minimize the spread of COVID-19. To drink water during class, students must go outside. 
"All members of the upper school community must wear masks while indoors," Upper School Division Head Butch Keller said in an email sent out prior to the beginning of the 2021-22 school year. "There are no exceptions."
Despite in-class breaks, Victor has found that he has not been drinking as much water as he usually does during the school day, for he does not want to miss material or distract his classmates by leaving the classroom when he is thirsty. 
Nupur Gupta (11) also feels reluctant to step out to drink water during classes where she isn't given a break, lest she misses any content. She notes that although the majority of her teachers provide in-class breaks, they're often given unofficially, in the form of an invitation for students to step out when they need to.
"I prefer more structured breaks because if I'm working on something, I want to get it done and then take a break, and usually if I'm working the entire class, I don't end up taking a break," Nupur said.
Upper school history and social science teacher Byron Stevens appreciates the new water policy as a part of the COVID-19 protocol Harker has implemented this year, as he believes the thoroughness of the COVID-19 protocol has greatly contributed to the lack of cases spread through interactions at school.
"Do I think the likelihood of COVID transmission happening among a highly vaccinated faculty and student body from students pulling their mask down and drinking water really quickly in the classroom is high?" Stevens said. "No, I don't. But by shutting off all the low percentage opportunities for COVID transmission, I think we are doing better than everyone else around us and across the nation."
Stevens, who integrated in-class breaks in his classes before the pandemic, sees them as a way to both transition between activities and give his students time to take care of their own needs. At around 40 minutes into an 85-minute period, he encourages students to utilize the patio near Davis Field to drink water and rest.
"
I've been providing wellness breaks in my classroom this year because I've provided wellness breaks in my classes before we went into remote learning. I am even more conscious of it now because of the added challenges of wearing masks and not being able to drink water at will."
— Byron Stevens, upper school history teacher
"I've been providing wellness breaks in my classroom this year because I've provided wellness breaks in my classes before we went into remote learning," Stevens said. "I am even more conscious of it now because of the added challenges of wearing masks and not being able to drink water at will."
Harshil Garg (12), who receives breaks in most of his classes, appreciates the built-in time for wellness that in-class breaks provide for him. The breaks are a reminder for him to check in with his body and stay hydrated, and the breaks have moved him to be attentive to his needs outside of the classroom, keeping his water bottle with him throughout the school day. 
"I actually feel like I'm drinking more water since we get a designated time to drink water [during class breaks]," Harshil said. "I used to not bring a water bottle to school, but now I do to drink more water." 
Most of sophomore Meishin Yen's teachers give her breaks during the class period. Some classes, like her math and chemistry class, do not provide a formal break. Instead, they incorporate time where a student can take some space for themselves after finishing up a problem. If a student does not finish the problem within the given time, they do not receive a break.
In her Honors Precalculus class, where she does not receive a break, she finds class to be a little long but understands the importance of getting through all the content and spending time to process the material the class is going through.  
For other classes, such as her AP European History class, she receives a set 10-minute break where she can go downstairs and rest on the patio in the Shah building. 
"It's been nice to just step out for a bit, because we're just so used to being online [where] you could literally just walk outside — now you always have to be present and engaged," Meishin Yen (10) said.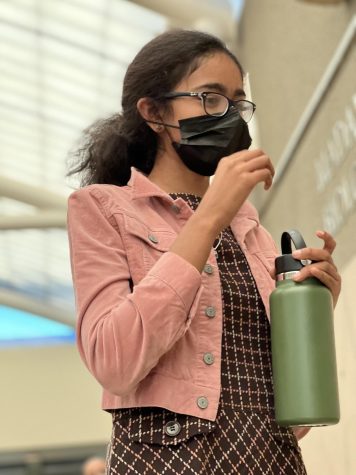 Upper school computer science teacher Susan King provided 15-minute breaks while teaching summer school but does not provide any breaks this school year due to the amount of time they carve out from the 85-minute period. However, she tries to use a variety of activities and intentionally keeps the length of lectures short to make class engaging.
King recognizes the difference between her and her students' experiences navigating the indoor mask mandate and notes the unique situation her position as a teacher puts her in. She can drink water inside her classroom with the door closed during free periods when the room is empty, but her responsibility to ensure her students' safety limits her ability to step out of the classroom, even for a short break.
"When I started teaching, I realized that I was responsible for the students in my classroom, and because I'm responsible for the students in my classroom, it's hard to just go use the restroom," King said. "I have to get a teacher to cover my classroom. And that's difficult, so I don't drink much at all."
Despite the drawbacks of teaching in-person amidst a global pandemic, King is thankful for the positive interactions she has with students as a result of the transition back into the normal mode of classroom learning.
"[The transition into in-person learning] has been a joyful experience for me," King said. "I love being around students. I love their energy, I love their laughter. Every day I come to work, it's like being handed a gift to teach here."
About the Contributors
Sarah Mohammed, Winged Post Co-Editor-in-Chief
Sarah Mohammed (12) is the co-editor-in-chief of the Winged Post, and this is her fourth year on staff. This year, she is excited to help make beautiful...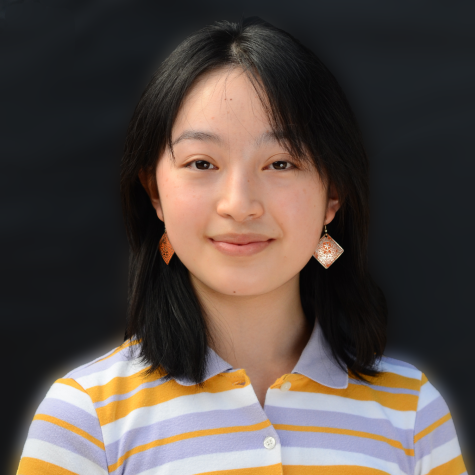 Arely Sun, Aquila Co-Managing Editor


Arely Sun (12) is the co-managing editor of Harker Aquila with focus on longform writing. This is her fourth year on staff, and she hopes to work with...