From an idea to reality: Student entrepreneurs continue to help their community during the pandemic
by Arely Sun, Winged Post Lifestyle Editor
February 23, 2021
In the hustle and bustle of a Spanish National Honor Society meeting, an idea was born. Seniors Shreya Srinivasan and Julia Biswas decided to create Luna Y Sol, a bracelet-making nonprofit that raises money for a church sanctuary in Tijuana, Mexico called Iglesia Embajadores de Jesús. The sanctuary provides services such as education and medical help for migrants at the US-Mexico border.
"Personally, the reason I wanted to do this type of project was that I've always despised the immigration system of the U.S. It exploits people who really have gone through some of the worst things that they don't deserve," said CEO and co-founder Julia. "It's really less about the business itself and more about the cause I wanted to support."
With the cause in mind, Julia and Shreya began to brainstorm methods of making a profit along with fellow founders Stephanie Shen (12), Vidya Jeyendran (12) and Kelcie Fan (12). At first, the team considered stickers but eventually decided on friendship bracelets for both sentimental and practical purposes.
"We're thinking [about] stickers as well, but I think friendship bracelets [are] a more special thing, and you do get more profit per item," Julia said."I think it is a more effective product to sell to raise money. There was a bit of ideation that we had to go through there." 
After starting work in July 2019, the team applied to become a 501(c)(3) nonprofit, calculated costs and revenue and figured out shipping prices, ultimately launching Luna Y Sol's website that December. In the first stages of the business, the co-founders created the bracelets themselves but then began to enlist volunteers to help with the process. They also began to stock an inventory to prevent rushing to complete bracelets for immediate orders.
"Initially, we didn't have a ton of orders because it was a new business, but as time went on, it was to keep track of or keep up with all of those orders with just five people. Manufacturing is definitely more streamlined now with volunteers," Julia said. "At first, we were actually making [bracelets] as the orders came in, and that was obviously not the best way to do it. So we've definitely moved on from that."
"
It's really less about the business itself and more about the cause I wanted to support. I found that cause, and then I was talking with Shreya, like 'what do we want to do to raise money?'
— Julia Biswas (12)
Another obstacle was publicity and growth as most of Luna Y Sol's customers were the creators' families and friends. Julia hopes to expand further through social media platforms such as Instagram.
"To run a self-sustaining business, you need to get orders from people outside of your personal circles, so we started taking to social media. And so we started getting orders from places like Australia and the Netherlands, which is pretty cool," she said. "I think that figuring out what we want to do to keep the business growing and to maximize the impact and the money that we're able to donate are the two biggest challenges."
Arnav Gupta (11) built his business GetWellSoon around some of his personal struggles due to Duchenne Muscular Dystrophy (DMD), a rare muscle disorder with no known cure. After having difficulty finding suitable clinical trials, he launched GetWellSoon as a tool to aid patients in these aspects and help sponsors enroll patients in their trials.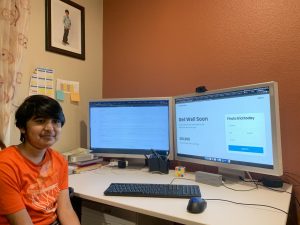 "Starting GetWellSoon has been more of a personal journey for me. Finding a clinical trial has really been a really big part of my journey with DMD, and I know firsthand the struggle of patients who are trying to find clinical trials," he said. "It's very hard to find a clinical trial that's right for your condition, for all the criteria that you need, etc. And it's also hard to find one close to you in the right location."
Working on this website has expanded Arnav's skill set, not only for technical work but also for expanding the audience for this complete tool.
"In the beginning, I didn't know much about software development, so I had to learn that through internships– I've worked as a software advisor for a while to help me with the software side. Now, I'm working in marketing," he said. "I guess this is both the best part and the worst part: that I've learned all these skills from scratch." 
Ysabel Chen (11)'s ongoing project Lucky Paw centers around a cause dear to her heart: pet adoption. With three rescued dogs, two of which were adopted from an organization she volunteers at called One Planet Rescue, she experienced the scattered process of signing paperwork. She is currently enrolled in Harker's Incubator 1 class, where students ideate products or services and begin the process of creating their businesses.
"I went through the adoption process myself, and it was very tedious. So I kind of came up with the idea at the beginning of the incubator class," she said. "I've always loved dogs and animals, so this was a good business for me to start."
Like Arnav, Ysabel also learned new skills in the process of designing her app and enjoys it despite obstacles and difficulties.
"I don't really see [the work] as a challenge just because it's a learning process. So there's nothing I can really compare it to," she said. "I'm doing maybe 60% of the coding, but just to make the process go a bit faster, I'm also working with a professional so he can help me with the other 40%."
Trisha Variyar (10), another member of the Incubator 1 class, is working on a product called Corsland with her partner Nikela Hulton (11) to prevent package theft. Their imagined product serves as a lockbox that delivery personnel can drop packages into. Currently, they are collaborating with a graphic designer for their website and logo as well as a manufacturer to create prototypes for the physical product.
"For our designer, [upper school business and entrepreneurship teacher Michael Acheatel] referred us to a Harker alumni. We emailed her and set up a meeting, and Nikela and I independently created a Pinterest board of our ideas," Trisha said. "And then for the [computer-aided design (CAD)] and the actual product itself, we went onto a freelance company called Fiverr. We provided [the designer] with some of our specifications for our product, and he got back to us with initial designs."
Although the remote setting due to quarantine has hindered communication between herself and Nikela, Trisha notes the benefit of virtual meetings on finding designers, especially since location no longer posed a barrier.
"It's a little bit harder to get in contact with each other as well as [with] other potential customers, but at the same time, it's a lot easier to work with designers and people who are going to be prototyping because originally, you'd have to go and meet them in person," she said. "Now you're able to do that correspondence online, which allows me to work with people who aren't necessarily in the Bay Area: they can be from all over the country or all over the world as well."
"
I guess this is both the best part and the worst part: that I've learned all these skills from scratch.
— Arnav Gupta (11)
Arnav echoes Trisha's appreciation for the new perspectives offered by the online setting as it has allowed him to explore social media marketing on Instagram and Facebook.
"In normal circumstances, I never would have done this social media online marketing; I would probably have done marketing in person," he said. "But I guess online marketing allows me to reach a lot more people and connect to a lot more people that I wouldn't have been able to do otherwise."
For Luna Y Sol, the pandemic has posed several challenges for production. Shipping supplies proved less cost-effective than buying string from physical stores, and quarantine impeded the transportation of supplies and completed bracelets to and from each other's houses.
"I think it's difficult because now we have to really minimize the trips we're able to make to go to each other's houses to pick up materials and also with volunteers and such," Julia said. "Getting materials is also harder since at one point, we couldn't go to stores anymore, so we had to buy them online, and you have to pay 30 dollars to get free shipping, and 30 dollars of bracelet string is quite a lot."
Another significant obstacle the team faced was the cancellation of an anticipated summer trip to meet the organization they were raising money for.
"We were actually going to go to Tijuana to the sanctuary to meet the people that we were helping out," Julia said. "So that was a super cool opportunity that we were all excited about, but obviously that wouldn't be safe during the pandemic." 
In spite of these setbacks, Julia appreciates helping migrants at the border and making an impact for the better, no matter how small.
"A lot of the time, I'll see problems – for example, the [Immigration and Customs Enforcement (ICE)] detention camps – and it's easy to feel helpless, because these are things that I personally can't change," she said. "But by selling bracelets, which is something that I love doing and doing it with my friends, has been a fun way to contribute to helping people who really deserve a lot more than they're being given at this moment."