Pulse of the People: Local restaurant adapts to pandemic
Staff at "The Table" in Willow Glen work through financial strain, stress and restrictive protocol
by Emily Tan, Winged Post Features Editor
November 1, 2020
Across the Bay Area, restaurants that previously boasted boisterous crowds of energetic parties conversing over delicious food now stand empty, spare the few individuals dining at the spaced-out tables spilling out of the interior and onto sidewalks.
That certainly has been the case with The Table, an American restaurant in the heart of Willow Glen with a "chef-driven, culinary focus," as general manager and partner Brian Nicholas said. From their extensive, hand-crafted cocktail program and innovative wines to their classic savory dishes, The Table aims to not only serve delicious food, but to also bring people together over a warm meal.
"[We were a] bustling neighborhood restaurant," general manager and partner Brian Nicholas said. "We're also a kind of a meeting point, a place where people can come and see family [and] friends. It's a part of their neighborhood."
When Santa Clara county implemented risk mitigation guidelines for restaurants on Apr. 6, The Table transitioned to takeout only, before opening their doors in early June as restrictions permitted outdoor dining.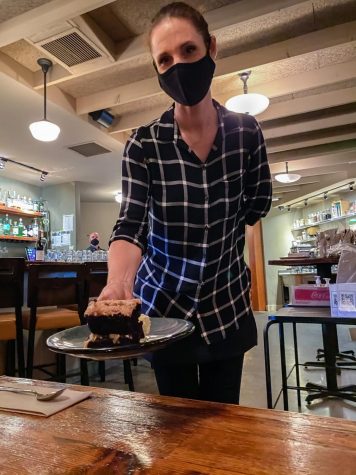 The Table has also faced financial strain, with the restaurant making only around 40% of last year's revenue now that fewer people can dine in simultaneously, a trend seen across the nation. According to the National Restaurant Association, total sales in the restaurant and food industry between March and September have fallen short of expectations by nearly $200 billion. Furthermore, customers typically only see superficial results of changes, such as having to dine on sidewalks or waiting longer for their order. 
"I thought that people would be really excited to come and eat here, but even from the get-go you still have people that were going to be unhappy. Unfortunately, sometimes it is taken out on people like essential workers," manager Alisha Lorenz said. 
Behind the scenes, tables strategically placed at least 10 feet apart coupled with a shortage of staff have placed a heavier burden on employees, as taking orders, washing hands between bussing tables and sanitizing hot sauces, salt shakers, check presenters and more all accumulate in time. 
"It's all an issue of labor. We would love to have 20 people on and make sure that everything is expedited and everything's coming out super fast, but the reality is we can't afford to have so much staff on," Lorenz said.
With the many changes to protocol since March, Nicholas describes the experience as similar to "re-opening a restaurant a couple of times over." Some changes, like the shifted focus to take out, created the need to buy transport-friendly containers and napkins, increasing expenses on top of weekly mask and glove purchases for employees.
"Not only is it an extreme cost of investment and of product, but it's also about time and energy," Nicholas said. "In this world, we just don't know what to expect. There's a lot of mental stress that I think the customers don't see, and then of course the real cost, dollar-wise."
Overall, employees at The Table feel more rushed even on top of the usually fast-paced workflow, mainly due to the additional behind-the-scenes work in place to ensure the safety of both the staff and diners. 
"[Customers aren't] seeing everything that's going into it as far as our staffing or sanitizing [and] all the other protocols [that] are in place, so it's been like a juggling act like trying to get it all covered," Lorenz said. "That is definitely one of the areas that we can improve, but it's just like everyday is a new learning experience and it's a new way of doing things."