Editorial: Ousting Trump is the only choice
Biden may not be perfect, but he's the better candidate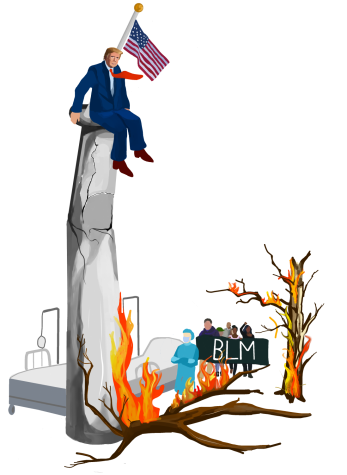 Over 221,000 Americans dead from coronavirus. The killing of unarmed Black men and women prompting protests across the nation. Unemployment shooting up to 14.7% in April. Leaders are defined by their challenges; in the face of historic emergencies, Trump's inadequate policies have highlighted the need for a change in the White House.
As teenagers, the majority of us cannot vote this time. But effectively all of us will be able to vote in 2024, and this election will have consequences far beyond the immediate future.
In the spring, coronavirus cases skyrocketed across the nation. However, the Trump administration has continued to downplay the impact of the virus, holding campaign rallies even after the president tested positive. While Trump has criticized measures such as masks and the necessity of testing, Biden promised to heed the advice of the scientific community, planning to rejoin the World Health Organization.
Closer to home in Silicon Valley, where the technology industry employs those working on H-1B visas, the Trump administration's June suspension of an array of work visas cuts off a crucial immigration pipeline. Beyond consequences for large tech companies, the suspension poses a far more immediate threat to families who have built lives in the United States.
With the murder of George Floyd in May, Black Lives Matter protests began across the nation with millions taking to the streets to demand police reform. Biden responded with a video calling for racial justice, expressing his condolences for Floyd's death. Trump deemed protesters "thugs" for speaking out against systemic racism and failed to denounce white power groups — telling them to "stand back and stand by" — in front of an international audience.
President Trump's disregard for the weight of his words has eroded trust in our nation's democracy. Faced with crises, he has repeatedly sown partisan disorder rather than step up to provide the stable leadership that the country needs.To be sure, Biden is not a perfect candidate, but his years of political experience and concrete plans compel us to give him a shot.
Although it might appear like two white males running against each other in this election, it's not just about him: it's about her. As the first woman of color on a major ticket, vice presidential candidate Kamala Harris represents an American demographic reflected in our own school community.
To us, there is a clear choice on Nov. 3. We cannot afford to sit back and watch. No matter the results, remain politically active and campaign for steady, rational leadership over partisan politics. And if you can, cast a vote that would not allow Trump to return. Pick the better candidate, and vote for Joe Biden in the general election.