Athletic recruiting in the time of COVID-19
While stuck at home during quarantine, Harker student-athletes have found creative ways to continue practicing their sports from home. For track and cross-country athlete Anna Weirich (11), this means supplementing her daily runs with biking as a form of cross-training. For junior baseball captain Nick Coulter, home training involves consistently working out in addition to performing baseball drills to polish his skills as a catcher. For golfer Natalie Vo (11), practicing during quarantine means doing putting drills in her bedroom and working on swings outside using empty buckets. 
In a time where COVID-19 continues to spread, student-athletes need to find ways to stay in shape and in touch with their sports from home, as the California Interscholastic Federation (CIF) announced the cancellation of all spring sports in California as a part of worldwide efforts against the coronavirus earlier this month. This cancellation has also drastically changed the athletic recruiting scene, both for college coaches looking for new athletes for their programs and for aspiring athletes who wish to pursue their sports at the next level — especially juniors. 
Lee Nelson, who is the head coach for the University of Nevada women's volleyball team, described the impact the coronavirus has had on how his program approaches recruiting as "nothing [he] has ever seen before, in his career as a coach or player." Typically, during this time of year, Nelson and his assistant coaches watch prospective recruits at their club volleyball tournaments and begin to schedule opportunities for those recruits to visit the university, see its facilities and meet the team and coaching staff. 
"Now, we can't do any [of those things] because everyone's at home. So for the visit part, we've come up with a virtual visit, where we can meet with [the athletes] in an online setting, and then we'll have some slides and video that we can show them, and so at least, we get to have a face-to-face meeting, even though it's online, instead of phone calls," Nelson said.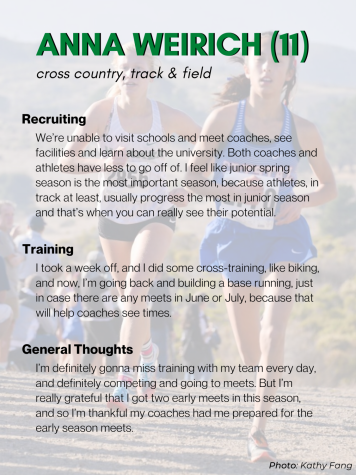 The other big change in the recruiting process that Nelson's program has been experiencing is that they can no longer watch any of their possible recruits play, which makes it extremely difficult to decide which athletes are a good fit for them.
"A big part of the recruiting process is evaluation, [finding out] who fits your needs, and we can't do any of that. We got to do it a little bit in the beginning of the season in February, but since then everything has shut down," Nelson said.
For athletes who wish to play at the college level that are struggling to find their way during this time, upper school Athletic Director Dan Molin recommends reaching out to college coaches.
"Communicate with the coach and say, 'Hey, we're all in the same boat here with the coronavirus and shelter in place and everything, and I just wanted to let you know that I'm still very interested in competing for your school once all of this is over,'" Molin said. "I would suggest direct communication and honesty, just reach out to those coaches and let them know you're still out there."
This type of communication between student-athletes and coaches, however, can only be carried out via phone or email, as the National Collegiate Athletic Association (NCAA) has banned in-person recruiting until May 31 as part of a recruiting "dead period" put in place as a response to COVID-19. This policy specifically has changed how the recruitment process works for a number of Harker athletes, including Anna.
"We're [now] unable to visit schools and meet coaches and see facilities and learn about the university. Both coaches and athletes have less to go off of," Anna said. "I feel like junior spring season is the most important season, because athletes, in track at least, usually progress the most in junior season and that's when you can really see their potential."
Nick has faced similar challenges and pinpoints not being able to invite coaches to games as one of the hardest parts of the entire situation. As he continues to practice his various baseball skills at home during quarantine, Nick has stayed in contact with college coaches.
"I made a recruiting video at the beginning of the year, so I've been trying to send that out to coaches, and I've been talking with them, but it's just not as effective as if we were playing in actual games," he said.
For a number of sports, club seasons held outside of school play a larger role in the recruitment process than high school seasons do, as is the case with golf for Natalie. Although Natalie got to play her junior golf season in its entirety during the fall, many of the golf tournaments she had signed up to play in during the spring and summer have been postponed or canceled.
Natalie has not allowed this to discourage her, and like many other Harker athletes, she continues to work on polishing her craft at home.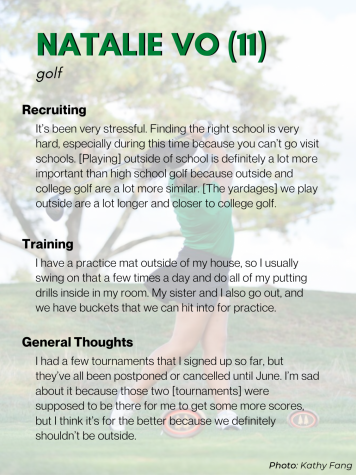 "I have a practice mat outside of my house, so I usually swing on that a few times a day and do all of my putting drills inside in my room. My sister and I also go out, and we have buckets that we can hit into for practice," Natalie said.
Ultimately, in a time where the coronavirus pandemic has completely changed the face of athletic recruiting, the frustration that student athletes are experiencing hasn't gone unnoticed, as coaches, like Nelson, are aware that players are faced with some especially important decisions at this time in their lives.
"A lot of the players who could potentially play Division 1 aren't playing just for a hobby, they're really invested in what they're doing, they're trying to be the best they can be. For a lot of them, this is the most important time for them to get recruited, so they're missing that whole window," Nelson said. "This is going to be one of the biggest decisions they make at this point in their life, [choosing] where to go to school, and for them not to be able to play, I think is really challenging."