Global Reset: Australia battles blazing bushfires in war against climate change
26.9 million acres burned. More than 3,000 homes destroyed. 33 deaths, including nine firefighters, as of Jan. 31, according to the Crisis Coordination Center of the Australian government. And over one billion bird, mammal, and reptile deaths, according to the Australian Academy of Science. This is the impact of the hundreds of fires that have been burning across the states of New South Wales (NSW) and Victoria in southeastern Australia since September. 
After the Kincade Fire burned 77,758 acres in Sonoma County, C.A. in October, the Australian wildfires reflect a worldwide trend of worsening fire seasons as a result of climate change. 
"I wasn't exactly surprised [when I heard about the fires]," upper school Green Team officer Anthony Shing (12) said. "There's usually bushfires in Australia every year but as the months passed by, my concern grew because I didn't expect it to last that long."
According to the Queensland government website, bushfire smoke consists of water vapor, various-sized particles and toxic gases like nitrous oxide and carbon monoxide. Larger particles that are visible to the eye typically do not have major health effects besides nose and throat irritation, while microscopic particles can intensify asthma and worsen pre-existing heart and lung conditions. For protection against bushfire smoke, only special face masks like P2 masks can prevent fine particulate pollution from entering the lungs.
In recent days, pollution has alleviated. Based on data from the World Air Quality Index project, as of Feb. 2 major cities in Victoria had air quality indices (AQI) ranging from 3 to 55 and likewise in NSW, the air quality now ranges from 4 to 86, considered good to moderate. These numbers are major improvements from a daily average AQI of 714 on Jan. 6 in Canberra in NSW and an AQI of 272 Jan. 15 in Melbourne in Victoria. 
According to Stanford Ph.D. candidate Rebecca Miller, who has been conducting research in wildfire policy, management and recovery in California for two and a half years, climate change has increased the strength and probability of fires by making already dry and hot areas even drier and hotter. 
"
It's almost like the fire perpetuates itself because the faster it burns, the hotter it makes the environment, and so they're becoming a lot more intense."
— Diana Moss
2019 was both Australia's hottest and driest year on record with national temperatures 1.5ºC above average and severe drought affecting NSW especially, according to the Australian government's Bureau of Meteorology. With rising global temperatures, areas that are already vulnerable to fire threats are now even more prone to these hazards. 
"The wildfires in general are becoming increasingly more intense because of the heating of the climate," said Diana Moss, Green Team adviser and a member of the faculty sustainability committee at Harker. "Plants don't hold as much water in them so they burn more quickly, and it's almost like the fire perpetuates itself because the faster it burns, the hotter it makes the environment, and so they're becoming a lot more intense."
In previous years, fire control techniques developed by the native Aboriginal people of Australia have successfully prevented small bushfires by burning ground fuel and easily flammable objects such as dry leaves. Although Aboriginal techniques clear the land of dry underbrush, the high intensity of the current fires are causing previously charred wood and leaves to catch fire again.
Though sometimes compared to the California fires in 2017 and 2018 that burned three million acres of land, the Australia fires are on a different level in terms of scale: the country has already seen six times the amount of acres burned, according to Miller. 
"We can generally be expecting more and more of these catastrophic wildfires, whether in California or Australia or in the Mediterranean or anywhere worldwide," Miller said. "We traditionally see wildfires begin simply because, as heat and drought impacts are exacerbated so will the impact of these disasters."
As a native Australian, middle school math teacher Margaret Huntley felt "horror" when she first learned of the intensity of the fires in Australia.
"
Whole communities were just being entirely cut off because they were rimmed by fire so early in the fire season."
— Margaret Huntley
"Australia always had bushfires—that's nothing new, but it seemed like the whole country was burning up. Whole communities were just being entirely cut off because they were rimmed by fire so early in the fire season," Huntley said.
To support animal rescue efforts, Huntley and her students have joined in on efforts to provide fabric pouches to help young animals whose parents were either injured or killed in the fires. The pouches she and her students have made so far will be shipped directly to Australia where they are most needed. All around the community, faculty have donated old Cancer Walk t-shirts for fabric to make the pouches. 
Katrina Ipser ('19), who spent her first semester of college studying abroad in Australia and left the country just as the fires began, observed that the sky would sometimes turn an "intense" and "eerie" orange, but that these occurrences were nothing especially out of the ordinary.
"As I heard about it getting worse and worse, it was devastating because it was just such a beautiful place, and I really loved it," Katrina said. "It also hurts because it feels like there's nothing that we can do about it all the way across the world."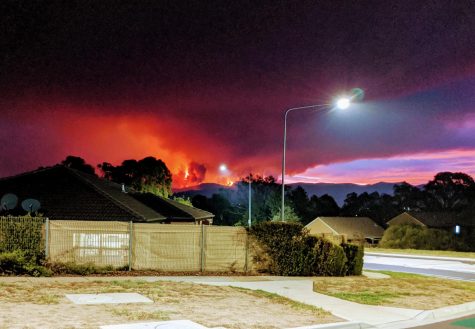 So, what can we do to help?
One direct way to support Australia is to donate to trustworthy charities and organizations working on fire recovery efforts. The NSW Rural Fire Service is accepting donations, and so are fire departments in Victoria through the Country Fire Authority (CFA). The Victorian government has also partnered with The Salvation Army and the Bendigo Bank to create the Victorian Bushfire Appeal, a fund dedicated to helping local communities recover from the impacts of the fires, according to its website. Additionally, organizations across the world like the World Wide Fund are hosting their own donations to send financial support to volunteers and firefighting efforts in Australia.
Upper school student organizations have been undertaking fundraising efforts as well. The Red Cross club has decided to donate all $542.77 in profits made from selling donuts and coffee during their club week, which was this past week, to Red Cross Australia. 
"We decided to move the direction of our club week toward [associations in Australia] because if we have the power to help out, we want to," Red Cross club events coordinator Ankita Kundu (11) said. "I hope that the school can come out and support this cause because it is a really big [tragedy]."
Solely focusing on fighting the fires in Australia will not solve the larger issue at hand. In the end, reducing the impacts of climate change is the only long-term solution to preventing these devastating fires.
After the fires from past years, the Californian government has proactively implemented pieces of legislation to aid in prevention and recovery. For example, in October, Gov. Gavin Newsom signed a series of 22 bills dedicated to wildfire prevention and response, clean energy and more accountability from a safer PG&E, according to the California government website. 
In Australia, the world's largest exporter of coal according to Geoscience Australia of the Australian government, Prime Minister Scott Morrison has agreed on a $2 billion deal in partnership with Premier of NSW, Gladys Berejiklian, to reduce carbon emissions and energy prices. The deal entails "securing" coal sources and additional investment in renewable energy sources, Morrison said, according to a Jan. 31 media release on his website. 
Miller urges members of the local community to continue informing themselves and speaking up about climate change to aid in fights against it. 
"Talking about its impacts and talking about the ways you can mitigate greenhouse gasses, whether it is thinking about biking rather than using a car or even using a reusable water bottle instead of a plastic water bottle [is the most important thing high schoolers can do about climate change]," Miller said. "As you talk about climate change, the ripple effect will continue."