Lights out, flames rise: As Sonoma County continues to burn, "historic" high-speed, dry wind event prompts PG&E to expand power shutoffs to reduce additional fire risk
As the Kincade fire in Sonoma County continues to burn and "extreme" weather conditions bring heightened fire risks to northern California, Pacific Gas and Electric Company (PG&E) announced plans yesterday to implement the third consecutive public safety power shutoff (PSPS) of the week, which is expected to begin tomorrow and extend throughout portions of 32 counties in northern California, including regions in the Bay Area.
Though PG&E has not yet specified exact locations, the blackout will affect areas in the North Bay, Bay Area and Santa Cruz Mountains, and customers can search up their address on PG&E's site to see if they are in danger of losing power.
This PSPS was prompted by reports of another "potentially widespread, strong and dry" wind event. The National Weather Service forecasts strong winds that will last throughout Tuesday and Wednesday before a round of "Diablo winds," a term used to describe dry winds originating from the Great Basin that travel through the Sierra Nevada mountain range to lower pressures at sea level. 
High-speed winds above 45 mph endanger power lines and electric infrastructure, which can spark fires when damaged. More than half of PG&E's service area has been classified by state officials as having an elevated fire risk.
The National Weather Service has issued red flag warnings across most of northern California in response to this unprecedented strong wind event, which, in combination with low humidity and warm temperatures, increases fire risks. In response, PG&E has stopped power in areas that are in danger of wildfires, turning off electricity to large swaths of northern California.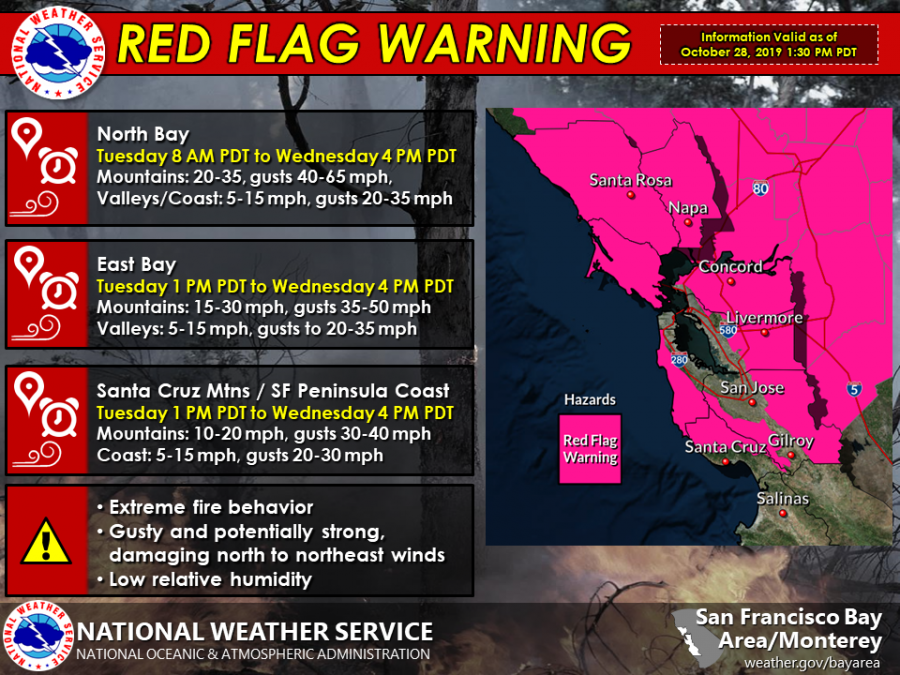 The American Red Cross as well as PG&E's website advises residents to use coolers and ice in order to prevent food spoilage and fill gas tanks at least halfway during prolonged power outages. An unopened refrigerator will keep food cold for about four hours, and a full, closed freezer will maintain its temperature for about 48 hours.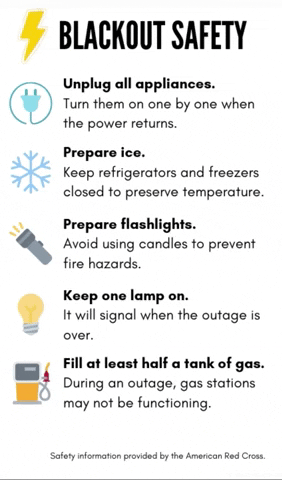 Residents should also prepare flashlights and avoid candles due to fire hazards. During an outage, residents should unplug electronic appliances to avoid damage in the case of a power surge after the blackout. Residents should keep a single lamp plugged in and turned on to alert them when power returns, after which they can replug appliances in one at a time.
The California state government has also opened a website dedicated to power outage and fire recovery resources at response.ca.gov with additional information for impacted residents.
In order to supply aid to customers in the affected areas, PG&E has opened community resource centers in counties including Alameda, Marin, San Mateo, Santa Clara and Santa Cruz. These centers will be open from 8 a.m. to 8 p.m. and provide restrooms, bottled water, charging stations and air conditioning.
PG&E also encourages customers to confirm contact information with the utility, as customers who might be affected will be notified in advance and receive updates throughout the PSPS event. At a press conference yesterday, PG&E utility CEO and president Andy Vesey asked customers to ensure that their devices remain charged throughout the outage in order to maintain lines of communication.
This weekend's strong wind event also swept particulate matter from the Kincade fire across the Bay Area, pushing the air quality index (AQI) in the region surrounding the fire to levels categorized as "unhealthy" by AIRNow. On Sunday, the San Mateo County region saw its AQI rise above 100, which is deemed to be "unhealthy for sensitive groups," although particulate matter in the air above the Bay Area has since subsided.
The smoke and high winds affect not only humans but animals as well, and owners have been taking measures to minimize the risks of particulate damage for their pets over the weekend.
"Yesterday, smoke blew over from up north, and I had to take my turtle in from outside," Katelyn Chen (12) said. "I had to set up a temporary enclosure for her because the air was really bad for her lungs. My bird got really scared by the winds, so she ran into a window."
According to the Disease Control and Prevention (CDC), resultant smoke from wildfires can "can hurt your eyes, irritate your respiratory system, and worsen chronic heart and lung diseases." In order to minimize the impacts of smoke exposure, residents in affected areas should stay indoors and avoid outdoor air contamination by using filters and avoid using candles, gas, propane and wood stoves.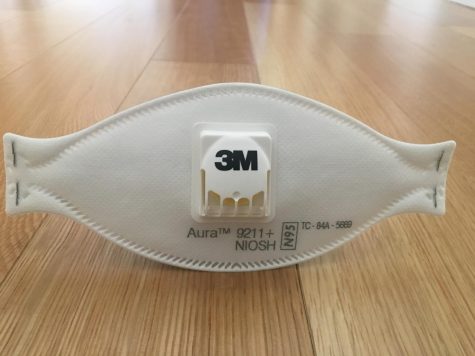 The Environmental Protection Agency (EPA) further recommends the use of "particulate respirators" when exposed to polluted air rather than single-strap masks, which will not create a tight enough seal, or "dust" masks, which are designed to filter much larger particles and thus do not protect well against smoke. Impacted residents are urged to specifically use respirators approved by the National Institute of Occupational Safety and Health (NIOSH) and labeled either N195 or P900 for the most effective filtration and defense against particulate matter. 
Tomorrow's blackout closely follows Saturday's PSPS, which affected 939,857 total customers in northern California, according to a report released by PG&E. The utility began restoration efforts for that PSPS event yesterday, returning power to approximately 30,000 customers by 10 p.m. last night. Restoration efforts are still in progress, and PG&E warns that some customers who lost power on Saturday may experience a prolonged outage due to tomorrow's PSPS event.
Residents around the affected areas have found methods to maintain their daily lifestyle while adjusting to the recent power outages, including traveling to unaffected areas for electricity. 
"Yesterday I went to my friend's house…and today I went to the Saratoga Library," Ray Wang (11), whose house in Saratoga has been affected by the previous two power outages, said. "I can't take a shower because the heater is on electric, which means that all the water is cold and there's no warm water."
The strong, dry wind event over the weekend has also slowed efforts to contain the Kincade fire in Sonoma County, which has burned through 66,231 acres, according to recent reports from Cal Fire. The fire is 5% contained as of today and is predicted to last throughout the next week and a half. 
California Gov. Gavin Newsom has issued a state-wide emergency declaration to allocate additional resources to fire suppression and emergency aid for those who were affected by the fires. All public schools in Sonoma County are closed today and Tuesday, and residents are not yet advised to return to the area.
According to Cal Fire's press conference yesterday, residents in the area affected by the Kincade fire are encouraged to call 211 with questions about the evacuation process and to reserve 911 for medical requests.