Sweet treats to eat: the influence of Asian desserts
The Bay Area is a hub of immigrants, leading to a fusion of cultures in every aspect of life. One noticeable example of this "melting-pot" is the popularity of Asian desserts among people of all backgrounds. The Asian community in Santa Clara County, according to the US Census Bureau, makes up 38.3% of the total population and has fueled the spread of these cafes. For example, Los Angeles-based cafe Sul and Beans opened a new location in the Bay Area because of its Asian demographic.
"It's a really popular place in LA, and it carried [over] here because the customer bases are around the same," said Justin Li, an employee at Sul and Beans.
Mandy Liu, an employee at Taiwanese cafe Snowflake, accredits the success of Asian desserts to the open-mindedness of the area. 
"[Snowflake is successful] because there are lots of Asians in the Bay Area, and I believe that most of the Americans, they are interested in Asian desserts too," she said.
However, Asian dessert shops are changing to appeal to the general public. While traditional desserts form the inspiration for the dishes at Snowflake and Sul and Beans, both shops have added new flavors that appeal to American audiences.
"Since it's made here, I feel like [Sul and Beans] has to cater in some way to an American taste," Li said. "For example, we have Oreo [flavors], but the influence is definitely straight out of Korean desserts."
Rather than serving wholly traditional desserts, nearby restaurant SomiSomi offers a soft serve treat that features another element: taiyaki. According to the Japan Times, this fish-shaped Japanese dessert uses waffle batter, making it a prime example of fusion food.
Another well known beverage is bubble tea, with Teaspoon's selections being one of the student favorites. The shop serves premium teas with delicious toppings while blending the classic milk tea and taro milk with passion fruit and mango.
"There certainly are American products that have picked up certain influences. I feel like the trend of having [toppings] in drinks kind of picked up," Nigel Pasman, a daily customer of Teaspoon, said.
Asian desserts not only provide a sweet treat for all types of customers; they create a bridge between Western and Asian cultures, blending traditional and modern ideas.
From shaved ice and soft serve to bubble tea drinks, the Bay Area is incredibly rich in Asian dessert cafes; here are a few of our recommendations among the many options.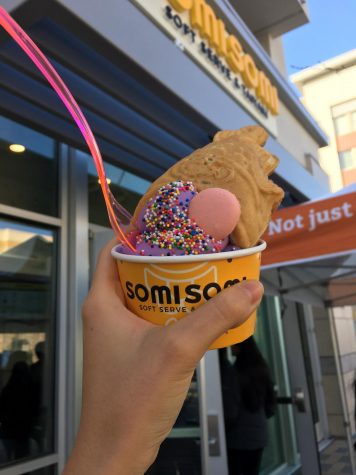 Teaspoon:
Situated in the Mitsuwa Market Plaza, Teaspoon offers a large variety of fruit-flavored or milk teas, a selection of toppings such as pearls and fruit jellies and a few versions of Asian shaved ice. Teaspoon is a favorite due to its high-quality drinks and proximity to campus. Since its establishment in 2015, Teaspoon has opened a handful of locations in the Bay Area.
Snowflake:
Across the parking lot from Teaspoon is Snowflake, a lesser-known boba shop and Taiwanese dessert cafe. Snowflake serves various Asian desserts such as its Taiwanese "snowflake" shaved ice and Thai rolled ice cream and crepes.  Its "snowflake" consists of fluffy milk-based ice decorated that simply melts on the tongue.However, even their traditional items include some Westernized toppings such as chocolate sauce and marshmallows.
Sul and Beans:
This trendy cafe in the Cupertino Main Street Plaza, originally from LA's Koreatown, offers traditional Korean desserts with an added modern twist. Their most popular menu item is their bingsoo, which in its original form consists of shaved ice with red bean toppings. Now, Sul and Beans serves it with a variety of toppings and flavors, ranging from the most traditional injeolmi, or sesame flavor, to different fruits like watermelon and strawberry.