Matriculation 2019: Harker welcomes Class of 2023
With welcoming smiles, energetic cheers and thunderous clapping, the upper school community warmly received the Class of 2023 during the 2019 matriculation ceremony on Friday.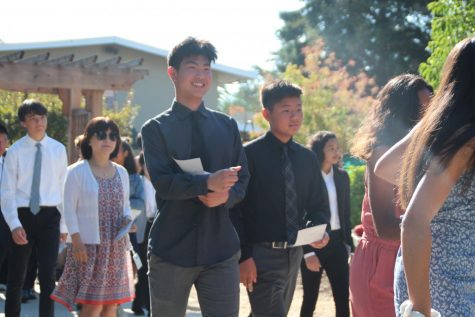 Administration adorned in gowns and caps took their seats behind the stage, facing the rows of sophomores, juniors and seniors making their way into their respective rows, the busy energy fueled by the excitement of friends and classmates seeing each other for the first time after summer break. Suddenly, heads turned, and the rows of green plastic fold-up chairs erupted with students jumping to their feet in applause as the Class of 2023 filed into the quad.
"I honestly think my favorite part of matriculation is when the freshmen come in and everyone's clapping," said upper school math teacher Jeanette Fernandez. "It's really emotional because it shows that the community's saying, 'Hey, you're here on campus, welcome, we love you, and you'll do great!' and things like that."

Eventually, the students and teachers alike settled into a respectful quiet, and Head of School Brian Yager walked out onto the elevated stage and began the ceremony with a welcome speech to both returning and new members of the upper school community, offering words of advice from recently deceased poet and author Toni Morrison and stressing student roles in freeing and empowering others.

"You are close to joining the ranks of our alumni, men and women who serve our world as scholars, teachers, philanthropists, doctors and inventors, civic and corporate leaders, artists and authors," Yager said, following with a message directed toward the freshmen. "To you ninth graders, as you begin your journey in Harker's high school program, enjoy and embrace the process…stand on [the upperclassmen's] shoulders and reach your own heights in the next four years, and please be grateful for the elevated perch from which you began your own journey."

Following Yager's speech, upper school vocal music teacher Susan Nace led Cantilena in performing "Jambo Rafiki Yangu," where members utilized handheld instruments such as small drums and maracas to create a beat during the song. 

Alysa Suleiman

Immediately following the end of the performance, ASB President Avi Gulati stepped onstage to present his entrance speech, fully stepping into his new role as he heartily welcomed the freshman class to the upper school and provided them with words of guidance and counsel.
"You have counselors, advisors, teachers and upperclassmen here for support; the entire community prides itself in ensuring that you thrive," said Avi. "I'm a firm believer that boundaries ought not to make us feel bound; the creativity requires a constraint…Class of 2023, if you embrace limits as stepping stones for imagination, success will be yours." 
Next, musicians from the upper school orchestra performed a mashup of Elvis Presley's "Can't Help Falling in Love" and Queen's "Crazy Little Thing Called Love" in a four-person chamber group that consisted of two violins, a viola and a cello. 
Dr. David Hart, who teaches instrumental music at the upper school, recalls working with the students over the summer to finalize the idea behind the prepared pieces and his appreciation for their hard work during the two rehearsals they held.  
"We wanted [the songs] to be celebratory, so the theme "love" came up a lot in our concert pieces, which I think is perfect for the beginning of the school year," said Dr. Hart. "If you noticed during the concert I didn't conduct [the students], so there's a sense of ownership for the music onstage to keep on beat and know where they are without having someone direct them, and listen to and play in tune as a small group. "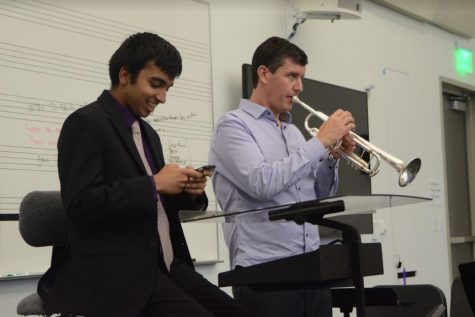 As the performances ended, Avi promptly returned to introduce Honor Council members along with the rest of the senior, junior and sophomore student councils. ASB Vice President David Feng then led the student body in reciting the Matriculation Oath, followed by freshmen signing the Honor Code. 
"The most important thing about matriculation is just welcoming freshmen and getting them to know the culture of Harker and have them understand Harker's values," said David. "Matriculation is a big tradition because not only is it old-fashioned and classy, but we're trying to welcome freshmen into a new community that they haven't been to, specifically freshmen who are new and haven't been to Harker's elementary or middle school." 
The upper school also witnessed previous ASB President Neil Ramaswamy ('19) make a surprise entrance, earning gasps and cheers from the audience. Together, Ramaswamy and Avi presented the opening of this year's matriculation skits, which featured themes such as "Harry Potter" and Marvel Studios. Every year, student council and Honor Council start brainstorming in May before matriculation, and work on ideas and skit-writing over the summer before finally meeting to rehearse the entire skit, known as "Freshman 101", the week prior to the ceremony.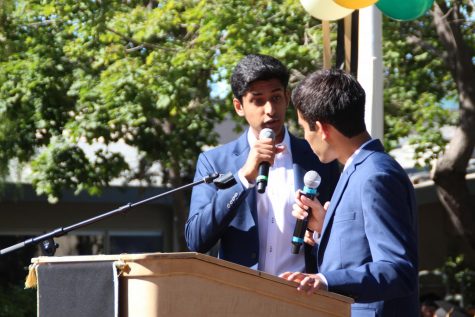 "My favorite part was definitely the collaborative process because everyone has so many great ideas and different ways to act out one scene," said Roma Gandhi, 2020 Class President, who enjoyed using sound effects to enhance the entertainment aspect of the skits. 
Any student council member would agree that creating as warm and welcoming of a day as possible for the incoming freshman class was the main priority of the humorous yet informative acts, which encouraged freshmen to follow the rules of the student handbook or join clubs such as DECA or TedX. Junior Spirit Coordinator Calais Poirson (11), who played a clueless young Spiderman learning new rules in the Marvel world, enjoyed preparing the skits' approachable and easygoing aspects.
"I hope that these skits will make high school seem less intimidating because I know when I first saw these skits, I thought this was such a fun group of people and it really helped me to soak in so much information and learn how high school and the whole campus works," said Poirson. 
While the older members of student council took a definitive lead in creating the skits, sophomore Spirit Coordinator William Chien was happy in learning from the wisdom of older council members. 
"Sophomore council and the rest of all the student councils, we work a lot together, and our committees are not just limited to working as one grade," said Chien. "This really transferred over to our skits, so whenever we needed help we would definitely go over and ask some of the older members who are more experienced, and whether we needed to borrow a costume or ask a question, they were always there for us."
The official matriculation ceremony ended after the final skit, and students separated into their own advisories to attend their class orientation and take their school pictures. Throughout the day, students from all classes share their thoughts on their matriculation experience. 
"I really like the 'Spiderman' skit because it really gave me a lot of information, so it really stood out," said Alexis "Lexi" Nishimura (9). "It's a whole new experience as a high-schooler, and I felt really good after watching the skits knowing that I would have people to talk to or help me out in case I ever needed it." 
Sophomore Kyle White recalls what it felt like being a new freshman at the upper school, taking pride in his experience and growth to becoming a member of an older class.
"At first, like most sophomores, I was skeptical of the new freshman class, but I met a lot of them over the summer doing summer school, and they're all really genuinely nice people and I'm happy to have gotten to know them," said White. 
At her last matriculation ceremony, senior Amanda Cheung looks back at her thirteen years of being a member of the Harker community, the first of many lasts.
"It's really surreal being back for my fourth and final matriculation because I feel like the months went by so fast and I was just in the position of those freshmen walking down the aisle as the upperclassmen were all clapping," said Cheung. "Being a senior especially, it didn't quite hit me that I'm now a 'role model' to the incoming class of 2023, and matriculation really made me feel like it was my turn to complete the circle of helping freshmen as a senior, just like the class of 2017 did for us when we were freshmen."
Yearbook distribution started promptly at 2:00 p.m., which signaled the end of Matriculation 2019.