"Not left, not right, forward": Presidential candidate Andrew Yang solicits the support of tech workers and Asian Americans in the Bay Area
"How many of you work in technology?" Democratic presidential candidate Andrew Yang asked the over 150 people having lunch at circular tables around him. 
About half the people in the room raised their hands. 
"So you know what's on the horizon," Yang said. "If you work in technology, you know that what we did to the manufacturing jobs, we are going to do to retail jobs, call center jobs, fast food jobs, truck driver jobs and on and on through the economy."
Yang was referring to the increased automation of factory jobs in the past two decades, a phenomenon that he considered to have played a major role in garnering support for Trump's 2016 campaign. The 44-year-old entrepreneur spoke about the future of automation, among other topics, at a golf tournament fundraiser for his campaign at Coyote Creek Golf Course in Morgan Hill yesterday afternoon. 
Before Yang's speech at lunch, his supporters played each other in a golf tournament from 7:30 a.m. to noon. The tournament victors were awarded personal pictures with Yang after his speech. 
Yang currently polls at an average of 1.8 percent, according to RealClearPolitics.com. He is one of 10 candidates who have qualified for the next two Democratic presidential debates, to be held in September and October.  
A cornerstone of Yang's campaign has been his determination to counter the economic fallout that he believes will result from increased automation. His key policy, a universal basic income of $1,000 a month, which he refers to as a "freedom dividend," responds to this rise in automation. 
While the feasibility of his proposal has been widely debated, it has received support across diverse demographics. Andy Zheng, a Phillips Academy Andover senior and Palo Alto resident who attended the fundraiser, believed that Yang's universal basic income policy sets him apart from other candidates. 
"I think it can solve a lot of social inequities," Zheng said. "It also paves the way for a potential future with much more automation."
According to Yang's campaign website, the freedom dividend would "guarantee that all Americans benefit from automation" by providing a baseline income for everyone, even in the case of unemployment. Yang further wrote that the dividend would act as an alternative to the nation's current welfare system, which discontinues benefits when welfare recipients find work. 
Born in upstate New York and a graduate of Brown University and Columbia Law School, Yang has previously worked as a corporate lawyer, entrepreneur at a healthcare startup, CEO of Manhattan Test Prep and founder of the nonprofit Venture for America, which helps recent college graduates enter the world of entrepreneurship. 
Yang's background in entrepreneurship and use of data in his rhetoric have led some to call him a Silicon Valley candidate. His endorsers and donors include Tesla CEO Elon Musk, Twitter CEO Jack Dorsey and Y-combinator president Sam Altman.  

Others have questioned Yang's lack of political experience. Yang's outsider campaign had been labeled a "longer-than-long-shot bid" by The New York Times in February 2018 and "semi-serious" by FiveThirtyEight in October 2018. 
In an interview with Harker Aquila after the fundraiser, Yang challenged the "pretty big misconception" that his experience in entrepreneurship prevents him from being in touch with the country as a whole. 
"I've worked in 18 cities, including Detroit, Cleveland, St. Louis, Birmingham, New Orleans. So I understand what's going on in both those regions as well as in rural areas that have been defeated," Yang said. "It's one reason why 10 percent or more of Donald Trump supporters say they would vote for me as they see that I understand the problems on the ground." 
Yang and presidential front-runner Bernie Sanders are the only two candidates who have the support of more than 10 percent of people who voted for Trump in 2016. At the fundraiser, Yang referred to himself as "the opposite of Trump, an Asian man who likes math," a line that he has used many times in his campaign, including once in the second Democratic debate. 
"[Trump's] solutions are the opposite of what this country needs. He said we're going to build a wall, turn our economy back, bring the old jobs back," Yang said. "We need to turn the clock forward. We need to accelerate our society and economy as fast as possible."
Many in the audience wore "MATH" hats. The acronym stands for Make America Think Harder and riffs off of Trump's slogan, "Make America Great Again." 
Most people in the audience were also Asian American, a fact that Yang took advantage of in his speech. Rather than diving into his policies, which include Medicare for All and reforms toward "human-centered capitalism," Yang encouraged Asian American voters to engage with the presidential election. 
He acknowledged that 27 percent of Asian Americans who voted in the 2016 presidential election voted for Trump, and he attributed this support to many Asian Americans' opposition to high taxes. This single-issue voting, Yang continued, has contributed to low political involvement in the community.
"Right now mainstream politicians do not take our community that seriously. Let's be honest about it. They see us as a low-level ATM," Yang said.
Despite the historically low voter turnout of Asian Americans, Yang believed that Asian American voters, particularly those in California, could make a difference in the Democratic primary. California, which is nearly 15 percent Asian American, is one of the first states to vote in the Democratic primary. Since the 2016 primaries, California has moved up its primary election date in 2020 by three months. Democrats in California will now vote on March 3 this year compared to June 7 of 2016. 
"If the Asian American community actually comes out for a candidate, you could actually move the needle this time in a way that has never happened in American history," Yang said. "This cycle is our community's chance to make our voices heard." 
Don Sun, a Bay Area local who works in fundraising for Yang's campaign, helped to organize the event. As executive director of Asian Americans for Good Government Political Action Committee and president of Asian Pacific Islander Public Affairs Silicon Valley, Sun has a long history of engaging the Bay Area Asian American community in political events such as Yang's fundraiser.
"My belief or my faith is in trying to bring the Asian community together through community service and that comes through political involvement," Sun said.
In addition to Asian Americans, Yang encouraged young people to get involved with the 2020 election. One of his policies is lowering the voting age to 16 to encourage political engagement at the high school level.
"Young people are going to be living here for a longer period of time. To me, it only makes sense that they should have a say in the future of our society," Yang said in an interview with Harker Aquila. 
In the same interview, Yang expressed that, despite his warnings of a dystopian future, he has hope for turning that trajectory around for the young people of America.
"Young people have a sense that we've left them in an awful mess, and they are correct, on everything from climate change to gun safety to a dysfunctional government," Yang said. "I'm running for president to try to fix it for [their] generation."  
About the Contributor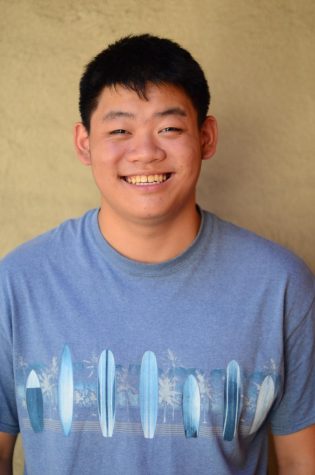 Eric Fang, Winged Post Editor in Chief
Eric Fang (12) is the co-editor in chief of the Winged Post. This is his fourth year in Harker Journalism, and he hopes to hone his skills as both a writer...