Pulse of the people: Black Lives Matter responds to summer shootings
In this repeating Features segment, the Winged Post will explore a social issue relevant to both the community and the time.
Baton Rouge and St. Paul, Baltimore and Chicago. These cities may seem unrelated, yet they are all tied together by one determining factor: violence.
Baton Rouge, Louisiana. On July 5, officers pinned 37-year-old Alton Sterling to the ground in a parking lot and fired six bullets at him.
St. Paul, Minnesota. On July 6, police officers pulled over 32-year-old teacher Philando Castile for a broken taillight and shot him.
"As an African-American woman, every day I worry that someone who is in my life, that my person, my loved one, is going to be murdered by a police officer," said Dr. Lola Muldrew, a faculty member of the diversity committee. "I think that every single day. Every time he leaves the house, I worry that he might not come back. Every single day. That's stressful."
Houston and North Miami, Oakland and Los Angeles. All cities in which parents worry for their sons' lives and take care to instill caution in their children.
"It's not something I think about on a day to day aspect because I like to go through life with a positive outlook," said Jadan McDermott (11). "But my mom and my dad tend to see things in the more realistic way: as a Black teenager, you've got to be careful when you're going out, you've got to conduct yourself in the proper way, you've got to pay attention to what you're doing or it could be easily misconstrued and you can end up as another headline in the newspaper."
These headlines and the stories under them that document killings like that of Sterling and Castile have invoked trepidation in the Black community, from Baton Rouge to St. Paul and even San Jose.
"It's scary what happens on the news, and I've been aware of all that," said senior Ezra Bekele. "I recently started driving, and I'm always sure to be careful and always comply with the police."
Amidst the fear and anxiety, what happened this summer has also fueled the Black Lives Matter movement. Since its beginnings in 2012, the movement has not only sparked an ongoing discussion about law enforcement in the United States but has also taken root in countries all over the world, from Canada and England to France and South Africa. It has been recognized by presidential candidates, politicians, former civil rights leaders and celebrities.
And most significantly, the activists behind the Black Lives Matter movement have protested the issues the Black community faces. 27-year-old Minnesota University alumni Saijen Weihe was part of the demonstrations held to object against Castile's death, including a march outside the Minnesota governor's residence. She was also an active member of the protests surrounding the killing of Jamar Clark, a 24-year old Black Minneapolis resident shot by cops in November.
"One of the main tactics we had for when we got stormed by the cops was to make a giant circle. On the outside we would have clergymen, holy people from churches and of different religions. White people made up the second line of defense, and any Black people would be at the center of the circle," Wiehe said. "People all uniting to occupy and to protest peacefully and coming together– it's the only way to accomplish anything, and it has been accomplishing things."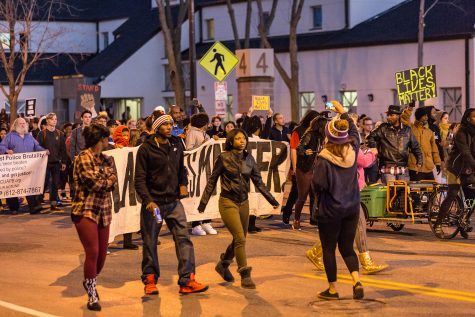 Along with the nationwide recognition of protests, social media has also been an active contender in the fight against systemic racism. Many witnesses of Sterling's police encounter filmed the aftermath of the shooting, while Castile's girlfriend, who sat beside him in the passenger seat, live-streamed Castile's death to Facebook.
These videos served as reminders of the influence that media has over the movement– they caught widespread attention on social media and news sites and propelled Sterling and Castile's deaths into the national spotlight.
"I think that one of the benefits of social media is a beautiful spiraling of information and communication and shared dialogue on so many different sites," Muldrew said. "I think that it's going to lead us to a place where we start making a difference in terms of systemic racism."
The high-profile shootings of Sterling and Castile prompted demonstrations not only in Baton Rouge and St. Paul, but all over the nation. Black Lives Matter members organized a rally in Dallas on July 7, but the demonstration, which started out as peaceful with minimal conflict between officials and protesters, ended in an ambush.
Micah Xavier Johnson, a 25-year-old Texan army reserve veteran, opened fire on a group of police officers, killing five and injuring nine others.
"Our police have an extraordinarily difficult job and the vast majority of them do their job in outstanding fashion," President Barack Obama said in a statement released to the press."We need to be supportive of those officers who do their job each and every day. Protecting us and protecting our communities. [Dallas] is a wrenching reminder of the sacrifices that they make for us."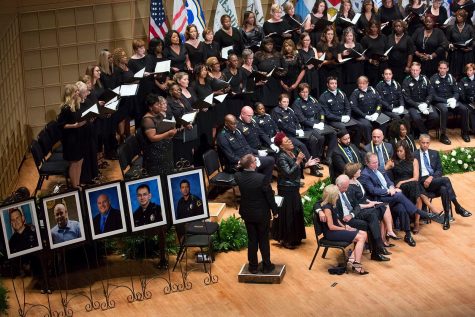 Like the deaths of Sterling and Castile, the attack on the police force engendered grief and fear in the general public. The officers were the victims of violence and unrest, and for many supporters of the Black Lives Matter movement, the Dallas shooting demonstrated how both the law enforcement and African-American communities are afflicted by strife.
"It sucks to see police officer shootings, violence, and riots, but also to see cities mourning losses, families crying and thinking about their child being killed," said junior Angel Cervantes. "It's hard, but I think we need to find a new way to handle these situations, because at the end of the day, we're all human."
As the movement escalated in the United States, Black Lives Matter demonstrations were held all over the world this summer, including a gathering of 3,500 protesters in Melbourne, Australia and a rally in London, England.
The fight against racial discrimination evolved into the global movement it is today not because of politicians and celebrities but because of those who made their voices heard, primarily the Black Activists who confront the issues faced by their community.
Alongside these activists are allies: those who are not members of the Black community but will speak out against systemic racism.
"I can only speak as a white male, but to me, that means that I have to speak up. It's not enough for me not to practice racism every day– I have to actively speak up when I recognize it," said diversity committee faculty member Mark Janda. "There's a difference between being passively non-racist and actively non-racist: if you're passively non-racist, you still have advantages and you partake in that system. Most people who desire to be allies need to know to work past the guilt and shut up and listen, to see what life looks like from other people's perspectives and actively give voice to those experiences."
Millions of people have joined together to give voice to these experiences. Since July of 2014, nearly 1500 Black Lives Matter protests have been held, and the movement gains a greater following on social media each and every day.
"Your silence is violence," Weihe said. "Just because internally you agree that it's not okay for Black people to be treated this way, that doesn't change anything. Get out there– it makes such a difference."
Part of this piece was was originally published in the pages of the Winged Post on Aug. 26, 2016.