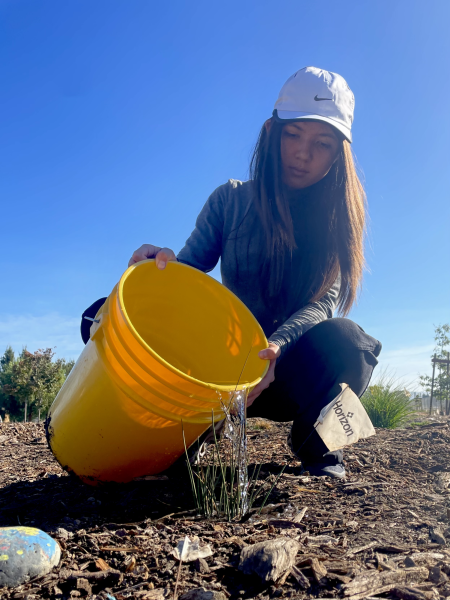 Green Team attended a community service trip to tend to the Martial Cottle Community Garden in San Jose on Nov. 4.
Accompanied by Green Team Adviser Diana Moss and upper school English teacher Nikolai Slivka, 10 attendees worked with the Our City Forest organization to tend to the gardens. Participants spent the day watering plants and creating pinecone bird feeders with seeds and sun butter. To clear up the land for Our City Forest's wildflower garden, which is scheduled for seeding in a couple of months, attendees also cleared out the 1-foot deep mulch and weeds. 
"I really enjoyed it," Green Team member Sathvik Vemulapalli (10) said. "I learned a little bit more about what plants need and how mulch is actually used. I'll [also] hopefully do a better job with my own personal garden in terms of taking care of it, and I now have a lot more respect for nature."
Our City Forest, a Silicon Valley-based nonprofit, advocates for urban forestry health by gathering volunteers to cultivate local gardens. The organization also aims to help people start their own at-home gardens. They offer options for people without the finances to support a garden through initiatives like "Cool and Green," in which Our City Forest transports and plants trees for free. Additionally, volunteers can plant seeds at Our City Forest's gardens, and the organization will help take care of the growing trees so that the volunteers can come back and visit their plants. Green Team plans to revisit Martial Cottle Community Garden next year after the wildflower garden grows.
In regard to future club plans, Green Team prepares for their upcoming club meeting on Nov. 16, including a visit from Jessica Holmes ('03), who will speak about her work for the Climate Reality Project.