WiSTEM and Medical clubs invite members to cancer researcher speaker event
Women in Stem (WiSTEM) and Medical Club hosted a speaker event featuring a cancer researcher on Nov. 11 in honor of Breast Cancer Awareness month. 
Students from all grades attended the club meeting to learn more about cancer research from an expert with firsthand experience.  The speaker, Dr. SoRi Jang, shared her story involving both the emotional and physical aspect of research to inspire students and possibly persuade them into pursuing a career in a similar field. 
"My goal for the attendees was to take away different concepts about chemistry and biology and to follow the doctor's advice about [conducting] research," WiSTEM's Outreach Coordinator Tiffany Gu (10) said. 
Tiffany opened the meeting with an introduction of Dr. Jang, including her background and expertise. Dr. Jang is currently a postdoctoral cancer researcher at Stanford University's Department of Biochemistry and studies the complex cellular network of the tumor microenvironment.
During the meeting, Dr. Jang discussed her experience using worm species C. elegans as a model system in a Yale laboratory and outlined effective methods and tools for identifying different forms of cancer. She explicated her step-by-step process of research for students to familiarize themselves with the goals and challenges of the studies.
"She spoke about RNA sequencing, which is a way to transfer RNA into a more digestible sort of numbers to analyze gene expression," attendee Kashish Priyam (10) said. "A lot of the time when we hear about research, it's skewed to one perspective, so it's always good to hear about views that don't [typically receive attention] because it allows us to broaden our minds and think about what it would be like if we wanted to participate in a similar study."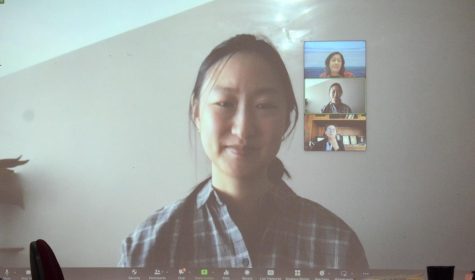 Aside from laboratory work, Dr. Jang also gave insight to the students as a minority in the scientific community.  Since there are fewer women studying in STEM areas, these fields tend to maintain rigid and exclusionary male-dominated cultures that are not supportive of women.
"So far in many areas, almost everything's very male-dominated, so it's great that women can finally get into these fields and contribute their ideas as well, which is inspiring," attendee Yena Yu (9) said. "She's also a woman of color, so I really enjoyed learning about the experience of someone who I aspire to be like in the future."
Additionally, Dr. Jang spoke about her evolving ability to deal with the failure that researchers are presented with, while advising students to do the same. She added that failure is an inevitable component of scientific research but is necessary for growth and allows for the attempt of different methods when executing projects. 
"A lot of the time when we hear about research, it's skewed to one perspective, so it's nice to hear from [other viewpoints] to learn about what it would be like if we wanted to join any of these fields," Kashish said. "She was such an impressive speaker and I could tell she's passionate about her work, and it was great to hear about what an expert was doing in a field that I am interested in."
The meeting concluded with questions from attendees and an expression of gratitude to the speaker by attendees and club officers. The club's leadership intends to broaden the range of STEM fields discussed in future meetings. 
"WiSTEM's main focus is to bring a lot of speakers so we hope to invite speakers from different fields, which will hopefully increase member turnout as well," Tiffany said. 
WiSTEM's next meeting took place on Dec. 2 featuring Astasia Myers, a founding partner at technology company Quiet Capital.