Varsity girls volleyball team falls to Crystal Springs at Senior Night game in close five-set battle
The varsity girls volleyball team lost to Crystal Springs during their Senior Night on Thursday with set scores of 24-26, 17-25, 25-22, 25-21 and 8-15. 
The volleyball team held a ceremony before their game honoring seniors Vivian Bi, Claire Kampmeier, Rachel Ning and Jessica Tang. Girls varsity volleyball head coach Theresa Smith introduced each senior one by one, stating how long they have played on Harker's volleyball team and their position as a player, as they emerged from the hallway entrance onto the court with their parents while the crowd cheered them on.
"This group of Harker seniors [has] a special place in my heart," Coach Smith said during the ceremony. "They understand that team is about 'we' and not about 'me'. I cannot thank this group enough for what they've done to better this program – for their unselfish attitudes, their incredible personalities, their dedication to the rigor of this program and for bringing the joy back."
Junior teammates presented the seniors with flowers and gift bags. Before the game began, student spectators rushed onto the court to form a tunnel with their arms for the players to run through. 
Harker took the first point of the game but remained head-to-head with Crystal Springs for the next several points. Middle blocker Emily Mitnick (10) returned an opponent's spike which gave Harker a two-point lead bringing the score to 5-3. Shortly after, the scoreboard control system malfunctioned which caused a delay in the game. While the players regrouped and the audience awaited in anticipation, the scorers table resorted to a temporary miniature electronic display and the match resumed. 
The Eagles called a timeout as they trailed behind Crystal Springs' Gryphons at 8-11, and soon after, libero Norah Mehanna (10) scored an ace for Harker as they caught up to 10-11. The two teams competed closely for the remainder of the game, with setter and team captain Rachel hitting a spike that fired up the crowd and brought Harker up by one point at 21-20. After a flurry of back and forth scoring, Harker possessed a lead at 24-22, but the Gryphons scored two points in a row to win the first set 24-26. 
After the first set ended, the main scoreboard was fixed. Harker started the second set with the first point once again. The crowd erupted into cheers as middle hitter Juhi Madala (11) hit a spike to set the score to 2-2, but Crystal Springs took the lead at 14-7 after being head-to-head for another several points. The away team continued with the lead at 20-9, prompting Harker to call a timeout. After the Gryphons scored another four points, the Eagles didn't lose hope and caught up to 16-24 with two consecutive points scored off of spikes by team captain Jessica before losing 17-25.
With Crystal Springs taking the first two sets, the third set began, and the two teams were tied at 2-2 and kept a close score before Norah scored three aces, giving Harker the lead at 11-7. After losing a few points to Crystal Springs, Rachel scored two aces, and Harker took a two-point lead at 15-13. Crystal Springs caught up to 22-24, but Harker took the third set with a score of 25-22. 
The Eagles started the fourth set with a three-point lead over their opponents. Jessica scored two aces, continuing Harker's three-point lead at 8-5. After Crystal Springs caught up and managed to take the lead 16-12, Harker made a comeback to tie the score at 17-17 and maintained the tie for the next 3 points, before breaking away with the lead and winning the fourth set 25-21.
Harker couldn't gain the advantage in the fifth set as Crystal took the lead 6-1. The girls were able to gain seven more points, but Crystal took the fifth set 15-8. 
Vivian reflects on her high school volleyball experience as she plays in her last home game for Harker's volleyball team. 
"I'm really sad honestly because I'll never be able to play competitive volleyball again, but it was fun," Vivian said. "I'm sad that we lost, but honestly we played really well, and I think we tried our best so that's all that I could ask for."
Emily notes how even though it was the last home game for the seniors, they still have more games to look forward to in the near future.
"It's bittersweet that our seniors are leaving, but in the end, I think it was just another game," Emily said. "We'll have more games — the seniors aren't done, they aren't leaving [yet]. And we have an opportunity to keep on going for the season."
About the Contributors
Emma Milner, Co-Sports Editor
Emma Milner (11) is the co-sports editor for Harker Aquila and the Winged Post, and this is her second year on staff. This year, Emma wishes to maintain...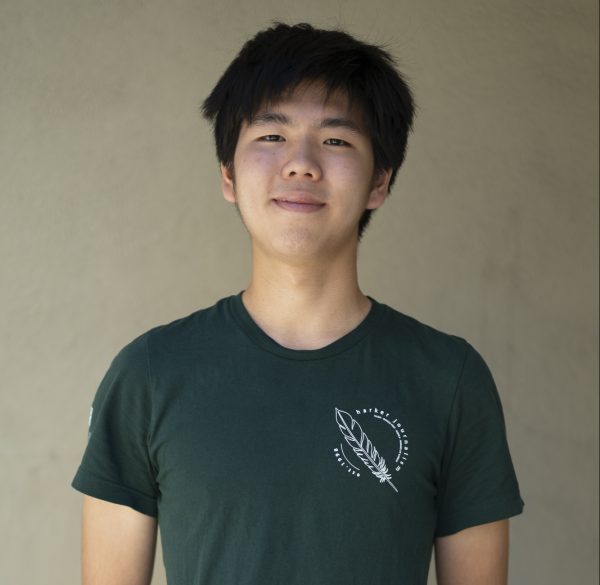 Kevin Zhang, Aquila Co-Managing Editor
Kevin Zhang (12) is a co-managing editor for Harker Aquila, and this is his third year on staff. This year, Kevin hopes to expand the scope of sports content...