Collectively escaping the social media trap
An app that calls itself authentic, original and unique. An app that captures the happenings of everyday life. An app that has no likes or filters. This is BeReal, a social media platform which has skyrocketed in popularity with its promise to show you "your friends for real."
Yet, BeReal still brings with it the dilemma of "being real" while simultaneously conveying the best version of yourself. Though the app strives to be a "unique way to discover who your friends really are" according to the BeReal website, the common pressure across all social media sites of portraying only the perfect moments of your life is still tangible. Giving into social media's demand that our lives be flawless and filtered is impossible since the reality is that our lives will never be that way. Whether they aim to or not, BeReal and social media sites as a whole still perpetuate the sense of competition for who can have the most photo-worthy, picturesque life.
The facade of the perfect life on social media has never been more common or easier to create. Although we're all aware of these unrealistic standards, seeing other peoples' 'perfect' lives on our feeds still takes a toll on our mental health. Apps such as TikTok and Instagram only worsen the problem with filters and growing concerns over likes and followers.
The pressure of being available digitally for others is also nerve-wracking but unavoidable. We often feel the urge to check our phone for new messages or scroll through our social media feeds because of the fear of missing a text or a conversation in a group chat. Phones have become an extension of ourselves — the impulse to constantly check our phones in order to be able to respond to others quickly combined with the intentionally addictive design of social media apps drives a psychological dependence on the device.
We also rely on our phones to escape from reality. With 95% of U.S. teenagers having access to smartphones, our phones have become ingrained in our daily lives, now more than ever after quarantine. During the pandemic, we strengthened our unhealthy reliance on social media and technology; after all, it was the only way to connect with others. Consequently, in uncomfortable situations in person, our phones act as 'safety blankets' for us and offer respite from awkward or boring conversations which plague our day-to-day lives. But how can we grow if we use our phones to shy away from awkward situations?
Though communication and forms of technology like Schoology are still essential to our lives, we can challenge ourselves to limit our social media usage, clicks, taps and scrolls and limit our screen time as a whole. Instead of retreating to our phones in the presence of a classmate, we can try starting a discussion with them or try using our phones to further social interaction.
As a result of quarantine, we became accustomed to using social media to connect online, but in person, the true way to "BeReal" is to place ourselves in the moment, not escape to our phones through social media, which only drives us apart.
About the Contributors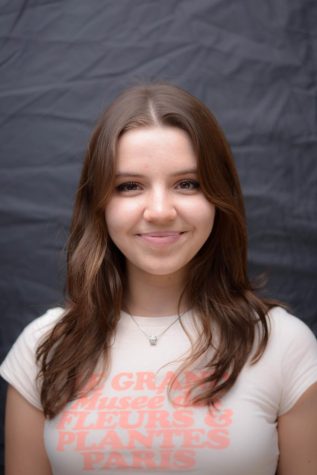 Ariana Goetting, Co-A&E and Lifestyle Editor
Ariana Goetting (11) is the co-arts & entertainment and lifestyle editor for Harker Aquila and the Winged Post, and this is her third year on staff....