Upper school journalism staff attend JEA NorCal media day
PALO ALTO, Calif. – 33 upper school Harker Journalism staff attended the JEA NorCal Media Day at Palo Alto High School on Saturday, an annual convention for high school journalism students and advisors. 
The day included 72 presentations split across four time blocks, with speakers ranging from student journalists to experienced media lawyers. Members of the Pearl Post journalism staff delivered a keynote talk about administration censorship at lunch. 
"I came to the event because I thought it would be a good experience to learn more about journalism and get better at stuff I'm not so good at yet," Saahil Herrero (10), a reporter for Harker Aquila and first-time journalism convention attendee, said. "[I liked] the one about feature writing; I thought that was really good … and it taught me how to write feature [articles]. I would say [all the sessions] were useful and informative." 
Various Palo Alto High School students volunteered for the event, directing attendees to the proper classrooms and setting up booths. 
"Today is an event for kids from other schools that are really interested in journalism, to be able to come here and learn from what other students have learned throughout the years of taking journalism," Anna Ghereghlou, a junior at Palo Alto High School and a staff writer for Verde, one of the school's magazines, said. "[Overall, I enjoyed] just hanging out with people from other publications and learning stuff from them." 
In addition, the Humans of Harker staff of the journalism program presented one of the sessions, titled "Humans of [Your School]." The presentation, led by Humans of Harker strategic members Tiffany Chang (12), Michelle Wei (11) and Olivia Xu (11), covered tips to implement a similar feature project in other programs. Several Harker students, mostly wearing the black journalism "Five Freedoms" shirt, attended to support the presenters.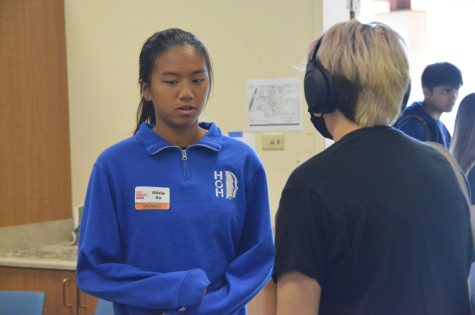 The various sessions about sports photography, covering controversial topics and staff bonding activities took place in the Palo Alto High School's Media Arts Center and English building.
At lunch, the keynote speakers Adriana Chavira and two former staff members of The Pearl Post, Valeria Luquin ('22) and Nathalie Miranda ('22), took the stage for an interview about how their administration censored their newspaper and how they fought against it. 
In addition to the speaker and keynote sessions, various organizations — including Herff Jones, Issuu and Jostens — hosted booths throughout the day. Presenters handed out stickers, pens and reporter's notebooks to encourage attendees to visit their tables. Experienced advisers also offered critiques for students who brought copies of their publications to the convention.
Harker Journalism will also be attending the CSPA Spring Scholastic Convention at Columbia University in March and the JEA/NSPA National High School Journalism Convention in Los Angeles in April.
A previous version of this article stated that 32 upper school Harker Journalism staff attended the event instead of 33. The article has been updated on Sept. 25, 2022, to reflect the correction of this error.