Upper school Humans of Harker journalism staff present at JEA NorCal Media Day
PALO ALTO, Calif. – The upper school journalism program's Humans of Harker team presented a 45-minute workshop at the Journalism Education Association (JEA) NorCal Media Day at Palo Alto High School today. 
The team, consisting of editor-in-chief Tiffany Chang (12) and managing editors Michelle Wei (11) and Olivia Xu (11), alongside Director of Journalism Whitney Huang delivered a presentation called "Profiles: Humans of [Your School]," about the current Humans of Harker program at the upper school and how to adapt it at other schools.
They presented at NorCal Media Day, an annual journalism convention for high school scholastic journalism students in the Northern California region, at an 11 a.m. session. Approximately 25 students attended the presentation, which covered the goals and details of the Humans of Harker project. 
Humans of Harker is a project of the Harker journalism program that publishes an article and environmental portrait of each senior in the graduating class. Started in 2018, the project has now expanded to video profiles, a special senior issue of the Winged Post, a dedicated section in the TALON yearbook, as well as a magazine. 
Tiffany, Michelle and Olivia first introduced the origins of Humans of Harker, which originated from Brandon Stanton's "Humans of New York" project. Tiffany then outlined the project's gradual transition to include a full length feature profile along with the senior's environmental portrait.
Next, Michelle and Olivia discussed the logistics of Humans of Harker, from how assignments are distributed among staff members to how deadlines are orchestrated and planned.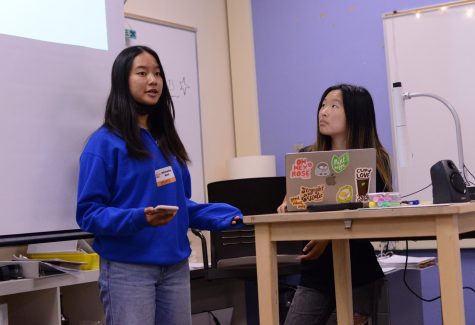 Huang explained the elements of high-quality Humans of Harker environmental portraits, such as non-distracting backgrounds and color composition. In addition, she talked through creating compelling portraits that relate to the subject's activities and personality. 
To end off the slides, the presenters played Kathy Fang's Humans of Harker video and spoke on Humans of Harker video profiles before taking questions from the audience. 
Senior Larry Wang, from Lynbrook High School, attended the presentation, and has considered implementing an adapted version of the Humans of Harker project for his school.
"I just think that the entire concept of a senior feature, featuring your entire class, is a really good way to give your entire graduating class [a story]," Larry said. "If we were to implement this at Lynbrook, I think we would select a population of 100 seniors… and I thought it would be kind of interesting if a senior were to submit their own writing and what it means to be done, for themselves."
The team plans to present again at the Spring JEA/NSPA Convention in San Francisco in April and the Spring Columbia Scholastic Press Association Convention at Columbia University in New York in March. 
Read published Humans of Harker articles from the Class of 2022 here.