LA street fashion: Where sidewalks become runways
LOS ANGELES — Harker Aquila attended the JEA/NSPA National High School Journalism Convention that began Thursday and ended on Saturday. Along the way, Aquila interviewed various city-goers and convention attendees about their style to showcase the vibrant fashion runways that run throughout Los Angeles. 
Olouwatobi "Tobi" Noukpozounkou
Senior at Bryan High School in Omaha, Nebraska
My inspiration for the outfit comes from Tyler the Creator because he's an artist and like his "Call Me If You Get Lost" album really inspired me a lot, so I wanted to make a fit based off of that. I got my hat from Amazon — it was only like 20 bucks — and I got my cardigan from Romwe for also like 15. The shirt I'm wearing under, I got from Walmart for like five bucks, and likewise with the Dickies I'm wearing. I'm also wearing some Air Force Ones. I just got the jewelry, also from Romwe.
Jane McGill
Sophomore at Central High School in Omaha, Nebraska; convention attendee; staff writer for the Register
I have very large feet, so I have trouble finding heels that fit me. I used to go to stripper stores. There's this stripper store in downtown Omaha; I don't recall the name at the time, but I actually recommend it. They embrace sizes at stripper stores and the heels look great. If you're ever looking for something, that's where to go. 
I have like 16 pairs, so I have a lot of heels. Probably too many. And, I think if the heel's under 6 inches, what's the point?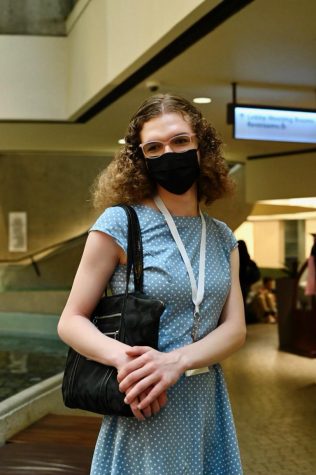 Abi DeClerck
Freshman at Ventura High School in Ventura, California; convention attendee; staff member of the Cougar Press
I got these on Depop like three years ago. This is my first time wearing them. I don't know why but it took me forever to get an outfit together. Yeah, I got some on Depop for my birthday. They were 40 bucks, so a bargain for Converse. And they're limited edition apparently, so I'm like, wow.
Chris Lazcano
Sophomore at Santee Education Complex in Los Angeles, California
This is a simple outfit fit for summer. I went with shorts and skater vibes. The necklace also went with the outfit, and it's just a crystal. 
Boni Antonio 
Sophomore at Santee Education Complex in Los Angeles, California
I got this shirt at a Goodwill, and it's really trendy — "Primitive," the brand. I just like the design — the flowers and everything, and the pitbull, I think that looks really cool. I like to skate a lot, and I just want to be pro one day.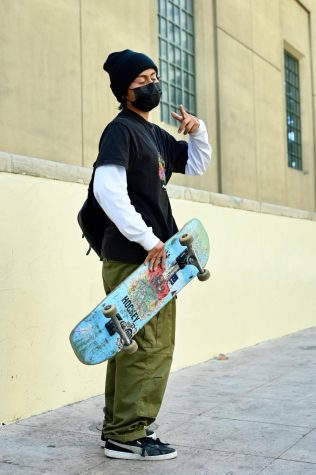 Alysa Suleiman