15-year-old journalist delivers keynote speech at national journalism convention
LOS ANGELES – A series uncovering the expansive drug usage at a local middle school. A story that exposed corruption in a city's firefighter department that caused top officers to lose their jobs. A report on an alleged Ku Klux Klan member led to the individual fleeing town. Journalist Hilde Lysiak has gotten these scoops and more. 
Hilde, 15, spoke to 2,131 student journalists from across 46 states at the opening ceremony of the Journalism Education Association (JEA)/National Scholastic Press Association (NSPA) National High School Journalism Convention on Thursday. 
In her six-minute speech to attending journalists and advisers, the current high school sophomore emphasized the importance of fact-based journalism in an age where journalists face censorship and persecution for their work. 
"Something I took away was that nothing is really off limits in the world of journalism regardless of your age and that at the end of day you can keep trying as much as you can," Walnut High School student Sofia Majeed (10) said. 
At the end of Hilde's talk, convention-goers had the opportunity to ask questions directly to Hilde about her work and journey, with questions ranging from her favorite case she had worked on to how she balances school and her career to remaining unbiased in her reporting. 
"If history teaches us anything, it's that the truth will always rise to the surface," Hilde said in her keynote speech. "Stand up, not just for the speech you agree with but especially for the rights of the speaker who you find most intolerable, most disgusting, and yes, even most dangerous. Then, and only then, could you rightfully claim what is at the very heart of the title 'journalist.'"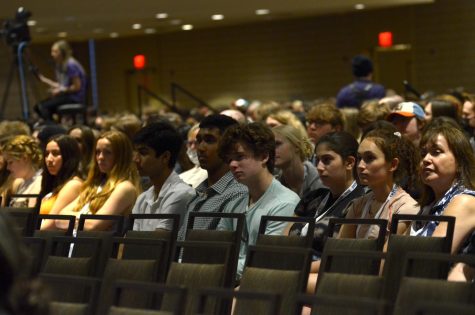 The youngest member to be inducted into the Society of Professional Journalists, Hilde started her journalism career at the age of seven, when she founded the Orange Street News with the assistance of her journalist father and began reporting on stories in her small town of Selinsgrove, Penn. Currently, Orange Street News is on a temporary hiatus.
At nine years old, Hilde pursued a murder mystery case close to her home, collecting information from the local police station and at the crime scene and publishing the story in Orange Street News before other large news sources. 
"Crime reporting is really important to me, first of all, because it has a lot of importance in society, and I think it can lead to a lot of real change," Hilde said in an interview with Harker Aquila. "Also, it's just interesting to me personally, because it's like solving a puzzle. They're pieces you put together, and I feel like I'm in this fictional world." 
Gaining national recognition for her reporting, Hilde wrote a six-book fictional series called "Hilde Cracks the Case" with Scholastic, based on real cases that she worked on from a fictional perspective. The first book was published in September 2017 and the last in February 2019. 
Most recently, Hilde completed a memoir "Hilde on the Record," to be released on April 19. At the convention, attendees could purchase an exclusive hard-cover copy of the book prior to the release date, and Hilde offered a book signing of the copies. 
At the book-signing event, Hilde read a brief three-minute excerpt from her memoir following her keynote speech that detailed the night that she reported on the Selinsgrove murder case and her initial reactions to the backlash from her reporting.
In addition, Hilde's story was turned into a mystery television series by Paramount Television and Anonymous Content titled "Home Before Dark," currently with two seasons available for streaming on Apple TV+, with the seasons released in 2020 and 2021. The convention hosted a screening of the first few episodes for attendees yesterday at 7 p.m. in the California Ballroom. 
Currently, Hilde is taking a break from her journalistic work to focus on her studies at Nogales High School. She is considering pursuing filmmaking in the future, inspired by her involvement in "Home Before Dark." 
"If the individual person can't look at all of the available information and determine for themselves what they believe to be true, then who among us is wise enough to decide for them? And under what criteria?" Hilde said in her keynote speech. "Make no mistake: denying a human being the ability to speak their thoughts and for others to listen is one of the most heinous crimes of violence that strikes a blow at the very thing that makes us human."