New Head of Upper School appointed for next school year
This article has been updated on Thursday, March 24, with photos of Paul Barsky and Kelly Horan as well as a quote from Horan.
Paul Barsky will assume the role of Head of Upper School, and Academic Dean Kelly Horan will act as the new Assistant Division Head of Upper School for the 2022-23 school year following the retirement of current Head of Upper School Samuel "Butch" Keller, Jr. 
Assistant Head of School for Academic Affairs Jennifer Gargano, who led the hiring process, and Head of School Brian Yager informed students of the change at today's school meeting and thanked Keller for his dedication to the upper school community. Gargano announced the change in administration to the upper school faculty yesterday in a brief Zoom meeting directly after school. Yager then sent an email announcing the news to all Harker faculty and staff.
According to Yager, Barsky held administrative positions at the Francis Parker School in San Diego, the Hewitt School in New York and the Pilgrim School in Los Angeles. Barsky also has experience teaching at schools in Asia and Europe. Barsky will be taking on his role on July 1 and will work with members of the administration on campus this spring to prepare for the role.
In addition to the role of Assistant Division Head of Upper School, Horan will continue to provide pre-college guidance to students such as through the four-year plan and will also take charge of the Living With Intent, Focus and Wellbeing (LIFE) program. 
"There's a lot of synergies between what I already do or what I try to do and what we try and do with LIFE as well," Horan said. "So I'm mostly excited for taking on some new challenges. It's always good to feel like you're growing and that you have new things ahead of you."
Four final candidates out of a pool of applicants for the Head of Upper School position underwent interviews conducted by students and faculty from Jan. 28 to Feb. 4. Questions mainly focused on diversity, equity and inclusion in the student body.
"[During the interviews], we really wanted to emphasize how Harker is an all-encompassing type of school," said Student Diversity Coalition Co-Leader Uma Iyer, who took part in the interview process. "We talked about community and the inviting environment Harker has as well as getting to know the candidate and their values."
Gargano also thanked the students who participated in the interviews and all upper school students and teachers at the school meeting. 
"You are kind, you're empathetic, you ask insightful questions, and you often exhibit a maturity of thought beyond your years," Gargano said. "This is what attracts the best teachers that come to Harker, and this is what made those who interviewed for our division head position know right away that this was a truly special place."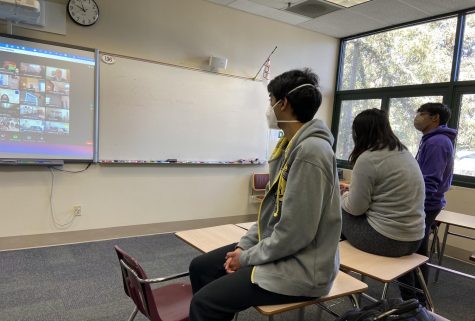 A previous version of this article stated that four candidates applied to the Head of Upper School position instead of four finalists who were interviewed. The article has been updated on Feb. 27, 2022 to reflect the correction of this error.