Six seniors named Regeneron scholars
Seniors Alice Feng, Alex Hu, Rishab Parthasarathy, Sasvath Ramachandran, Aimee Wang and Emily Zhou have been named Regeneron Scholars for the 2022 Regeneron Science Talent Search Competition. Rishab was then named a finalist for the research competition.  
Each of the scholars will each receive a cash prize of $2,000 and compete for another $1.2 million. Nearly 1,900 students participate in the Science Talent Search (STS) every year, making it one of the most competitive research contests.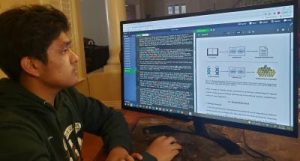 Rishab's project was titled: "A Novel Combination of Natural Language Processing (NLP) and Pathway Analysis for Predicting Oncogenic Mutation Progression and Recommending Targeted Therapies" and he researched how to apply computer science to predict what kinds of genes would mutate first and to track the progression of cancer. He hopes that his work can help recommend drugs for mutations before they happen.
"I have kind of gotten into the field of bioinformatics, which is the field of applying computer science for medicine," Rishab said. "I was thinking about how I can use this in a way that might be unfamiliar or that might yield some unexpected benefits."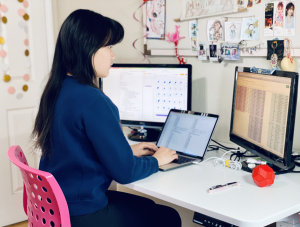 Alice presented her project on the relationship between proteins and RNA. The title of her project is "Deep Learning Modeling of the Relationship of Protein and RNA Levels With Manifold-Preserving Regularization." 
"I chose this [topic] to research about because I have always been really interested in genetics, and this just happened to be the project I was doing this summer," Alice said. "I really wanted to submit my best work to the competition."
Sasvath, who worked on "Reconstructing the Meta-genome," conducted phylogenetic analysis and genomic reconstruction on microbes found in the Deepwater Horizon oil spill. These microbes are hydrocarbon-degrading organisms that can help detoxify the oil, which is harmful to marine life.
"The crux of my research was first figuring out what the organisms were, and then piecing together the evolutionary history of these organisms in relation to others," Sasvath said.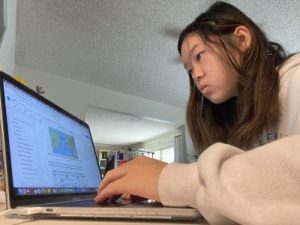 Aimee researched the ocean conditions of the abalone species as part of her "Monitoring Abalone in Alaska" project. She chose to study these animals because they have recently been a species of concern in multiple states, including California and Washington.
"We started collecting data from 2016, and it's a physical process because they are underwater, and you need physical divers to go down in the ocean," Aimee said. "Because this is a project that is so visible and in need of going through many steps, this was a very hard obstacle." 
"Computer-Assisted Detection of Intracranial Aneurysms Using a Transformer Deep Neural Network in 3D MR Angiography" was Emily Zhou's research project, and she created a neural network capable of detecting aneurysms within 3D medical images.
"I chose this to research because I did a project on aneurysms, and I actually created an aneurysm treatment," Emily said. "So, that was when my bio-engineering passion really started."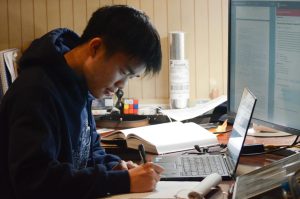 Alex's research area is in math. He researched how to simulate quantum computation on computers faster by studying stabilizer states, a certain type of quantum state. To become a Regeneron scholar or senior, the application process involves writing a paper and answering questionnaires before a student enters the competition. Even so, the rigorous application process is still meaningful.

"It helps you reflect on what you've done in your research and ultimately grow to become a better researcher," Alex said.