A fusion of Pacific flavors and fares
Pacific Catch serves fresh, sustainably sourced seafood
Are you craving the soft tortilla and juicy fillings of a taco? Or do you hunger for some simple yet appetizing rolls of sushi? Or both? 
At the heart of Cupertino's Main Street Plaza resides Pacific Catch, a modest-looking building with a sign spelling out the name of the restaurant in blocky white letters.
Pacific Catch blends Hawaiian, South and East Asian and West Coast-style cuisine with a specialty for sustainable seafood dishes, meaning they come from environmentally responsible sources. First founded in San Francisco in 2003, Pacific Catch has since expanded to its Cupertino Main Street location, which I frequent with my family, and 12 other locations throughout California.
In front of the restaurant, a palm tree overlooks several neatly arranged circular tables next to a patio providing spacious outdoor seating. Next to it, a bright orange wall splashes water into a small, shallow pond of coral and white koi fish, setting a tranquil yet cheerful dining atmosphere. Inside, rustic illustrations of fish and other ocean-inspired artwork emphasizing the restaurant's specialty adorn the walls, while bronze-colored lamps cast a warm, welcoming glow on sleek marble tables and a Fish Bar in the back.
"[There's] a really cool vibe when you come here," Pacific Catch general manager Rolando Campos said. "You feel like you're entering into a tiki bar." 
Upon entering the restaurant, customers are greeted by a server, who seats them as soon as possible, taking preference for indoor or outdoor seating into account. Each table provides a scannable QR code that leads you to the restaurant's website, which displays a digital copy of the menu with photos of each dish; paper menus are also available and disposable for sanitary purposes.
The amalgam of Pacific cuisines is a pattern throughout the restaurant; from burgers to poke, fish and chips to sushi, salads to ceviche, the menu offers starters, sides, entrees, desserts, beverages and a kids menu, a range of Pacific-inspired seafood courses. The menu items are all reasonably priced, especially considering the restaurant's commitment to sustainable seafood sourcing, but in my own experience at the restaurant, the sides can be more expensive than the serving size's worth. Usually, the wait for food to arrive lasts no more than 20 minutes, even when the restaurant is packed with customers, and the service is quick and attentive.
Whether you're dining with friends or family or enjoying a meal by yourself, the taco platter ($6 for one without sides, $16 for two, $19 for three), served with black beans and a choice of sides between fries, miso salad or chips and salsa, never fails. Each taco arrives wrapped in a soft corn tortilla; my personal favorites are the Mexican-style Guajillo Shrimp, coated in rich guajillo chili pepper sauce, and the Hot Fish, Alaskan cod drowned in the perfect amount of spiciness. An abundance of flavor and richness overwhelms each bite, striking a balance between the plain, fresh lettuce and the savory salsa and glaze of the seafood.
Another signature dish of the restaurant, the Fresh Catch ($27-28), gives the customer the choice of fish (Kanpachi Yellowtail, Striped Sea Bass or Arctic Salmon), style of preparation and side. From the Hawaiian Sea Salt or ​​Asian Herb Chimichurri to the Golden Turmeric or Pescado Asado, even the styles reflect the diverse selections offered by the restaurant. The fish arrives grilled and tastes tender, moist and most of all, flavorful.
As for the sides, the Kimchi Fried Rice, not too sticky and not too dry, adds an additional burst of spice, flavor and color to the dish. And although I previously was not a fan of brussel sprouts, the restaurant's roasted and seasoned Thai Brussels, with their crispy outsides and tender insides, a mix of saltiness and freshness, really show the true delicacy of the vegetable; the miso-butter broccolini offers another healthy and appetizing option. 
The Pokes and Ceviches ($13 each, $23 for a trio which includes wonton and/or tortilla chips), arrive at the table in a bowl of ice to keep them fresh and cool and are yet another popular order among customers worth trying.
Save some room for dessert—the Hawaiian-inspired Hula Brownie Sundae ($11), a generous scoop of vanilla ice cream topped with coconut flakes, macadamia nuts and rich chocolate syrup on a still-warm fudge brownie, is best enjoyed with a friend. The Mochi Fondue ($9), a platter of vanilla, chocolate and coffee ice cream mochi balls with warm chocolate dip and Pocky sticks, also makes for a sweet ending touch to the meal.
Behind Pacific Catch's ambience and menu lies the restaurant's unique mission to provide its customers with both high quality and sustainable seafood. According to Campos, every dish has been inspected and approved by the Monterey Bay Aquarium.
"
[There's] a really cool vibe when you come here. You feel like you're entering into a tiki bar.
— Pacific Catch general manager Rolando Campos
"In a world where climate change, pollution, habitat-destruction, over-fishing, nutrition and food access are the biggest challenges humanity faces, all of the innovations in sustainability that are happening are needed now more than in any other time in human history," the Pacific Catch website writes.
Pacific Catch follows guidelines for sustainable sourcing developed by the Monterey Bay Aquarium and Seafood Watch, which evaluates caught and farmed seafood from around the world based on sustainability and has been a partner of the restaurant since 2018. These guidelines center around the values of environmental sustainability, social responsibility and economic viability: sourcing the seafood should not damage the environment or ecosystem, and the people behind harvesting and producing the seafood should be working under safe and fair conditions and should profit from the seafood.
According to the Food and Agriculture Organization of the United Nations (FAO), 65.8% of fish stocks were within biologically sustainable levels as of 2017, a significant decrease from 90% in 1990. The restaurant specifically avoids endangered species, including Pacific cod from Japan or Russia and bluefin tuna, and sources only green, meaning responsibly caught or farmed, and yellow, meaning may or may not be responsibly caught or farmed, fish, per the Seafood Watch recommendations. Pacific Catch also partners with James Beard Smart Catch, a network of chefs whose goal is to increase sustainability of seafood.
As a member of Surfrider Foundation's Ocean Friendly Restaurants, a program that recognizes eco-conscious restaurants, Pacific Catch distributes compostable utensils and straws, uses eco-friendly appliances, such as LED light bulbs and water-efficient toilets, and composts all food waste, according to its website.
No matter what you're craving, Pacific Catch offers an incredible variety of fresh, sustainable dishes, a fusion of Pacific cuisines that suit your appetite, and commits to preserving the greater environment. If you're a seafood lover and up for a casual meal solo or with a friend, Pacific Catch is shrimp-ly the per-fish place to dine.
Pacific Catch operates from 11 a.m. to 9 p.m. at 19399 Stevens Creek Blvd.
About the Contributor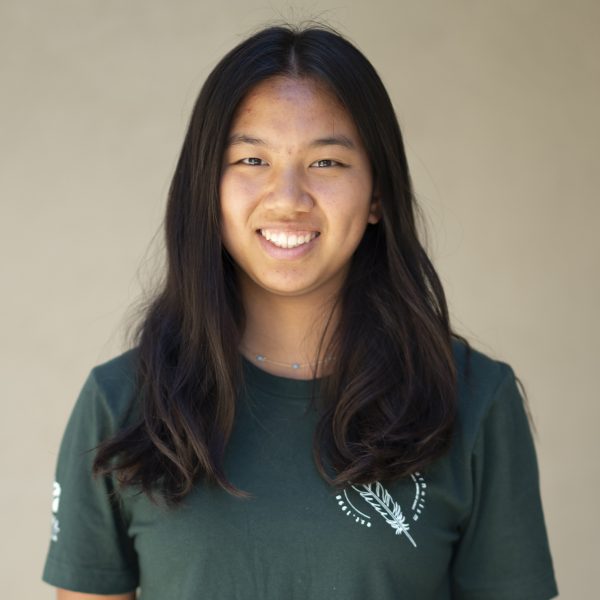 Olivia Xu, Humans of Harker Co-Editor-in-Chief
Olivia Xu (12) is the co-editor-in-chief of Humans of Harker, and this is her fourth year on staff. She is excited to celebrate the Class of 2024 and collaborate...