Our garden, our home
Harker groundskeepers uphold mission to cultivate beauty on campus
For the grounds team, the workday starts early — pre-sunrise, 6:00 a.m. early, when the sun's fingers just start creeping over the horizon and the campus lies still, fast asleep.
That is when Director of Grounds Steve Pacheco arrives at his office and reads through his emails before hopping into his truck and heading over to whichever one of the Harker campuses he is needed at most. Pacheco's job includes overseeing the grounds team across all Harker-owned properties, including school campuses, apartments and even the newly purchased transitional kindergarten property. 
"I'm always striving to make [the grounds] look better — that's a continual thing with me and my job because it can never look good enough to me," Pacheco said. "Parents expect a certain beauty, and so I take a lot of pride in providing that every day."
With over 15 acres of landscaping, the most out of the four Harker campuses, the upper school requires a dedicated team of four groundskeepers to maintain its flora, a thriving, upwards of 400 species. The grounds include over 100 trees, such as the fruit varieties in the orchard and the oak, sycamore, acacia, crape myrtle and Italian cypress across campus, according to Assistant Facilities Director Janet Rohrer.
Soon after Pacheco starts his work, upper school groundskeeper Luis Mayorga-Perez begins his own workday, kicking it off with a garbage run with the waste from the kitchens at 6:30 a.m.
"I try to pick up all the trash on the floor to keep the area clean, so when you come to study, you see a pleasant space," Mayorga-Perez said.
In addition to taking care of the trash on campus both in the morning and after lunch, Mayorga-Perez, who spent 13 years at the Harker middle school and one year at the upper school, helps with the maintenance of the campus flora such as by pruning the fruit trees in the orchard.
"
If you look at some plants every single day [they'll] look the same, but if we move something, if we cut some branches, if [we] trim one, you're always going to see something [new] all the time.
— Urdelin Justo, lead groundskeeper
Within the next half hour, lead groundskeeper at the upper school Urdelin Justo, who has worked for 22 years at Harker, arrives on campus. His job of daily maintenance, though, is far from one-dimensional; Justo in fact describes his favorite part of the job as doing something different each day. 
"Nothing stays the same," Justo said. "If you look at some plants every single day [they'll] look the same, but if we move something, if we cut some branches, if [we] trim one, you're always going to see something [new] all the time."
Fellow groundskeeper Jose Hernandez, who has worked at Harker for four years, also takes on tasks repairing various infrastructure related to the landscaping — most recently, he fixed pipes in front of Manzanita Hall. 
Besides the day-to-day maintenance of weeding, pruning and cleaning, the grounds team also ensures the good condition of grounds-specific equipment such as tractors, mowers and blowers, and they also maintain the synthetic material on Davis Field by sanitizing, brushing and infilling the cushioning material underneath. Grounds maintenance costs a total of about $75,000 per year, with arborist care costing around $20,000 alone annually. Pacheco estimates that younger fruit trees in the orchard cost about $300 each, while the more mature trees could now sell for over $1000. 
From time to time, the upper school administration will make requests for an extra pop of color in certain areas or for practical add-ons such as additional picnic tables in the orchard — a project that the team recently began with the help of the Associated Student Body (ASB) council. The council brought concerns with insufficient lunchtime seating to Head of upper school Butch Keller, who then moved forward with the project, starting off by ordering four picnic tables. The school plans to finish this project in early November. 
"It's another good addition where students can come to sit, study, eat lunch, and also enjoy the flowers and the greenery around them," ASB treasurer Aaditya Gulati (12) said.
Behind every change on campus, though, the groundskeepers must follow a carefully thought out process. For example, over the summer, the grounds team renovated the area between the weight room and the Japanese building, creating a picnic area using California native plants as landscaping. Most of the plants on campus come from Central Wholesale Nursery in San Jose, with the exception of some fruit trees, which Pachecho purchases from nurseries in Gilroy. 
To execute this project, the team first scouted out the area, assessing soil conditions and removing debris such as dead tree roots. They then added in the foliage, which consisted of almost entirely California native plants. The arrangement consists of shrubs such as Arctostaphylos edmunsii (Little Sur Manzanita) and Salvia leucophylla (San Luis purple sage) and perennials such as Archillea millefolium (yarrow) and Epilobium canum (California fuschia). The team followed by laying down irrigation, a weed barrier and a final topping of mulch to seal the moisture in. 
Beneath the surface, the grounds team also manages the infrastructure that keeps campus flora healthy. In addition to around 90% of the plants being California native, according to Pacheco, the team has also been gradually implementing changes to make maintenance more drought-friendly and environmentally conscious, such as by modifying the old spray irrigation into a drip irrigation system to save water.
In addition to this change that helps Harker increase sustainability, the grounds team also maintains three bioswales, sections of land located on two sides of the Rothschild Performing Arts Center and one side of the Zhang Gymnasium. Bioswales serve as natural filtration systems and reduce the amount and speed of stormwater runoff, according to CalRecycle. As such, the flora in these spaces must be water-resistant and able to absorb various toxins from the runoff. They also provide more areas to cultivate California native plants, like New Zealand flax, which thrives in Harker's bioswales. 
During the pandemic, the team made more progress than in a usual year because of the lack of student life and events on campus, allowing the groundskeepers more flexibility and longer working hours. Looking into the future, the team plans on beautifying the steps between the Singh Aquatic Center and the weight room by adding plants to cascade in the shape of a waterfall. 
Harker's student-run environmental organization, Green Team, also has plans for the campus's gardens this year, aiming to revitalize a garden on the roof of Nichol's that has been neglected for several years already. The little-known garden is accessible by a flight of stairs outside the building, although the door to the garden is currently locked. 
"It hasn't been cared for in a few years, so that's why it's something that Green Team wants to focus on this year, and it's a lot of work caring for the garden," Green Team treasurer Thresia Vazhaeparambil (12) said.
To provide a flourish of nature to the building, Green Team plans on populating the garden with succulents, which do not require frequent watering and can reduce the effort needed to keep the garden healthy.
"I also believe that having a garden [and] plants on top of Nichols will keep the entire building itself cooler," Green Team co-president Sriya Batchu (12) said.
Ultimately, the members of Green Team hope that students will be more environmentally mindful on campus. The Harker administration has worked towards becoming more environmentally friendly, completely replacing plastic forks on campus with metal ones in the past few years to reduce Harker's plastic waste. Despite these efforts, more and more metal forks have been left in trash cans and lying around campus. 
"
Anything that takes away from what we want to do to beautify this campus is a negative. Be aware of walkways and surroundings. We do everything we can to make this a beautiful place for you guys to come to every day — help us keep it that way.
— Steve Pacheco, Director of Grounds
"I think that is a very big issue because it's something so simple that honestly, anybody could do," Thresia said. "It's been a huge positive change, but to see the Harker students themselves not actually using [the metal utensils] to their potential is just ruining the point of why we wanted to go plastic-free."
In order to truly benefit the campus and environment, Green Team members believe that students must actively work towards sustaining Harker's shift from metal forks to plastic. One such effort is to dispose of trash in the correct bin to promote recycling and reduce landfill waste. 
Likewise, because the groundskeepers spend hours each day caring for the flora on campus, they also hope students can be mindful of their impact on the gardens and facilities. Oftentimes, when students tread through plants, they create permanent walkways without realizing they are wearing down the gardens.
"This is disrespect," Keller said. "One of our four tenants is respect, and we're disrespecting [Justo] and all the work that he and [Hernandez] do. Their life is to serve the student body by making this campus look beautiful, and our payback to them is trampling over what they did."
The Hemerocallis lilioasphodelus (yellow daylilies) on campus have taken an exceptionally hard hit. Often planted near walkways in the orchard, these golden flowers now lie limp and flattened across the tanbark. In response, the grounds team has placed signs throughout the orchards urging community members to step with caution. 
"[Students] can help me to keep my plants alive," Justo said. "Some make a shortcut [around the gardens], and they start to kill some plants at the corners. Often, we can't go to tell the kids, 'Don't do it,' because we don't have the right." 
Students can also do their part in keeping the campus healthy and tidy by properly disposing of their trash and being mindful of walking through landscaping or tracking tanbark and other debris onto the sidewalk. 
"Anything that takes away from what we want to do to beautify this campus is a negative," Pacheco said. "Be aware of walkways and surroundings. We do everything we can to make this a beautiful place for you guys to come to every day — help us keep it that way."
Interview with Luis Mayorga-Perez was originally conducted in Spanish.
About the Contributors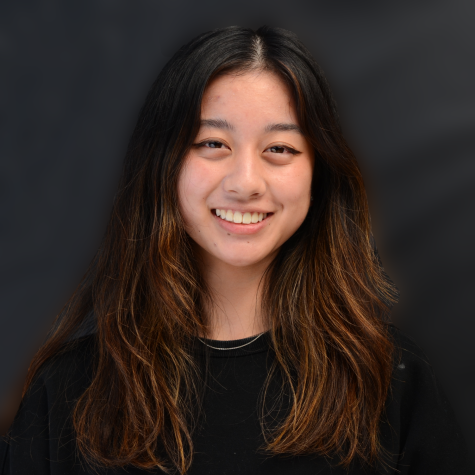 Emily Tan, Winged Post Co-Editor-in-Chief
Emily Tan (12) is the co-editor-in-chief of The Winged Post. This is her fourth year on staff, previously serving as the Winged Post features editor, and...
Edward Huang, Winged Post Co-Managing Editor
Edward Huang (12) is a co-managing editor for the Winged Post, and this is his fourth year on staff. This year, Edward wants to continue creating unique...