Upper school students recognized in annual Scholastic Art and Writing Awards
Seventy-four upper school students received regional awards in the 2021 Scholastic Art and Writing Awards competition, with the results announced on January 28. The Scholastic Art and Writing awards is a competition held annually in which students can submit various works of art and writing in a variety of categories. 
Read on to hear from a selection of the winners — a full list of Harker winners can be found here.
"The Blame Game" by Trisha Iyer (9):
Trisha received six Gold Keys in the short story, flash fiction and humor categories and one Silver Key in short story. Her short story "The Blame Game" focuses on Sita, a character from the Ramayana, an Indian epic.  
"I try to do marathon writing sessions, [and] it just kind of flows out of me," she said of her writing process. "As for inspiration, honestly, I have a really weird imagination. So I'll just notice strange things one day, random details, and then suddenly start building something out of them." 
"Section 230: How a Law Designed to Enable Content Moderation Ended Up Killing It and Where We Go from Here" by Kabir Buch (9):
Kabir earned a Silver Key in the critical essay category. His critical essay, titled "Section 230: How a Law Designed to Enable Content Moderation Ended Up Killing It and Where We Go from Here," focuses on Section 230 and how it has affected the freedom of speech. 
"I got inspiration [by] seeing a random news article about [Section 230]," Kabir said. "Once I did a little more research, I found out that it was a lot different as an issue than I understood it, and how it worked was very different from how I'd seen most people talk about it. I thought that there seems to be a misconception around it, so [I decided to] write about that."
"Expectations" by Shareen Chahal (9):
Shareen earned an Honorable Mention in the drawing and illustration category for her artwork "Expectations." The illustration features a girl with one human hand and one mechanical hand on either side. The mechanical hand represents the expectations that people have, and the human hand reflects the imperfections of human nature. 
"Whenever I create art pieces, I always try to relate it to myself and who I am as a person. In my art piece, it's split in half, there are two hands, and they reflect the human side of me, like, Oh, I make mistakes. Not everything about me is perfect. And another side represents the expectations and perfectionist side of me. I think that it sort of relates to everyone as well. Everyone sort of has those two sides of them," Shareen said.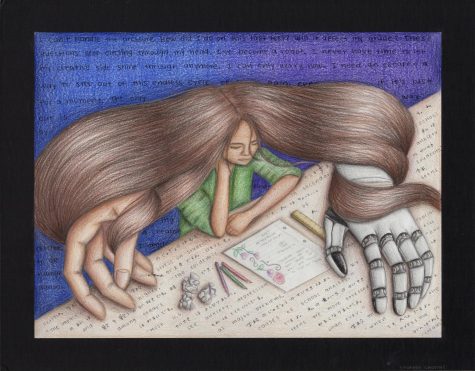 "How to Receive a Compliment" by Austina Xu (10):
Austina received a Gold Key in the humor category for her piece "How to Receive a Compliment." Her piece offers a unique take on how people react after receiving a compliment and witty advice on how to react appropriately. 
"I thought, we don't really know how to accept compliments at all. We like to evade them, or we just do it terribly," Austina said. "So I thought, why not write a piece about that, since I thought that would be funny. For humor, you have to be very honest about your own thoughts, and that's what makes the piece unique and personal and funny."
"Water and Everything I Am Afraid Of" by Sarah Mohammed (10):
Sarah earned an American Voices Nominee distinction for her poem "Homeland, Gone," an honor awarded to five students in the Bay Area region. She also received 13 Gold Keys in the personal essay and memoir and poetry categories. She writes poetry to engage with something she has been thinking about deeply, and she appreciates how the poetry writing process involves learning more about herself while writing.  Her memoir, "Water and Everything I am Afraid Of," focuses on her experience during the pandemic of learning to appreciate and value what she previously thought was simple.
"I think [submitting to a contest is] a brave thing too because people you don't know are reading your work," Sarah said. "Even just to give some reader somewhere a chance to read your poem or read your essay, I think that can be a pretty enriching experience and just a nice feeling that someone out there is reading my poem, and maybe they'll see something in it, and maybe not, but either way, I'm getting my work out somehow."
She received 16 Silver Keys in personal essay and memoir and poetry. She also received five Honorable Mentions in the flash fiction, short story and poetry categories.
Catherine He (11): 
Catherine earned a Gold Key in the science fiction and fantasy category. She received a Silver Key in poetry, and she also received two Honorable Mentions in short story and poetry. She submitted to the short story category for the first time this year. 
"Over the summer, we were in the pandemic, so I had a lot of time to myself," she said. "So every single time I thought of an interesting experience or a curious word, I would just write it down in a master doc or record in voice memos, and it was just a master doc of random things and random excerpts." 
"How Has COVID-19 Affected the Nation's Food Supply Chain?" by Yejin Song (11):
Yejin received an Honorable Mention in the journalism category, and her article was originally published in Issue 1 of Harker Oeconomia's Equilibrium. Inspired by an episode of the economics podcast "Freakonomics" focused on the food supply chain and what she saw happening in grocery stores during the pandemic, Yejin's article focuses on the impact that the COVID-19 pandemic has had on the United States' food supply. 
"Scholastic is pretty well known. It's a good opportunity for people to see where they rank among other people all across the nation and a good place to showcase the work that people do on their writing and art," Yejin said. 
"Nietzschean Villanelle" by Sophia Gottfried (12): 
Sophia received a Silver Key in the category of critical essay, and she also received one Honorable Mention in the category of poetry. Her focus was including philosophical ideas in a structured villanelle and writing about Nietzsche's legacy. 
"I think that one thing that's really spectacular about the Scholastic awards is I feel, not so much this year because we're online, but in past years, I felt a very large camaraderie within the community of writers at Harker because we all get together and talk about what we're submitting to Scholastic and read each other's pieces," Sophia said. 
Hari Bhimaraju (12):
Hari received one Silver Key in the category of poetry.
"When I'm feeling a lot of emotion about something, then I just sit down, and I'll just write a poem. It just comes at once. I think it's kind of like an emotional expulsion for me almost," Hari said. "So it's [a] way for coping with my problems and stuff like that."
"Puzzling" by Alex Zhai (12):
Alex received a Gold Key in the category of photography, two Silver Keys in the categories of sculpture and photography, and two Honorable Mentions in the categories of sculpture and photography. 
"I think most of my [sculpture] pieces are really just inspired by emotions that I'm feeling or social, political, or sometimes even cultural issues that I'm passionate about," Alex said. "I've made sculptures in the past about topics like my own insecurity about growing up in uncertainty and learning to embrace uncertainty, [and] that was one of the pieces that actually won this year called Puzzling."