Creativity in the kitchen: students' and teachers' quarantine culinary adventures
During quarantine, many Harker students and teachers have been baking and cooking more as a way to pass the time, connect with family members, and replace Harker lunches. Here are some of the dishes students have made, along with their insights, advice and general thoughts. 
Anika Mantripragada (9) learned to make vegetable potstickers over the past few months.
"We don't really eat East Asian food a lot, so [my cousins and I] just wanted to experiment and try something new," Anika said. She said she likes cooking because "it's good to have things to do outside of school work … especially being with my family and cooking with them is really important to me … it's just a really enjoyable experience."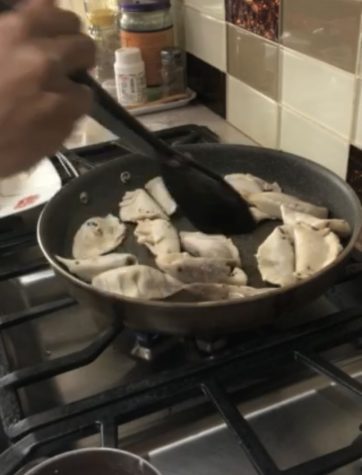 To make around 50 vegetarian potstickers, start off with a large bowl. Add 2 1/2 cups of flour, 1 cup of water, ⅛ cup of vegetable oil, a teaspoon of salt. Mix ingredients together, knead the dough, and set it aside on a wet paper towel. Cut ½ of a purple cabbage, 7 cloves of garlic, and one green chili into fine pieces and place them into a bowl with 8 teaspoons of oil. Finely chop green beans and carrots (enough to fit a 32oz container) and add them to the bowl. Set mixture to medium heat and mix with two teaspoons of salt, two handfuls of chopped spinach leaves and any additional spices, such as red peppers, sriracha or turmeric. After mixing, add high heat. Add ⅓ of one packet of chopped tofu (14 oz) after removing the water. After the mixture has been cooked, set it aside and turn off the heat. Roll the dough flat into small discs, place a spoon of filling in the center of the circle, and fold over the dough. Put the potstickers into a pan of oil on the stove and cook until golden brown. Add soy sauce and green onions. 
To view the full recipe, click here.
Dawson Chen (11) has been cooking various foods ever since early middle school, and this stew is one of his latest dishes. 
"I started cooking in 7th grade when I had some time by myself at home to cook. My parents were busy, so I had time by myself to experiment," Dawson said. "Regarding advice for people who want to get into cooking, rust your own taste buds more than YouTube videos or anyone else on the internet. Whatever tastes good is the most important."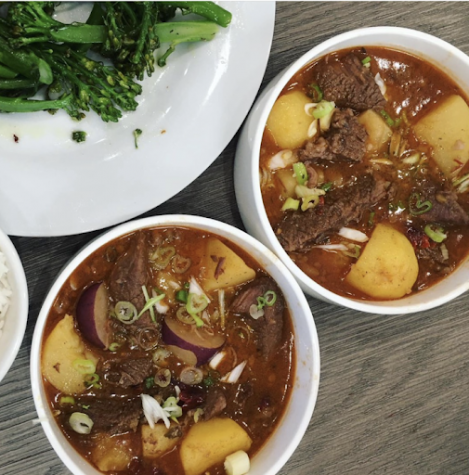 To make stew, season ¾ of a pound of beef in a pot with a pinch of salt, a pinch of pepper, and a splash of olive oil. On the chuck roast, hard sear the meat until it creates lots of fond on the bottom of the pot (the meat should be deeply browned at this point). Then, cover the meat in tomato paste, 4 cloves of garlic, 1 shallot and caramelize the meat by cooking it for as long as possible without burning anything. Deglaze the meat with a mixture of ½ white wine (2 cups) and ½ chicken stock (2 cups). Lastly, add five dried chilies, Worcestershire sauce, a pinch of paprika, and reduce the amount of liquid by ⅔ (as shown in the picture). Lastly, add a pinch of pepper and scallions. 
To view the full recipe, click here.
Ashley Ruan (10) specializes in her cakes, and a flavor of cake that she has experimented with is taro.
"When my family gets to eat [my desserts] together after dinner it feels really nice. I feel proud of myself when my mom says, 'Wow that's so good'… [and] when she shares it with her friends on WeChat," Ashley said.
To make a taro cake, start with 270g of taro, 3 tablespoons of sugar, 80g of milk. Steam the taro and combine the milk and sugar. Cover this part paste and keep it in the refrigerator. After making three chiffon cake layers, mix ¾ cup of whipping cream, 1 tablespoon of sugar, and half a teaspoon of vanilla extract. Soak 1 sheet of gelatin in water for 10 minutes, then microwave it at 10-second intervals. Whip the cream while slowly adding in the sugar. Beat the gelatin and vanilla extract into the cream until it turns soft. Soften the taro paste with a spatula and split into half (first half for filling and second half for decorating). Apply half on the first cake layer and half on the second cake layer. Add the whipped cream to the cake and use a frosting spatula to smooth the cream thinly as a layer over the cake. Decorate the top by filling the remaining taro paste into a round-tipped piping bag and adding toppings such as blueberries or white chocolate. Refrigerate for a couple of hours before serving. 
To view the full recipe, click here.
Alex Kumar (12), who has been cooking with his family ever since he can remember, has recently whipped up some grilled skirt steak kebabs.
"I've been cooking or learning about cooking by watching and being involved since I was old enough to hold my head up. Food is a good way to connect with people," Alex said. "Food and eating and cuisine was something that interested me, so it was natural that I would learn to cook."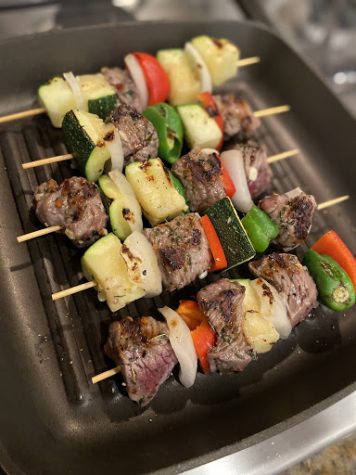 To make grilled skirt steak kebabs, submerge the wood or steak skewers in a bowl of water to soak. Toss a 16oz skirt steak (cut into 1-inch cubes) and one large zucchini (sliced into half-inch-thick rounds or half-rounds) in a large bowl with 1 tablespoon of canola, avocado, or grapeseed oil and ⅛ teaspoon of chili oil. Add 1 teaspoon of dried oregano and 1 teaspoon of dried cumin. Add salt and pepper to the bowl as needed. Prepare skewers, leaving half an inch on each end and ensuring that all parts of the steak will touch the grill. Prepare 1 red Vidalia onion with its layers peeled and cut it into 1-inch square slices. Also, cut one red bell pepper into 1-inch square slices, and keep a handful of de-stemmed Padron peppers on hand. When arranging ingredients on the skewers, be sure to alternate aromatic ingredients (onions and peppers) with absorbent ingredients (steak and zucchini). Grill kebabs on high heat for 3-4 minutes on each side and serve hot.
To view the full recipe, click here.
Tessa Muhle (12) loves cooking during lunch, and recently followed a recipe to try out mushroom risotto. 
"I like food and [cooking is] easy to do and you mostly get good results from it. It's a nice way to be domestic, forget about the academic and social stuff and just focus on very simple stuff, it is simplicity," Tessa said. "There are no decisions to make; you just follow the recipes."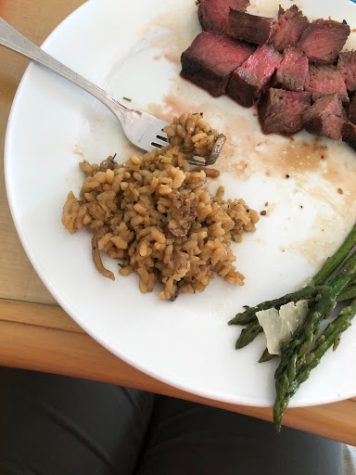 To make mushroom risotto, warm 6 cups of chicken broth and 2 teaspoons of olive oil on a medium heat setting in a large pan. 1 pound of thinly sliced portobello mushrooms and one pound of thinly sliced white mushrooms should be added to the mixture and cooked until soft. When it is soft, remove the mushrooms and the broth to set aside. Add one teaspoon of olive oil to the pan and cook two shallots in the pan. Add 1 ½ cups of Arborio rice after the shallots are cooked for a couple minutes and pour ½ cup of dry white wine when the rice is golden. Add ½ cup of broth to the rice at a time and continue to mix and cook for around 20 minutes until the rice is al dente and the chicken broth has been absorbed into the mixture. Remove the heat and then add in the chicken broth, 4 tablespoons of butter, 3 tablespoons of finely chopped chives, ⅓ cup of Parmesan cheese, and salt and pepper as needed. 
To view the full recipe, click here.
Mr. Silk experiments with different baking creations, and one of the desserts he made was oatmeal banana chocolate chip cookies 
"I've definitely been cooking a lot more than I was beforehand. Part of that is because I don't get Harker lunches, so I'm making everything myself, and partly because it is something to do," Mr. Silk said. "The amazing thing about cooking is that it is one of these things that just gets better with practice: you don't have to be good to start, just start small and do something easy. See what works and what does not work, and get more adventurous as you go."
To make oatmeal banana chocolate chip cookies, combine 150g of flour, ½ a teaspoon of baking soda, ¼ teaspoon of salt, ¾ of a teaspoon of cinnamon, and 1 ½ cups of old fashioned rolled oats in a bowl and mix the ingredients together. Set aside this bowl. In a stand mixer or electric mixer, blend together 105g of light brown sugar, 50g of granulated sugar, and ¼ cup of unsalted butter. After three minutes, add 1 large egg and 2 teaspoons of vanilla extract to the stand mixer and blend for a minute. Add 2 lightly mashed bananas until there are light lumps of banana. Add the dry ingredients mentioned above, mix, and stir in 1 ½ cups of chocolate chips. Cover the bowl and refrigerate for at least two hours. After preheating the oven to 350 degrees F, spoon 2-3 tablespoons of dough and roll it onto a baking sheet covered in cooking spray or parchment paper. Repeat and keep each cookie at least 1 ½ inches apart. Bake for 13 minutes, then cool for 10 minutes. 
To view the full recipe, click here.