Lights, camera … and (Zoom) fashion?
The air was crisp and cool, the perfect level of humidity and air conditioning soaking into clean walls, the dozens upon dozens of chairs, the in-season outfits of haute couture people filling the rows. 
And, of course, the gleaming catwalk.
As the music danced through its first few measures, models strutted out in clothing featuring bizarre patterns, shimmery fabric, and towering heels. Ah, there was nothing like Paris Fashion Week, I smiled, thinking, sinking into my seat and absentmindedly sipping sparkling water from a flute glass. 
Suddenly, the raucous noise of my alarm cut through the air, and I fell back through the seat into an endless void, tunneling through darkness until the incessant beeping grounded me to reality. My eyes shot open, and I sat up in bed. I was dreaming about Paris fashion week…again.  
Sighing, I swung my legs over the side of my bed and stood up, stretching away the last of my fictitious dreams before ambling over to my closet to prepare for another day of Zoom school. Most days, I find it difficult, even unnecessary, to put in the effort of an outfit that would normally give me the energy I needed to boost through an eight-hour school day. Yet, Zoom doesn't seem to have fazed some students, who instead see the new online learning environment as a motivation to continue their passion for fashion efforts. 
For Callie Yuan (9), outfit inspirations come from online, where she found her niche in the "model off duty" trend that features long silhouettes and vintage colors. One of her favorite outfits to wear during a Zoom school day is a cropped white polo and relaxed, high rise brown pants, paired with a handbag and chunky white Nike's. 
"I feel like I got most of my inspiration from Instagram," Callie said. "Now, I kind of just go off my color palette of browns, whites, and ivories, and I love the silhouette of wide-legged pants. It's really comfortable and not at all restricting, and I could wear it anywhere because it's not an overdressed or underdressed [look]."
Callie likes to credit her style change to shelter-in-place. Although Callie used to follow the "VSCO" trend back in 2019, where seashell necklaces, Birkenstocks, and oversized t-shirts were all the rage, she enjoys the new "Pinterest" and "Y2K" (Year 2000) trends much more. Vintage styles that feature sweater vests, thrifting, and Doc Martens are what she sees as much more "on trend." 
Furthermore, transitioning from a middle school uniform to everyday free dress has made her realize just how much she misses going back to school. 
"I honestly took free dress for granted," Callie said. "Now, I put in more effort for any occasion just because I barely get to go out, and when I do, I put together something that I wouldn't normally wear to school just because we rarely have that opportunity."
Dressing up everyday is not uncommon, though. Shreya Balakrishnan (10), who channels her artistic creativity in both her graphic arts class and outfits, says that choosing a good outfit "just makes [her] feel really happy."
"Styling and wearing clothes is a special hobby for me; it's a sort of art form. When I pick out an outfit I like, I feel like I can be confident and truly just be myself, and it's honestly the best feeling in the world," Shreya said.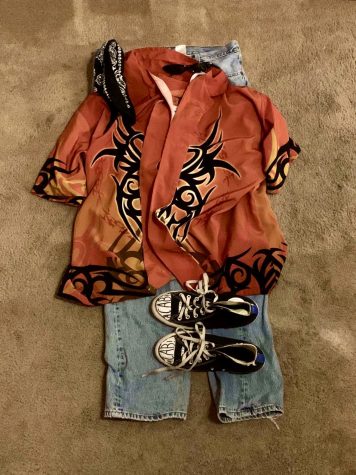 Most people tend to tailor their outfits to a specific aesthetic after finding their niche, but Shreya, like her artistic creativity, varies her outfits on a daily basis. 
"My style changes based on my mood," she said. "Sometimes I'll dress pretty grungy, and other days I'll accessorize, or dress pretty cutesy or Y2K or skater."  
Changing color palettes and day-to-day style switches might be Shreya's thing, but Justin Fung (11) likes to keep his outfits more "minimalist." By rotating and piecing together "core basics", such as a solid-color shirt or neutral-toned shorts, Justin finds that his "rotation[al] pieces always provide him with an outfit to wear. 
"I think I've always been drawn to minimalism," Justin said. "In terms of clothing, I feel like it's nice when people don't know what brand you're wearing. It's more about the way the clothing is dealt, where it's the cut, the dimensions." 
Justin finds that minimalism has "shaped his personality." Instead of brand logos or graphics, he looks for simple colors and patterns, and his dark blue, navy, and black color palette provide the perfect canvas for standout accessories.  
"I find that the little details make a big difference. For instance, a bracelet, glasses or necklace make a big difference in showing your personality when people only see half of your body [on Zoom]," Justin said.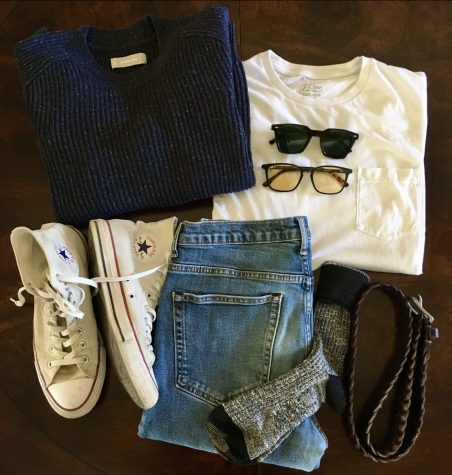 Which is why Justin pays even more attention to detail, as well as simultaneously maintaining a balance between his clean-cut style and comfort. 
"I feel more confident when I look a certain way, and so I think that that's important in helping me deal with the stress of class," he said. 
Like Justin, Chance Hewitt (12) also prioritizes comfort to get through a long day of on-screen school. His usual outfits consist of Adidas shorts, lightweight t-shirts, hoodies and socks. 
"I'm not really too concerned with the way I present myself completely on Zoom because I just want to be comfortable, especially since I'm inside all day," Chance said.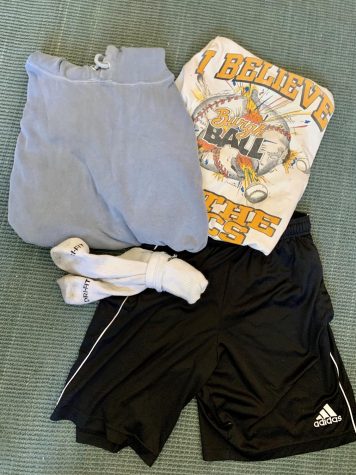 Chance's "comfy" clothing serves a dual purpose. As an athlete, "athleisure" fits are an easy switch to workout, and hoodies are the perfect piece to "layer over any other outfit."   
As the fall semester continues online, students find that fashion can still be that constant outlet of personal expression in their lives. Though our social interactions are limited, it does not mean that our outfits have to be.