Harker community members evacuate in response to California wildfires burning over 1 million acres
by Lucy Ge, Winged Post News Editor
August 25, 2020
This is a developing story. Check Harker Aquila for future updates.
Over 100,000 California residents have evacuated due to ongoing evacuation orders issued for parts of the counties of Alameda, Contra Costa, Marin, Napa, San Mateo, Santa Clara, Solano and Sonoma, as hundreds of wildfires continue to burn over 1 million acres. 
Members of the Harker community have had to leave their homes due to the fires. Many more were affected by the heavy smoke in the air, with the Air Quality Index (AQI) remaining at "unhealthy" levels for some Bay Area regions.
"We're on the evacuation watchlist," Saumi Mehta (11), who lives in Milpitas, said on Aug. 21. "It's really smoky here. We were told that, in 24 to 48 hours, we might have to evacuate."
Loading PurpleAir Widget…
Record-breaking heat started on Aug. 14, prompting PG&E rolling blackouts that affected at least 220,000 residents. The heat wave, combined with lightning strikes, fueled the fires according to California Gov. Gavin Newsom's press release on Aug. 18, in which he declared a state of emergency. 
According to Cal Fire, the two largest fire clusters — SCU Lightning Complex and LNU Lightning Complex — are burning over 700,000 acres combined. In the Santa Cruz and San Mateo counties, the CZU Lightning fire cluster is raging on in over 78,000 acres with 17 percent contained. A wide stretch of the Santa Cruz Mountains has also been asked to evacuate, as shown by this map from Mercury News.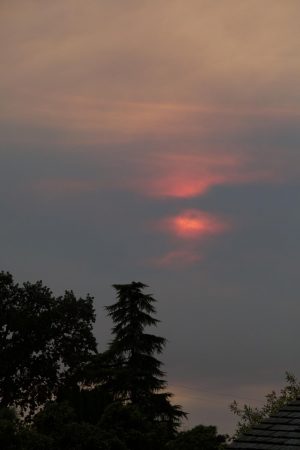 The SCU Lightning Complex fire affects parts of Santa Clara, Alameda, Contra Costa, San Joaquin and Stanislaus counties. Evacuation centers are located at Creekside Middle School Milpitas Library and Ann Sobrato High School Performing Arts Building.
"On the map right now, my house is under moderate risk, so we're just getting ready for the worst case scenario," Ayan Nath (11), who lives in Cupertino, said. "We didn't pack too much stuff, we just packed documents, things like that."
Cal Fire recommends that citizens each have an emergency supply kit in case of evacuation with three days' worth of nonperishables and three gallons of water for each person, a map marked with evacuation routes, prescriptions and medications, extra clothing, eyeglasses or contact lenses, an extra set of car keys, credit card and cash, first aid kit, flashlight, battery-powered radio, batteries, sanitation supplies, pet food and important documents like birth certificates and passports. 
To keep up with updates for a specific fire cluster, check the Twitter account associated with the Cal Fire unit responding to the fire cluster: @calfireSCU for the SCU Lightning Complex, @CALFIRELNU for the LNU Lightning Complex and @CALFIRECZU for CZU Lightning. 
Head of school Brian Yager sent out an email to the Harker community on Wednesday evening expressing support for Harker faculty and students affected by the fires, assuring that the school "will be very sensitive to the needs of [those] who may have relocated."