Inside the Dash: Growing gratitude
by Helen Zhu, TALON Managing Editor
June 4, 2020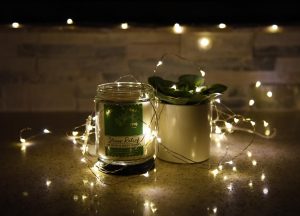 When you visit someone's cemetery, you see the dates they were born and the dates they passed. But when you wonder about their lives, they aren't represented by those two dates; their life is the times between the dates.
Between the two dates on the tombstone, there's a small dash to separate the beginning and endpoints of a life — but that small dash actually represents all of the moments of a person's life: the journey, the dream, the triumph.
This podcast series hopes to slow things down for a few minutes of conversation with someone in this community, and to tell the stories of the lives of our community — inside the dash.
In today's episode, I spoke with Mr. Keller about acts of gratitude and reflected on the importance of the smallest of actions that can brighten someone's day.
The refreshing aroma of eucalyptus and spearmint wafts out from a glass jar with a green sticker labeled "Aromatherapy Stress Relief," nested in a corner on my dresser next to a perfectly symmetric succulent. The palm-sized, one-wicked wonder, a Bath and Body Works scented candle, greets me in the morning when I wake up and soothes me to bed. Glancing over at the source of the quintessential scent — light and calming yet not too overbearing — I catch a glimpse of my succulent, resting on a bed of soil with specks of gray and white rocks in a white marble pot.
Now that I'm attending school via Zoom, my candle and succulent are visible at all times, the gentle aroma permeating my room, the pop of green seen from the corner of my eye — a constant reminder of gratitude amidst the shelter-in-place.
When I decided to switch schools after fifth grade, my friend handed me a box the size of a Kleenex box, wrapped in silver and gold wrapping paper, topped off with a glistening holographic bow. Inside the box was the succulent and a quote on a post-it note reading, "It's not goodbye, but see you later." 
Although I no longer see my friend on a daily basis anymore, every time I spot my succulent, I am reminded of her, and flashbacks of us running around the school grounds and the play structure flood my mind. 
Yet, despite how often I think about my friend, rarely do I send a simple text to catch up and check in (rest assured, soon after this realization, I amended my fault).
As Gertrude Stein once said, "Silent gratitude isn't very much to anyone."
Even the smallest act of kindness can brighten someone's day; however, you must express it in order for your appreciation to be known. After all, they can't read your mind.
Every year, Mr. Keller brings a treat to each teacher and librarian on their birthday — or half birthday for those with summer birthdays — to show his appreciation for all the work they do for us as students. 
"If you ever noticed I walk around with treats, I either go to Bijan Bakery [and Cafe] or Chocatoo downtown or Whole Foods or something, or that flowers show up all over the place, I'm always doing little things that people don't expect, so then it means more," Mr. Keller said. "Whether it's a Death by Chocolate lava molten cake from Chocatoo, or flowers or a gift card, it doesn't take much. But as a manager, it's just important that you show gratitude; people need that and they need to know they're appreciated."
While by no means is it mandatory for Mr. Keller to do this, he made this a yearly commitment for himself. For him, it's satisfying to see how different people react — from comments like "It was so good that it was gone by the end of first period" or subtle hints of their preferences (which he quickly jots down to make note of it) or even a long email expressing their gratitude of how special it was to them. 
After hearing the quote "Who are you lifting up?" in the middle of a TED Talk, Mr. Keller became more aware of those around him who affected his life, whether it was the students coming into his office or the chefs in the kitchens or the faculty working alongside him.
"If we're not lifting people up, then we're missing a great opportunity, and that can mean anything, really. If a kid opens the door for me, I think that's the greatest thing, because my first three or four years here, no kid ever opened the door for me. But I always made sure that I opened doors and said 'Good morning,'" Mr. Keller said. "At the end of the day, have you done anything positive for anybody else?"
Much like the aroma of my candle seeping into my tranquil reflections in the wee hours of the morning and night, a simple "how have you been?" or "how are you doing?" can permeate positivity into our own lives as well as those around us, a reminder that expressing our care even in the simplest of means can make an impact.