AP Studio Art Exhibit showcases diverse student artwork
Soft music by Billie Eilish filled the air as parents and students gathered, transfixed, around the bold displays of artwork adorning the Nichols Auditorium. Carefully crafted portfolios exhibited a unique blend of artistic skill and imaginative thinking that attendees of the annual AP Studio Art Exhibit, which was hosted on Feb. 27, explored as they streamed into and drifted around the tapestries, statues, multimedia, photography and paintings arranged through the Nichols Atrium. 
In the auditorium, Matthew Jiang's (12) short film played on repeat for the guests. Progressing towards the back of the atrium, videos and photographs transitioned into physical artwork such as statues, weavings and clay models. With each piece of art embodying an idea or value, a plethora of emotions ranging from anxiety to freedom swept through those admiring the exhibit.
Ashley Gauba (11) took Study of Visual Arts in freshman year and enjoyed it so much that she continued with graphic design in her sophomore year and is now taking AP Studio Art – 2D Design. 
"What really inspired me was the struggles in beauty I've had before and how many of my friends are challenged with it. And just in general, how big of an issue is and how it's not addressed. I really wanted to use art to address it," Ashley said. 
Ashley noted her growth through her time crafting her portfolio, having gained greater precision in her technique and refinement in ideas. Now, she appreciates the ability she has developed to portray emotional sensations in her room through her art.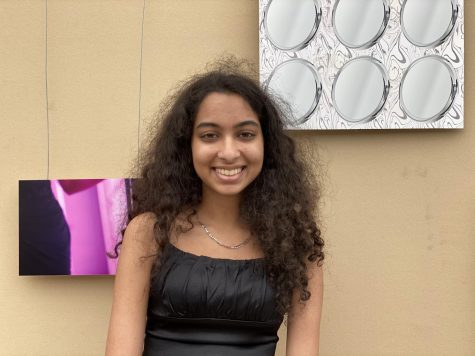 Meanwhile, Nellie Tonev's (12) portfolio was inspired by an academic subject she enjoys—chemistry—and the influence it has had on her worldview. 
"I was inspired conceptually by the connections around us—I love chemistry and thinking about how everything is made up of the same few finite elements, and I like putting objects together that don't usually work together and showing how they can interact and imitate each other. It's such an interesting concept that can be taken in so many different directions, and I wanted to just pick out a few that I thought would look nice together," she said.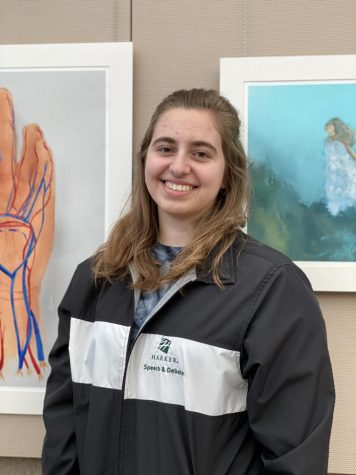 Nina Gee (12) has her own unique outlook on the artistic craft and what makes it fascinating. Her 2D Design portfolio was inspired by "this idea of destroying art, or how art transforms based on the process of making art," relating her fascination with the changes in art with her own transformations. 
"I was very interested in exploring elements of my adolescence, and how I've changed over the years—portraying this through the transformation of art. I spent a lot of time on these pieces, and I felt stuck on them for a while … because I was trying to explore parts of me that have changed," she said, reflecting on the struggles she has overcome as an artist.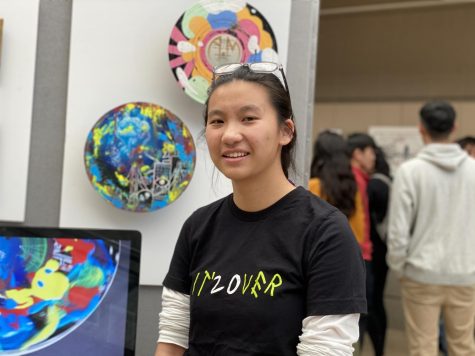 Maria Teplova's (11) artwork immediately stands out: in one piece, a skeleton sits at the doctor's office, and in another, the skeleton is splayed out on the couch, watching television. 
"I watch a lot of horror and sci-fi movies, and I think it's interesting how they make the movies scary without bringing gore or typical scary things into it—this is the kind of feeling I'm trying to explore," Maria said. "I can go in so many directions, yet it can still be attached to the same idea." 
Caroline Yager's (12) drawing portfolio was inspired by her artistic family, constantly surrounded by art with her sister, mother and grandfather all artists. Caroline focused her specific creations on examining her own perceptions of others in relation to the abstract concept of individuality. 
"Through this portfolio, I've been looking at myself, and how I view myself and others as individuals—the concept of individualism fascinates me because how do we narrow it down when individualism is such an intimate yet universal statement. It's a really interesting metaphysical idea that I wanted to explore," she said. 
Elliot Kampmeier's (11) drawings immediately bleed with life and emotions, intended to reflect his inner feelings. 
"This body of work is based on emotions I feel and me drawing it out to process that. For me, it's a lot of abstract concepts that I'm trying to portray in an abstract way, but still relate the same kind of emotion to the audience: calm and anger and confusion," he said.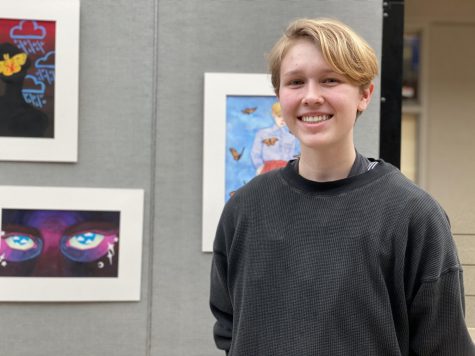 Allison Yen's (12) portfolio is composed of pieces carefully placed throughout the room, instead of in one space. Her fascination with 3D design stems from her desire to investigate the human relation to the environment, both built and natural. 
"My investigation is about natural phenomena, so through my work I want the viewer to think about how the space they inhabit differently. A lot of my work is about how a lot of invisible forces of nature that we don't see impact our natural environment," she said.