Former NBA superstar Kobe Bryant among 9 killed in helicopter crash
As more information is released about Kobe Bryant's death, this article will be updated with the latest news. Check Harker Aquila for more updates.
Kobe Bryant, former NBA superstar, died at the age of 41 in a helicopter crash in Calabasas, CA, this morning shortly before 10 a.m., according to major news outlets The New York Times and Los Angeles Times.
Although the Los Angeles County Sheriff's Department (LASD) has yet to formally release information about any victims involved, the names of the eight passengers who accompanied Bryant and died in the crash have been widely corroborated by a number of sources. Bryant's daughter, Gianna "Gigi" Maria-Onore Bryant, 13, was reported to be on board, along with Orange Coast College baseball coach John Altobelli, 56, his wife Keri Altobelli and their daughter Alyssa Altobelli, 13. They were also accompanied by Sarah Chester, 45, her daughter Payton Chester, 13, and Bryant's assistant coach Christina Mauser, 38.
The group, flown by Bryant's private pilot Ara Zobayan, was said to be traveling to his Mamba Sports Academy in Thousand Oaks for the Mamba Cub Tournament, where he would be coaching a game and the three girls would be playing.
Bryant is survived by his wife, Vanessa Laine Bryant, and their three daughters. Vanessa has yet to comment on the news, but she tweeted a broken heart emoji at 1:20 p.m. today and has received an outpouring of support from fans.
💔

— 💜💛KOBE (@BD_babydanielle) January 26, 2020
Bryant, drafted in 1996 out of high school, played his entire 20-year professional career with the Lakers, leading the franchise to five championships. He was an 18-time All-Star, 15-time All-NBA player and won a Most Valuable Player (MVP) award in 2008. His two jerseys, #8 and #24, were both retired by the Lakers in 2018.  In the Bay Area, reactions from those who loved Bryant and the sport reveals the impact and legacy he leaves behind.
"The closest thing I could do to see Michael Jordan play was watch Kobe. His moves, the way he played, his footwork, his determination, his mentality was all very similar to Michael Jordan," assistant boys basketball coach Eric Lee said. "It seemed like he had so much more to give to the game of basketball even though he had retired."
Nicknamed the "Black Mamba," Bryant was often admired for his intense work ethic and dedication to the game, termed the "Mamba Mentality," by fans and players alike. 
"Because of him, I started playing basketball and I got really into it after watching him play. It's saddening because the cause of his death was so sudden and he was such a young guy," varsity boys basketball player Arjun Virmani (11) said.
On the national level, celebrities, both within the NBA world and outside, have tweeted to pay their respects and express their condolences for Bryant's family shortly after initial reports surfaced. A video also shows Los Angeles Lakers superstar forward LeBron James in tears as he exited the team plane after landing in Los Angeles following the news of Bryant's death. 
Heroes come and go LEGENDS live forever‼️ #8 #24 pic.twitter.com/sYMG8CKN5b

— DWade (@DwyaneWade) January 27, 2020
There's no words to express the pain Im going through with this tragedy of loosing my neice Gigi & my brother @kobebryant I love u and u will be missed. My condolences goes out to the Bryant family and the families of the other passengers on board. IM SICK RIGHT NOW pic.twitter.com/pigHywq3c1

— SHAQ (@SHAQ) January 26, 2020
Kobe was a legend on the court and just getting started in what would have been just as meaningful a second act. To lose Gianna is even more heartbreaking to us as parents. Michelle and I send love and prayers to Vanessa and the entire Bryant family on an unthinkable day.

— Barack Obama (@BarackObama) January 26, 2020
Thoughts and prayers to the family of #Kobe Bryant and those who lost loved ones in today's tragic crash. Rest In Peace.

— Melania Trump (@FLOTUS) January 26, 2020
An outpour of these messages flooded social media on Sunday, following the crash. LASD had received a call at 9:47 a.m. and responded alongside the Los Angeles County Fire Department to "handle the incident" and put out the quarter-acre brush fire that occurred as a result, according to Fire Chief Daryl Osby during a press conference today at around 2:30 p.m, which was livestreamed on Youtube.
"In addition to our firefighters hiking into the incident, we had one helicopter fly into the incident with firefighter paramedics on board. They did a search of the area for survivors. Unfortunately, all on board were determined to be perished," Osby said.
LASD will make an official announcement when the coroner's office can confirm the identification of all individuals involved in the crash, LA County Sheriff Alex Villaneuva said. The remains of three bodies were removed Sunday night, and this process is expected to continue over several days, due to the location of the site. 
Fans both in the community and those who are coming to Calabasas are welcome to join others to honor Bryant at the DeAnza Park, about a quarter of a mile from the crash site. Outside of Staples Center, the Lakers' home arena, fans gathered to mourn Bryant, creating a memorial filled with flowers, posters and candles, according to the Los Angeles Times. 
"He was an amazing basketball player. He was so diverse in the moves he could do and he was just a really well rounded player, what I wanted to be someday as a basketball player," varsity girls basketball player Brooklyn Cicero (10) said. "I feel like [his death] will motivate us and push us to play better for him."
Off the court, Bryant is remembered as a fervent supporter of youth sports, coaching Gigi's basketball team. Gigi, nicknamed "Mambacita" by her father, was an emerging basketball star herself, frequently attending NBA games with Bryant. 
"His legacy is is larger than life," Elliot Almond, a sports reporter for the Bay Area News Group, said in an interview with Harker Aquila. "Here's this celebrity sports star, who is retired, but working as hard as if he were back on the court. I believe people are going to write that he was a great basketball player, but that he was a greater, kinder human being."
Bryant's legacy spans far beyond basketball, however. A burgeoning entertainment figure, Bryant wrote two books — the first a memoir titled "The Mamba Mentality: How I Play" and the second the first installment of a young adult series called "The Wizened Series" — and founded multimedia company Granity Studios. His 2018 animated short film, "Dear Basketball," won the Oscar for Best Animated Short Film.
Despite his achievements, Bryant's career wasn't devoid of controversy either. In 2003, he was charged with sexual assault after being accused of rape. Although the charges were dropped, Bryant apologized publicly and settled a separate case over the accusation. 
Yesterday night, just hours before the crash, James passed Bryant for third place on the all-time NBA leading scorers list. Bryant congratulated James in a tweet Saturday evening, expressing his admiration for James' legacy as a fellow all-time great.
Continuing to move the game forward @KingJames. Much respect my brother 💪🏾 #33644

— Kobe Bryant (@kobebryant) January 26, 2020

Teams across the NBA honored Bryant today as games continued. Several teams took 24-second and 8-second shot clock violations at the start of their games to honor Bryant's jersey numbers. Dallas Mavericks owner Mark Cuban stated in a tweet that the organization decided that no Maverick would ever wear the #24 jersey again, and arenas across the country— including the Knicks' Madison Square Garden in New York — were lit in Lakers' purple and gold.
According to sports news site Bleacher Report, Bryant will likely appear on the ballot to be inducted into the 2020 Naismith Memorial Basketball Hall of Fame.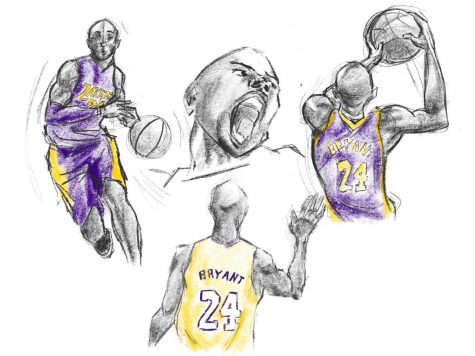 Additional reporting by Nina Gee.
This story has been updated Jan. 27 to reflect new information about the identities of all individuals involved in the crash. Progress on the Los Angeles County Sheriff's Department's investigation has been added, as well as reactions from both the upper school community and the country.