Inside the fishbowl: Students explore diversity and race at the Student Diversity Leadership Gathering
The Diversity Committee hosted the second Student Diversity Leadership Gathering at the upper school on January 20 from 8 a.m. from 4 p.m., and it was also Martin Luther King Jr. Day, a day on which people reflect on the civil rights activist's work during the Civil Rights Movement and his hopes for the future.
This gathering provided students and adults with the opportunity to speak about important issues regarding diversity. Students from both Harker and other local private schools heard from Dr. Rodney Glasgow, a nationally-recognized speaker in promoting diversity and inclusion, and participated in several group activities.
Having the gathering on Martin Luther King Jr. Day was important because this event focused on diversity and equity.
"Last year, when we had the first event, it was with the intention of having it be an annual thing because it kind of falls towards Black History Month, so dealing with issues of race and diversity and inclusion." said upper school math teacher Dr. Lola Muldrew, a co-chair of the Harker Diversity Committee. "I wanted to bring something that was acknowledging and reflecting upon all those sorts of things that Dr. Martin Luther King Jr. spent all his energy on."
Dr. Glasgow organized most of the event, and he led the group activities at the gathering, such as a Ghost Walk and a "fishbowl activity"; attendees also watched part of "Chinglish," one of the Student Directed Showcase productions. 
"My favorite part of the event so far was the speech because it was really inspiring and it showed me a perspective that I never really thought about before," said Keesha Gondipalli (9), who attended the gathering. 
The initial idea of hosting this event came from how upper school students were unable to attend the Student Diversity Leadership Conference (SDLC) in Nashville last year, as the Diversity Committee could not secure spots for them. As a result, the co-chairs, Muldrew, upper school art teacher Pilar Aguero-Esparza, history teacher Mark Janda and Tyeshia Brown, contacted Dr. Glasgow last year about a possible event at Harker, and they decided to host another this year.  
"At the end of the conference last year, or the gathering last year, we asked him, 'So Dr. Glasgow, would you come again next year?' And he said, 'Of course, I thought that's what I was going to do,' right, which was, that's the kind of person he is," said upper school art teacher Pilar Aguero-Esparza, a co-chair of the Diversity Committee.  
The Diversity Committee also decided to make a change this year for the second event; instead of separating students from adults, they decided to have them participate in the activities together. 
"It made it deeper, because I think it was important for students to hear where adults were, adults to hear how students think on these issues, for administrators to hear their teachers say, I really need you in this, I need to hear your voice," Dr. Glasgow said. "For students to hear teachers talking about, we have a power thing too, right, there's somebody over us, that even we feel like we can't speak sometimes." 
Mixing the students and teachers together also affected which activities Dr. Glasgow decided on for the event.
"I used some activities I would use with students, and then modified them a little bit to help us get over some of those barriers that when you have students and adults together, right, can make people not participate as much, so I kind of tailored them, knowing the age range we had in the room," Dr. Glasgow said. 
In the "fishbowl activity," chairs were set up in the center of the room with people of color in the middle and white people forming a ring around them. Dr. Glasgow showed three videos to prompt discussion.
"[The fishbowl] was the most impactful because I knew the power of that format and activity to deepen, but it all depends on, are the participants going to go there," Dr. Glasgow said. 
The questions that Dr. Glasgow asks the participants help them to reflect more and dive deeper into the topic of discussion, and they also help to bring them out of their comfort zones. 
"In its physicality, everyone is very close, and you cannot separate the power dynamics between white and people of color," said Janda. "So just the physicality of that makes it powerful, and then the questions and the pushing that Dr. Glasgow gives us to go a little deeper, think a little bit more, feel a little bit more, that makes it challenging."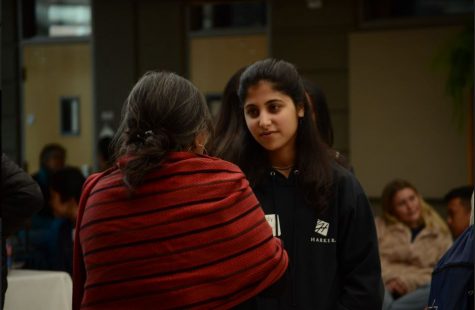 Not only did the set-up affect participants, but conversations about videos that Dr. Glasgow showed them while in the fishbowl set-up also brought in some new revelations. 
"We don't talk a lot about this here, because we are considered a diverse school compared to others, but there's a lot of issues that people hold inside and they don't express, but I think that's a human thing—we all have something," Brown said. "So if we can all just talk to each other and learn something new about each other, I think we're getting to getting along."
Even for those who had experienced it before, it still had an impact. 
 "What I didn't know was what was going to be the spark, and then all of a sudden, it was like boom, the realness was in the room, and it was in there in such a way that even I felt it, so this was one … of the first times that I felt myself being a participant, even coming out of facilitator mode it was so powerful," said Glasgow.