Apex: Up and running again
This installment of Apex features junior runner Anna Weirich's battle to overcome injuries.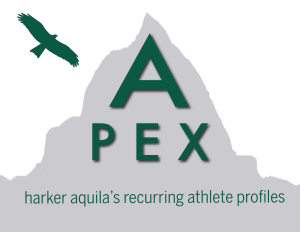 All eyes focus on the final stretch of the race as the runners come around the bend. A streak of white breaks through the line of runners, expending the last of her energy to finish the race. Leaving the other competitors behind, Anna Weirich (11) sprints through the finish line, a triumphant and determined grin forming on her face. As she runs back to her family on the sidelines, her competitive smirk morphs into a more cheerful smile. 
An athlete from a young age, Anna has continued to hone her craft, training for years to be an elite runner. Ever since her mother allowed her to participate in 1-mile runs as a child, she decided to become a long distance runner and has joined both the Cross Country and Track and Field teams.
"I just love the atmosphere and community of running. When I first started running, I hated it so much. The more I ran, I began to like it a lot more. Now it's a part of me," Anna said. "I started running in sixth grade because I was good at it, but towards the end of middle school, I loved it because it was fun."
However, like the trails on which she runs, Anna's running journey has had its obstacles. 
In October of 2018, Anna suffered a second metatarsal stress fracture that resulted in the end of her season that year. The grade four fracture occurred during a race, in which Anna ended up placing fifth despite the injury.
"My foot started hurting really bad. Then, I ran the last two miles because I didn't think it was anything. I thought nothing was wrong with me and that I was fine, but when I finished I couldn't walk" Anna said.
Anna's recovery journey involved cross training exercises such as the stationary bike, swimming, and strength conditioning. Although she was unable to run, Anna still supported her fellow runners by coming to cross country and track meets. Her spirit to keep pushing forward fueled her teammates to run faster and improve. 
"During meets, she is always the one that cheers on everyone at the start and end of a race. Even when she was injured, she still came to every meet to show her support. Anna is not only very talented, but she is also a really supportive team member, and it's great having her as part of the team," Erica Cai (10), one of Anna's teammates, said.
Although Anna prides herself in her running ability, she understands that one bad race is not the end of the world. Instead, she focuses on running her hardest and helping both herself and her teammates develop. Anna's close friend and another of her teammates, sophomore Ritika Rajamani, describes a moment when Anna helped her compose herself before a race.
"The race was in 95 degree weather and everyone before me had run extremely badly. Ten minutes before my race, my nerves really hit me. Anna really helped me and calmed me down, explaining to me that if I gave it my all, the time or my place didn't matter," Ritika said. "She is always bringing the team morale up. While she is focused on running fast and winning, she definitely prioritizes her team."
This year, Anna returned to the sport that she loves. Although she was afraid of coming back after eleven months, Anna ran in the Lowell invitational and placed in the top 10. Anna slowly returned to her normal form and even achieved her fastest time for a 5 kilometer run at the Capital Cross meet, with a time of 18:04. 
"It was definitely really hard. I was so scared to come back. I didn't know if I was ever going to be able to be the same runner I was," Anna said. "I knew all I had to do was stay positive, and hopefully come back even stronger, both mentally and physically. I think the injury made me realize how much I loved the sport. Coming back, I was able to enjoy it so much more."