More than just paint: Street art speaks out on public walls
by Arely Sun, Co-Lifestyle Editor
November 16, 2019
Sandwiched between a hot pink complex and a beige building in San Francisco, a colorful alley decorated from top to bottom with murals hides in plain sight. Painted words, flowers and symbols extend down the concrete of the narrow street and flow into other sentences and designs.
Clarion Alley is just one of the San Francisco Mission District's prime examples of street art. According to the travel magazine Timeout, San Francisco ranks in the top three cities in the country for murals, just behind Los Angeles and Chicago.
Beyond being considered "Instagram-worthy" by the millennial population, San Francisco's street art has deep cultural and historical meaning, including but not limited to activism, diversity and equality.
According to the Clarion Alley Mural Project website, the project's founders intended for the location to be a space that supports "political, economic, and social justice messaging." Each mural speaks out against inequality through both direct and hidden messages. While portraits of bold activists dominate some sections, others feature profiles of mothers clutching their children. Satirical political cartoons contrast with images of fearful families.
Just one block away from the myriad murals of Clarion Street, the multicolored edifice of the Women's Building stands against a foggy sky. The building is the only female-operated community center in the country and is a sanctuary for all, as stated by a rainbow sign outside of its doors. Guide and co-founder of local tourism group Wild SF Tours Wes Leslie said, "This is what has been called a four-story-tall standing ovation to women's liberation."
A large-scale mural wraps around each of the faces of the building. In addition to intricate designs and masterful artistry, each of the four walls pays homage to feminism and indigenous cultures from Africa, America, Asia and Europe.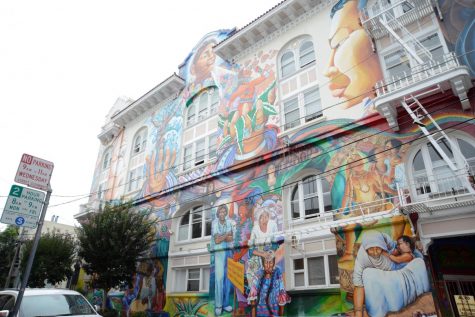 "It's highly symbolic as well. Pretty much everyone on here is either a real person in history or represents a culture," said Leslie.
The women who founded the Women's Building bought the structure in the 1970s but decided to have it covered with art 20 years later. They put out a call to all muralists and surveyed locals for what the general public wanted to see represented on the walls. The efforts of 57 muralists and about 100 volunteers, all female, resulted in the masterpiece now on display. 
The most well-known mural on the right side of the building, named Maestrapeace, a pun referring to the Spanish term for "female teacher," features prominent women in history.
For example, it celebrates historical figures such as artist Georgia O'Keeffe and World War II hero "Little Wanda with the Braids." The large bust on the top of the Maestrapeace illustrates Guatemalan indigenous rights activist Rigoberta Menchu holding two goddesses: an African water goddess representing the flow of female power and an Aztec goddess breaking free of rock, symbolizing release from oppression.
Art such as the murals found on the walls of Clarion Alley and the Women's Building demonstrate the human desire to "make marks" on the world that has continued since prehistoric times.
Cave paintings such as the famed Lascaux caves date from as early as 20,000 years ago, according to the Bradshaw Foundation. In comparison with graffiti that lines alleys in modern cities, both genres of art feature painting on walls to depict themes of life during their respective eras.
"
You could say that impulse [to record your presence] is trying to develop your identity — trying to claim space. Sometimes, it could be to communicate with others."
— Pilar Agüero-Esparza
"There is that impulse to record your presence in the world. That is something that is very strong in us humans. We see that from eons ago, but nowadays, it's very relegated to young people," said upper school art teacher and artist Pilar Agüero-Esparza. "You could say that impulse is trying to develop your identity — trying to claim space. Sometimes, it could be to communicate with others."
Street art heavily influences fashion and streetwear. For example, blown-up text and logos, known as "hypebeast" style, dominate pop culture.
"[It's] typical for graffiti of writing on walls and messaging with text. That, to me, is how fashion is looking at urban wear or urban reality," said Agüero-Esparza.
This impulse's impact ranges from fine art to fashion as all art forms involve a sense of timeliness that street art's clandestine nature demonstrates.
The innate desire to make marks on the world resulted in art forms that influence urban life and changed the look of cities. Often, the law forbids making these marks unless the art was commissioned. In San Jose, according to California Legislative Information, criminal charges depend on the damage of vandalism and, at maximum, result in as much as a $10,000 fine and a jail sentence.
"Street art is technically vandalism in a sense. Unless you have permission, you're not supposed to leave your mark on the walls," said artist and self-described street-art-lover Gina Partridge (12). "So I think it's really impactful that all these artists know that they can get in trouble with the law by putting their art and their message out there, but yet they still do it because it has so much meaning to them."