Award-winning composer David Amram imparts wisdom, music at Speaker Series performance
Award-winning composer David Amram wrapped up his week's visit at the upper school as this year's artist in residence with his performance at this year's Speaker Series event in the Patil Theater last Friday.
Amram spoke about his life's work, sharing stories and wisdom from his rich career of music, and played Dizzy Gillespie's "Manteca" with the upper school jazz band, followed by Franz Schubert's "Unfinished Symphony" and Amram's own "En Memoria de Chano Pozo" with the upper school orchestra.
Throughout the week, Amram taught at various upper school music and English classes, and he also hosted a workshop, entitled "Making Your Music Career Profitable" with CareerConnect on Nov. 5. Last Thursday, Amram spoke to students interested in creative writing, passing on advice from famous writers with whom he's worked, such as Jack Kerouac and Kurt Vonnegut.
"I think the beautiful thing about Mr. Amram is he reminds us about what is important in life," Sophia Gottfried (11), a creative writer who attended Amram's talk on Nov. 7. "He's had all these wonderful experiences, and it's not like he did it by getting all straight A's in school or pulling all nighters studying. He did it by talent and genuine good spirit and a little bit of luck, which is nice to see."
A lifelong musician, Amram began his journey in composition by scoring films in Hollywood, but soon set off on his own path on composing original music reflecting his personal values. He has played with iconic musicians including Charles Mingus and Thelonius Monk.
Amram has traveled the world, gathering musical styles which he infuses into his classical compositions, and his musical spontaneity and originality also mixes techniques that he has learned and adapted from other musicians.
Following his artistic philosophy of "hang-out-ology," one of the characteristics of Amram's musicianship is that he values community through creativity.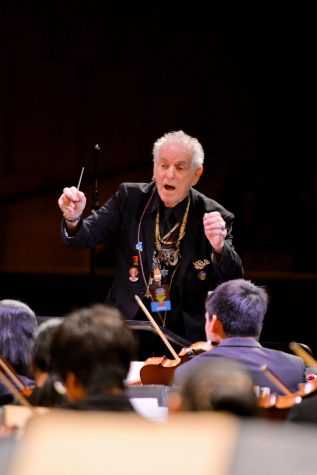 "Tell a story. Create a certain atmosphere or feeling of being there," Amram said in an interview with Harker Aquila. "Everyone has their own reaction to any situation, but when you work in music, you realize that it's much larger than yourself, and you're part of the whole."
Amram has written music for movies and theatrical productions, including "Manchurian Candidate," "Splendor in the Grass" and "Pull My Daisy." No matter the project, Amram is known for adding his unique sense of rhythm and flair to the piece, breaking down conventions along the way.
"That's not what was in his heart. He wanted to make original music that spoke to him," said upper school English teacher Charles Shuttleworth, who helped organize Amram's visit. "He also didn't like Hollywood and the whole system out there. He felt confined."
Above all, Amram emphasizes the value of the artistic community and creative collaboration, which shaped Amram himself into the musician he has become.
"The great composers of the past whose works we still celebrate and the present composers and your fellow composers and the audience are not your enemy, but that you're part of a whole picture, and just try to do as good a job as possible," Amram said.