Upper school administration calls sudden, mandatory all-school meeting after students reported threatening graffiti message
Discovery of threatening graffiti in Dobbins bathroom raises concerns; school will continue tomorrow
Upper school administration called students and faculty to a sudden and mandatory all-school meeting in the athletics center at 2:45 p.m. today after students reported a threatening graffiti message in the downstairs Dobbins boys bathroom this morning. 
At the meeting, Head of School Brian Yager announced that police officers will be present on campus tomorrow, both in uniform and in plain clothes. Undercover officers will be present on campus throughout the rest of the week.
School is scheduled to operate as normal tomorrow, although tomorrow's senior class meeting will be canceled.
"It's understandable to feel unsettled, and we will collectively overcome and rise above challenges that bring us down and hopefully over time get stronger through those challenges," Yager said.
An email was sent to upper school parents during the all-school meeting informing them of the incident, stating that while school will remain in session tomorrow as usual, students who wish to stay home may "follow the usual attendance reporting plan."
Aside from administrative response, teachers are also taking measures to speak with their students about potential concerns and offer support. 
Upper school history teacher and former U.S. Army captain Karen Haley encouraged students to be alert at all times of potential danger and report any signs of suspicious behavior. 
"This shouldn't [just] be a learning environment, it should be a safe environment; we should be able to have both of those. They can coexist at the same time. But I do think that we also have to realize we live in the real world, and there is a danger in every place, unfortunately," Haley said.
This morning, two upper school students found a message containing the lyrics to J. Cole's song "MIDDLE CHILD," "I'm counting my bullets / I'm loading my clips." The graffiti added a line: "don't come to school tomorrow." 
The school contacted Officer Sean Mattocks, San Jose Police Department liaison officer, to report the incident. Police officers were deployed to the upper school campus during long lunch to assess the situation, survey the school and speak with school administrators about further actions. 
This incident follows Yager's announcement at last Friday's school meeting, when he spoke to students and faculty about facilitating a positive and respectful campus environment. 
At that school meeting, Assistant Head of Student Affairs Greg Lawson also announced an upcoming lockdown drill during sixth period this Thursday to practice the school's response to a potential mass shooting. 
A special schedule will take place on Thursday, extending sixth period by 35 minutes and eliminating office hours. 
The Harker School is a part of the San Jose Police Department's Guardian Program, which assigns designated response teams to schools and public events to protect against a potential mass shooting. The response teams patrol schools, carrying all tactical gear that might be required to confront a gunman, and facilitate communication between school administrators and students regarding safety protocols.
The graffitied bathroom was closed after lunch, and school administration decided to call an all-school meeting. 
It is unknown when the Dobbins boys bathroom will be re-opened for use. 
Right before sixth period, Upper School Division Head Samuel "Butch" Keller immediately contacted faculty via email and asked all students and faculty to meet in the athletics center for a 15-minute meeting at 2:45 p.m. 
At the meeting, Yager informed students and faculty about the situation, encouraging them to "look out for each other." He assured everyone that administrators are taking all necessary precautions to ensure the safety of the school.
In an interview after the meeting, Keller emphasized the gravitas of the situation and the school's commitment to following police protocol. 
"You never know the motive behind something like this, but if you don't take it seriously, that's being foolish," Keller said. "I would say, trust us, we followed the protocol that the police who do this for a living suggested that we do. If they had suggested [to] close school, then we would have followed their protocol, but because it's an isolated incident in a bathroom, we're going to be as cautious as possible."
In addition to the police presence, Harker security will increase campus patrols and control incoming traffic. Security officer Roberto Pena added that he will be arriving on campus at noon tomorrow, two hours earlier than usual. 
Harker will continue its regular school day precautions, which had been bolstered following a consultant review of our security protocols last year. 
"We stop [cars] if we don't recognize them. Like, who are you picking up? What is it that we're doing here? Because a lot of people are lost [coming into our campus], but we wouldn't know if we are not asking," security officer Irma "Celina" Canales said.
"
It's understandable to feel unsettled, and we will collectively overcome and rise above challenges that bring us down and hopefully over time get stronger through those challenges.
— Brian Yager, Head of School
This year's freshman class has had vandalism experiences of varying degrees in all three of their middle school years. This most recent incident is raising concerns among the students.
"A lot of people in our grade have tried to guess who it would be. I think we shouldn't go there. First of all, it's not healthy for their mentality either to be accused, and for the person who it is, it's just safer not to assume that we think we know who people are without evidence," Lucy Feng (9) said.
ASB Secretary Alyssa Huang felt that the extra safety measures will help reassure faculty and students. 
"So far, the Harker teachers are very approachable as well, and having them and the rest of the school as a resource that students can talk to if they're feeling kind of nervous about this is really helpful," Alyssa said. 
ASB President Avi Gulati agreed with Alyssa, emphasizing the resources and counselors available to students who have concerns about this incident.
"I think it's important to remember that we're all here for each other, to support one another," Avi said. "I've never been in this situation before, so for many of us who are confused and lost by such an alarming announcement, it's wise to consult our parents, and our teachers and our friends."
Students with concerns or information regarding this or any other case are encouraged to reach out to teachers, administrators and counselors on campus, as well as any other adults with whom they feel safe talking.
Reporting by Eric Fang, Kathy Fang, Catherine Feng, Lucy Ge, Mark Hu, Arya Maheshwari, Varsha Rammohan, Arushi Saxena, Aditya Singhvi, Jin Tuan, Nicole Tian, Anna Vazhaeparambil, Jessie Wang, Sara Yen and Gloria Zhang
This article was updated at 11:05 p.m. on Nov. 5 to include an update on senior class meeting.
Correction: A previous version of this article improperly contextualized a statement from Head of School Brian Yager. The article has been updated to reflect this error.
About the Contributors
Varsha Rammohan, Editor-in-Chief
Varsha Rammohan (12) is the co-editor-in-chief of Harker Aquila. This is her fourth year on staff, and she likes journalism since she can meet new people...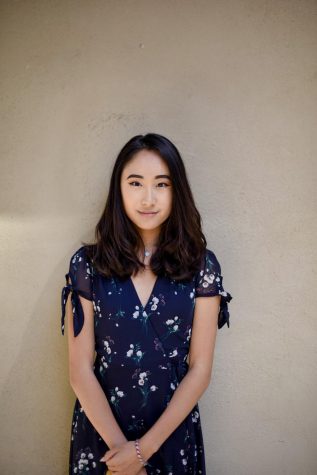 Kathy Fang, Editor-in-Chief
Kathy Fang (12) is the editor-in-chief of Harker Aquila. This is her fourth year on staff. From covering local marches and protests to initiating Harker...