Tomatina brings modern twist on traditional Italian Cuisine
Located at 5245 Prospect Road in the Westgate West Plaza, Tomatina provides a modern and innovative take on classic Italian dishes. Customers eating at Tomatina have the convenience of stopping by at many other businesses, including cafes, grocery stores, department stores and home decor shops. The restaurant, established in 1997, houses seven locations across the Bay Area and is currently headed by Executive Chef Rogelio Jacinto, who has 29 years of culinary experience.
Upon entrance, customers are greeted with the scent of fresh garlic rolls and pizza sauce. Large pizza ovens at the back of the restaurant provide a warmth that emanates through the entire room. A sports bar sits to the left of the entrance, and to the right is the main seating area, which includes tables and booths. The restaurant also provides a patio seating area for those wanting to eat outside.
The rustic interior of Tomatina reflects an ambiance of warmth and coziness. Yellow lamps dangle from the ceiling and cast a welcoming glow across the exposed brick walls of the room. Natural lighting pours in through large glass windows at the front of the restaurant, and the furniture is mostly warm cherry wood, adding to the comfortable atmosphere.
Tomatina's signature dish, the piadine, is composed of a traditional Italian flatbread topped with salad and other vegetables. In addition to their most popular flavor, Caprese, customers can also choose from other flavors of piadine, including Chicken, Caesar, Hummus, Salmon and Steak. Customer favorites also include fresh salads, pasta with homemade sauces and pizza.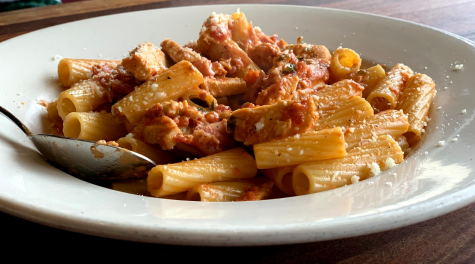 In addition to the base menu, Tomatina offers rotating monthly dishes and desserts that use fresh seasonal ingredients. This month's specials include Winter Pasta, Kale and Romaine Salad, BBQ Chicken Pizza and Lemon Cheesecake.
The seasonal Winter Pasta, which consists of penne pasta, spicy sausage, mushrooms and tomatoes sauteed in a garlic butter sauce, has a zesty taste with a light hint of pepper. Although the pasta had a pleasant flavor, there was quite a bit of excess oil on the plate.
Tomatina's pricing is mostly affordable, with salads and pastas ranging between $11-$15. The menu also includes more expensive options, such as large pizzas with prices upwards of $30.
Overall, Tomatina offers a diverse selection of Italian dishes makes it the perfect place to stop by for the comfort of a home-cooked meal.