Harker community commemorates legacy of former president George H.W. Bush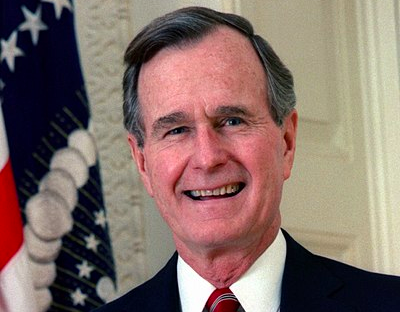 Representative for Texas' 7th District, ambassador to the United Nations, chairman of the Republican National Committee, director of the Central Intelligence Agency — George H.W. Bush wore several hats during his life but was most well-known for his role as the 41st president of the United States.
Bush died at the age of 94 on Nov. 30 at his home in Houston, Texas. He suffered from a type of Parkinson's disease which led to his declining health.
On Dec. 4, his body was transported to the U.S. Capitol for a short service, which was attended by prominent political figures like Speaker of the House Paul Ryan and Vice President Mike Pence. President Trump declared Dec. 6 a national day of mourning, and Bush's memorial service was held at the Washington National Cathedral. Other attendees besides Trump included former presidents Barack Obama and Bill Clinton as well as former first ladies Michelle Obama and Hillary Clinton.
Bush served as the vice president from 1981 to 1989 for Ronald Reagan and was president from 1989 to 1993. His son, George W. Bush, became the 43rd president in 2001.
Although Bush was honorably discharged from the navy in 1945 with the rank of Lieutenant, he continued to have positions relating to the military, notably Commander-in-chief. Upper school math teacher Anthony Silk, who served in the military for a total of 22 years, reflected on Bush's presidency.
"When I joined the navy, I was a pion, and he was the commander-in-chief, which is a big difference," Silk said. "At the time, the big thing going on was the first Iraq war, and from a military perspective, it seemed like it was well-managed, and so I would say at the time I appreciated that the president did not do more than he set out to do…it seems in the long run to be the right choice."
Throughout his presidency, Bush focused on foreign policy as he ordered military operations in Panama and the Persian Gulf, and he also signed the North American Free Trade Agreement (NAFTA). Domestically speaking, Bush also enacted several significant bills such as the Americans with Disabilities Act of 1990 and the Civil Rights Act of 1990.
"I think what I'm most struck by historically is how in history, he's often times just a footnote to Reagan's presidency, especially when we're talking about the Cold War," upper school history teacher Katy Rees said. "But I really think he's had a significant impact in shaping the post-Cold War world, and his vast experience in diplomatic fields gave him that ability to navigate a world that nobody knew how it was going to end up."
Trump has openly criticized some of Bush's political decisions in the past, particularly those revolving around Bush's "gentle" diplomacy tactics.
"Trying peacefully to end the Cold War in a way where we maintain coalitions with NATO, we maintain security with United Nations, I think that's hugely significant, especially when you look at today," Rees said. "A lot of those institutions are being questioned and threatened again, looking back at his legacy that has really highlighted the role that he played."
Bush, who was often called the most successful one-term president, dealt with several challenges during his term, ranging from tackling low high school graduation rates to dealing with an enormous national deficit, which led to years of partisan controversy before finally reaching a conclusion.
"On reflection, there's certainly a lot of good that he did, and then there's a lot of things that were controversial," Silk said. "I don't think that will ever change, but with his passing, we should be at the moment focusing on the positive, and let history focus on the whole picture."
With additional reporting by Gloria Zhang, Sara Yen and Michael Eng.