Serena Williams shines spotlight on sexism, exposes racist media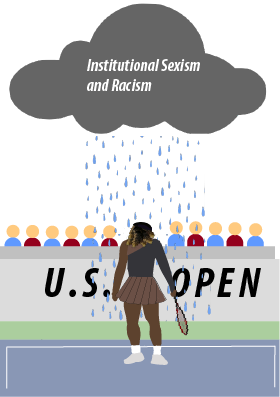 The Women's Grand Slam Tennis Championship was riddled with contentious penalties against tennis superstar Serena Williams, ranging from a coaching violation to verbal abuse. Overshadowing Naomi Osaka's eventual win, Williams brought the issue of sexism to the forefront after calling out umpire Carlos Ramos for allegedly charging her with certain penalties that her male counterparts would not have received. This controversy not only called into question the sport's systemic rulings but also exposed certain media outlets for their crude and racist depictions of the event.
The U.S. Open fined Williams a total of $17,000 for her three in-game violations. Williams received her first violation when Ramos ruled that Patrick Mouratoglou, her longtime coach, was giving her illegal hand signals from off court. Next, she obtained a one-point penalty for smashing her racket. Lastly, Williams was charged with a full game penalty for calling the referee a "liar" and "thief". The last of these charges is extremely uncommon for such an important match as the Grand Slam finals.
Although many say Ramos was simply judging by the rule book, men are often allowed to escape penalties or receive smaller fines while saying similar or worse to referees. Roger Federer for example, was only fined $1,500 compared to Williams' $10,000 for calling an umpire an expletive in the 2009 U.S. Open.
This is not the first time professional tennis has been accused of sexism or a double standard for women. French tennis player Alize Cornet received a code violation a few weeks ago for adjusting her shirt by briefly taking it off when male players such as John Isner and Novak Djokovic were able to stand shirtless on the court without consequence.
The gender pay gap is another discrepancy highlighted in recent years. Although men and women often play side-by-side on the courts and many tennis tournaments, including the Grand Slam, have equal prize money rewards for both male and females, women still earn significantly less than men.
Following the match, Billie Jean King, a former professional tennis player and advocate for gender equity, praised Williams for speaking out on behalf of women.
"I'm here fighting for women's rights and for women's equality," Williams said in a press conference following the match.
Throughout her illustrious career, Williams has faced not only repeated sexism but also racism. The latter was evident, after the Herald Sun, an Australian newspaper, published what they branded as "politically incorrect" satirical cartoons of various political and celebrity figures. Among them was Serena Williams, drawn with distorted facial features and a pacifier at her feet, whereas Naomi Osaka, who is of both Japanese and Haitian heritage, is depicted as what appears to be a blonde Caucasian woman. The cartoon reinforces the "angry black woman" stereotype and feels reminiscent of Jim Crow era drawings, meant to belittle and degrade people of color. Drawing criticism from countless social media users and celebrities such as J.K Rowling, the newspaper defended the cartoon saying that it was "not about race."
By speaking out against the allegedly sexist rulings in her Grand Slam match, Serena Williams spoke for the countless female tennis players who have been the victims of unfair penalties and prejudice. Her actions simultaneously reminded us all that both sexism and racism still thrive, dreading exposure from powerful women of color such as Serena Williams.