Apex: Sophomore fencer plays chess with knives
This installment of Apex features sophomore fencer Ethan Choi's journey to being crowned national champion.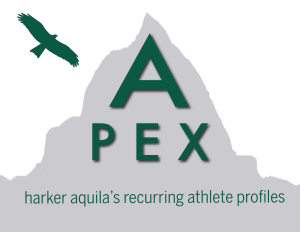 On a raised stage in St. Louis, surrounded by referees, cameras and supporters, two fencers, clad in silver and white armor, stand perfectly still, blades raised, in anticipation for the final point of the national championship title. In the Facebook video, the referee shouts, and the two fencers begin dancing back and forth, the clinking of clashing metal blades and squeaking of shoes filling the air.
This July bout, the final of eight elimination rounds, determines the champion at the USA Fencing Summer Nationals, the largest national fencing competition and often the culmination of a year's hard work for high school fencers across the nation.
Suddenly, the two fencers draw close together. The one on the right attacks, and in a deft movement, almost too quick to notice, his opponent parries and counterattacks, making contact with his weapon.
All at once, a strip on the floor lights up green to indicate a scored point, a roar erupts from the crowd, and Ethan Choi (10) takes off his mask and raises his arms in victory as the 2018 Division III Men's Foil national champion.
And yet, had it not been for George Lucas' Star Wars, none of this would have happened. 
Ethan's fencing journey began six years ago, when, prompted by a desire to mirror Star Wars' lightsaber duels, he and his friends signed up for an introductory fencing lesson on Ethan's birthday. His friends did not develop an interest in the sport, but Ethan stuck with it and began taking lessons at a local club.
Fencing comprises three separate sports with varying rules — foil, epeé and sabre — named for their different weapons. Ethan practices foil, a sport which includes complex rules, such as right-of-way, which necessitate significant mental strategy along with physical agility.
A fencing bout in foil occurs in three rounds of three minutes each, with victory being awarded to the first person to reach 15 points. Points in foil are scored through touches, which are recorded by an electrical scoring system and involve legal contact between a fencer's foil and the torso of their opponent.
"I've heard this before, but it's like chess with knives," Ethan said. "It's great because it combines both your mind and your body. So it's not only about physical strength, but it's about control."
Although he learned quickly, Ethan was stuck in a state of what he described as "mediocrity," always simply an average fencer. At his old club, where he fenced for three years, he lacked sufficient competition to emulate and rise to.
So, hungry to improve, Ethan moved to his current club, M-Team, a prestigious club in San Francisco led by the former Olympian and current head coach for the U.S. Men's Foil team, Greg Massialas. Due to the long drive, he sacrificed — and continues to sacrifice — almost five hours of his day for each practice.
Ethan saw distinct growth in his game after joining the new San Francisco club, improving his footwork and mimicking those better than him. Despite this, he soon began noticing a pattern of inconsistency, with his standout performances marred by several lacking results. Sports-induced anxiety hindered him from consistently placing well in competition, which he struggled with right up to the National tournament.
"The competition before nationals was a pretty big one in Seattle, and I did absolutely horrible. I did worse this time around than I did last year at the same competition," Ethan said. "I know it wasn't true that I didn't improve but it was like, 'What happened?'"
Ethan knew he was capable of fencing much better, backed up by streaks of brilliance like his top-32 performance at the 2017 Summer Nationals as a rising high schooler competing in Cadet Men's Foil against college freshmen. 
"
I just let go of the pressure and I was really on top of the game I've been learning and honing for the past three years at M-Team, and I think that's what really pushed me to get gold."
— Ethan Choi
He also knew he had to regain that control over his mind and overcome his anxiety in order to draw out the side of him worthy of a national champion title.
"I feel like the first event for me was like a warm-up, a wake-up call. The second one was just practicing, going back to the basics," Ethan said. "By the end of that event, I was starting to experiment more. And by the time I got into Division III, I had left all the pressure and the stress behind because I felt like I was in my game, I was in my element."
At Summer Nationals, Ethan went undefeated in six bouts in the pool, or group, stage. He then won seven more direct elimination bouts all by at least 5 points, including a 15-6 upset against the first seed, to be crowned national champion in a definitive 15-8 victory against New Jersey fencer Logan Rechler.
"If your anxiety is getting to you, the pressure is getting to you, it affects how you move, it affects your strategy and all that," Ethan said. "I think at this nationals especially, that final third competition, I just let go of the pressure and I was really on top of the game I've been learning and honing for the past three years at M-Team, and I think that's what really pushed me to get gold."
With his first national title under his belt, Ethan and his coaches believe that he has reached a significant turning point in terms of conquering his anxiety as well as in his broader fencing career, which Ethan plans on continuing internationally.  
"He's very solid, very strong, but sometimes he gets a little too nervous in competition and sometimes he doesn't really believe in himself and I think this last win helped change that," Greg Massialas, Ethan's coach, said. "I never put limits on what fencers have and if he can now turn the corner like he [just] turned the corner, I think he can do all sorts of exciting things and we look forward to what he does."
In addition to attending intensive, multi-week fencing camps over the summer, Ethan finds time to practice three to four times a week during the school year at M-Team, honing both the physical and mental aspects of his game.
"There's always a balance," Ethan said. "I do homework in the car, I've lost a ton of sleep, but it's all worth it."