Students attend 9-day Swiss exchange program
Twelve Harker students traveled to Switzerland in June for the second part of the biennial Swiss exchange program after their buddies visited California months ago.
During their nine-day stay, students attended classes with their hosts at the College de Gambach in Fribourg, a secondary school, visited multiple parts of Switzerland and traveled to natural landmarks, such as Lake Blausee, and other sites including CERN (European Organization for Nuclear Research) and a chocolate factory.
The Harker buddies began their trip in Fribourg, taking classes with their Switzerland hosts and going on a tour of the city. Before their departure to Gruyeres to visit a castle and have some lunch, the buddies visited a chocolate factory, which was considered by many students to be a highlight of the trip. The next stop was Geneva, where students held a lakeside barbecue by Cern Meyrin.
After their return back to Fribourg, the hosts took the Harker students home. The next day, teachers and hosts joined the buddies on a visit to Bern. The second to last day was reserved for a day with the host families, and the last day saw hosts sending buddies off at the airport in the early afternoon.
Students who attended the trip to Switzerland considered it a valuable opportunity to hone their language skills and experience a different culture.
"After taking French for about five to six years, I wanted more of a cultural experience with it, so I felt like going to Switzerland, which has an entirely different culture from what we've been learning about so far, would be a really great opportunity," senior Linus Li said.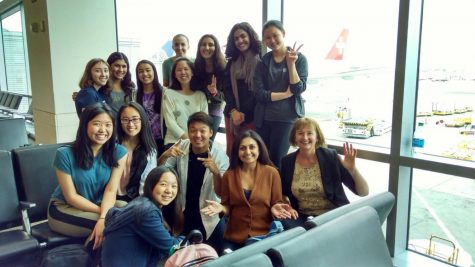 Some Harker students were surprised by the more relaxed lifestyle and view of school in Switzerland.
"Mostly, I feel like we were really into their lifestyle because it was a lot more relaxed than ours," senior Joanna Lin said. "Overall, they have much less homework than we do. Every day that I went to school with [my buddy], we would end up going somewhere in the afternoon, either to a volunteer place or to meet with some friends. When she came over here, I was like, 'Sorry, I have to do tons and tons of homework.'"
Along with scheduled educational events, students had time to explore Switzerland on their own accord, taking trains into different towns and visiting their buddies' friends.
We spent a whole day on the lake by [my buddy's] house," sophomore Annabelle Ju said. "During the weekends, everyone took trains and went with their buddies to whatever they had scheduled."
According to the written responses of students looking back on their experience, these weekend trips that were not scheduled by the schools allowed some students to experience more freedom than usual.
"I think some students explored a different type of life there. They were being independent—with their parties, they could just take a train to go to a different town, so I think for a lot of the younger Harker students, it was quite an interesting experience of being more independent and free," French teacher Galina Tchourilova said.
Many buddies were sure that they would stay in contact, even after the hugging and tearful goodbyes. Some students also assured each other that they would both be welcome in their homes in the years to come.
This piece was originally published in the pages of the Winged Post on September 6, 2017.