Getting to know your student council members
Aside from playing volleyball and being an avid fan of "Gossip Girl," Shania Wang (9), candidate for student council treasurer, also loves to read and write.
"Reading books has helped me explore different universes that wouldn't exist otherwise," she said. "It's like I'm in a different world."
Shania's eighth grade English teacher was a great influence to her love of writing. Her teacher encouraged her to work hard and keep a positive mindset when approaching literature. Shania's favorite genre to read is young adult fiction.
"Some books I really like are "Fangirl" by Rainbow Rowell and "All the Bright Places" by Jennifer Niven," she said.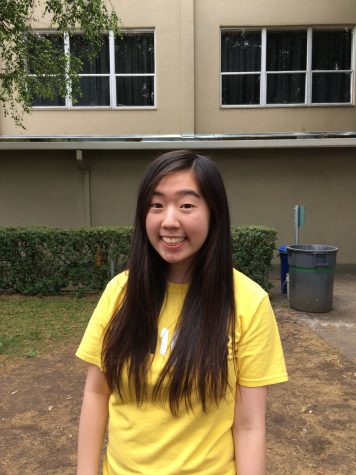 In addition, Shania spends her free time writing novels and stories, and she even won a writing contest in her lower school for a short story.
"I remembering loving reading ever since I was young," she said. "I've always tried writing as much as I possibly can."
As class treasurer, Shania aims to have more fundraisers with different types of food that are not commonly sold and increase the freshman class fund to $3500.
"I think our class is definitely one of the most spirited and outgoing grades this school has ever seen," she said. "I'm going to work hard to make next year one to remember."
Darren Gu (10) is running for sophomore vice president. He thinks that students should participate in school activities to have memorable experiences. By working with the club coordinator, Darren hopes to implement vice presidents to club involvement next year.
"Being a vice president is all about making experiences," he said. "I think it's similar to building a nest because a lot of what you do in life is all about persistence and it's like building a nest for the students, little by little."
Darren also likes to spend his free time appreciating nature, for instance climbing trees and relaxing under the stars.
"Sometimes during the weekends, at night, I go to my local park at midnight. I'll bring my blanket with me and lie down on a grassy area at the park," he said. "It really gives me a great mood when I'm looking at the stars. I simply look at the stars and think about life and just imagine anything I want to imagine."
Darren believes that there is beauty all around us, and he wants to spend more time appreciating the world.
"I think all of us notice the beauty of nature in our lives. Sometimes I feel like we lose sight, especially when we're overloaded with schoolwork and life. I feel like people often fail to see that beauty in nature is literally right in front of their face, especially our campus."
Srivatsav Pyda (11), who is campaigning for vice president of the junior class for the 2016-2017 school year, enjoys playing basketball, participating in Harker's debate club and listening to hip-hop in his free time.
"This all started in sixth grade when my older brother introduced me to Eminem. Hip-hop music kind of led to my brother and I bonding over our shared hobby."
Hip-hop music and culture have been a passion Srivatsav has pursued throughout the past few years. Some of his favorite artists include Dead Prez, Nas and ASAP Mob.
"Nobody really knows that I like hip-hop, but I listen to it a lot," Srivatsav said. "I actually run a Facebook hip-hop page with Shasvat Jawahar (11), and it's called Hippity-Hop Daily."
Srivatsav and Shasvat's Facebook page consists of song recommendations, quotes and hip-hop news articles. They update the site weekly to keep content fresh and to bring new finds to their audience.
"I like to think I'm a pretty creative guy, so music kind of helped bring that side out of me."
Srivatsav dreams to own a record label one day and explore his interests in hip-hop and other genres.`