by Aditya Singhvi, Anna Vazhaeparambil, and Shreya Srinivasan

May 18, 2019
Monta Vista has won the Division 1 NorCal championship to defend their title 22-25, 25-23, 19-25, 25-19, 15-13. Be sure to catch our game recap, coming soon to Harker Aquila. 4:14 p.m. The CIF Norcal Division awarded Jeffery with the Pursuing Victory with Honor award, and CIF NorCal runner-up medals...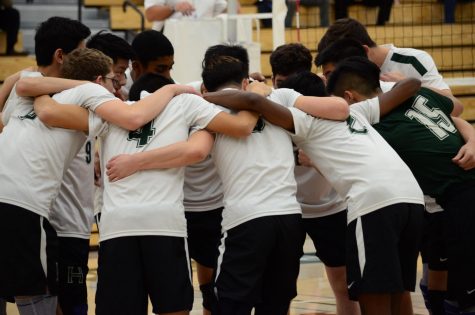 by Anna Vazhaeparambil, Asst. Sports Editor

May 14, 2019
After a close three sets, the varsity boys volleyball team defeated Northgate High School 25-20, 26-24, 25-13 in the first round of Division 1 NorCal Championships on Tuesday, qualifying to play in the semifinals on Thursday. Head coach Chad Gordon credited the team's consistency as one of the ...
by Aditya Singhvi, Sports Editor

November 5, 2018
The Eagles lost a five set match to Notre Dame-Belmont 17-25, 25-21, 25-17, 22-25, 14-16 in the varsity girls volleyball CCS Division IV finals. Despite the loss, the Eagles still qualify for the NorCal tournament, to be held next week.