Seniors and sophomores met with their Eagle Buddies for the first time this school year on Sept. 22, with sophomores visiting the Bucknall campus and seniors meeting their buddies at the upper school.
The seniors gathered with their fifth grade Eagle Buddies at around 11 a.m. in the Zhang Gymnasium before heading off to Davis Field to eat lunch, choosing from pizza, chicken tenders, watermelon slices and an assortment of brownies and blondies. After groups caught up with one another, they participated in activities around campus like slime-making, face painting, board games, friendship bracelet-making and field games.
Jack Yang (12), who played in a soccer game of lower schoolers versus high schoolers during the Eagle Buddies event, shared his enthusiasm for the program.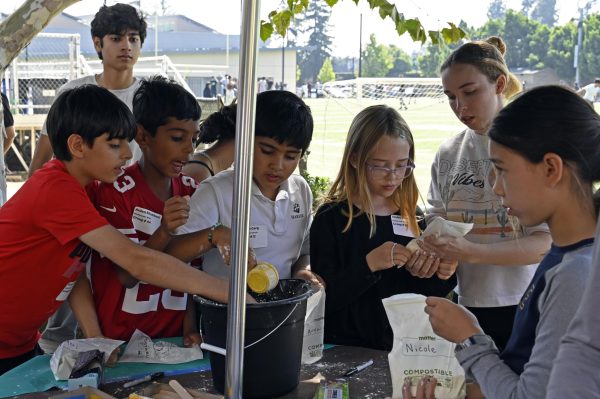 "Two weeks ago I thought that Friday was Eagle Buddies, so I was really excited, but when I found out it was two weeks later, I was disappointed, so I was really looking forward to this Friday," Jack said. "Something I like about the program is that you just get to be a kid again."
After taking buses to the lower school campus at around 11:10 a.m., sophomores met their third grade buddies for the first time on the Bucknall blacktop. Each of the 55 Eagle Buddy groups consists of three or four sophomores and two third graders. Students chatted to get to know one another before heading to the field for lunch, where they ate pizza, salad and popsicles.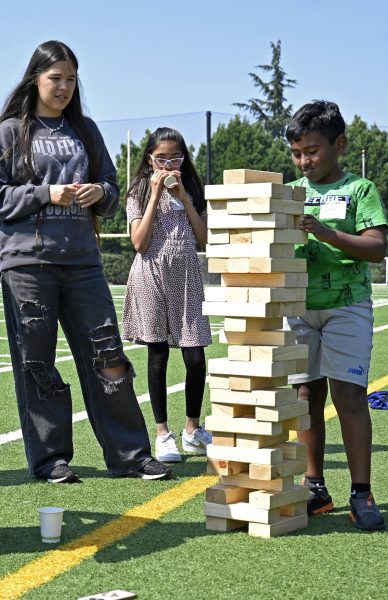 Following lunch, the students engaged in a variety of recess activities, such as playing tag, making friendship bracelets, coloring in coloring books and playing board games. Tanvi Sivakumar (10) noted that the event taught her how to bond with younger children. 
"I thought [meeting with Eagle Buddies] was really fun," Tanvi said. "I found out that I actually love to be around kids, and I learned how to be more outgoing and talkative with little kids [so that I can] take care of them better."
Pavith Khara (10) reflected on her experience and her excitement for future Eagle Buddy events.
"I'm looking forward to watching my Eagle Buddies get older and talking to them about their elementary school experiences because it brings back good memories," Pavith said. "It was really fun to just get to know them and learn about what their lives are like." 
After the recess period, groups went to the auditorium for an announcement about upcoming Eagle Buddy events before saying goodbye to their buddies. The sophomores departed from the Bucknall Campus at 1 p.m. before heading off to sixth period. 
The Eagle Buddy program reinforces Harker's sense of community and mentorship among high school and lower school students.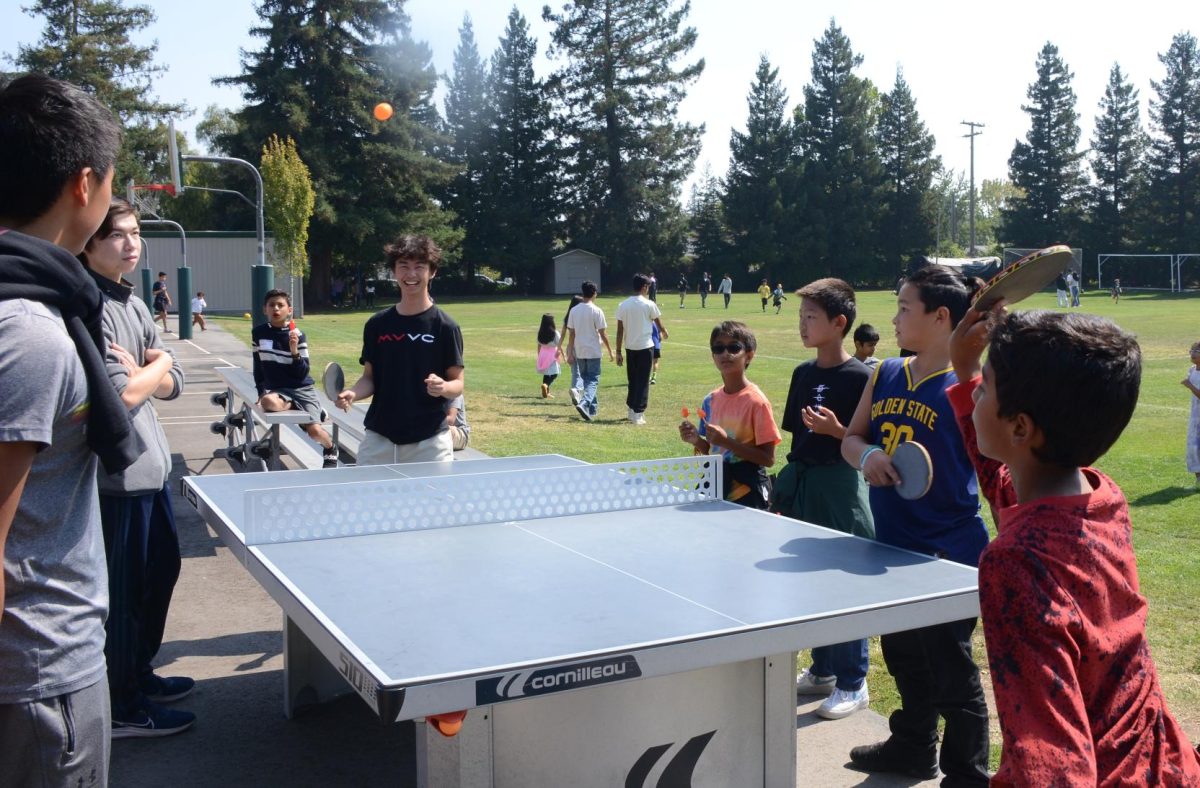 "Eagle Buddies is really fun because I get to interact with people I don't usually interact with," Jack said. "[The Eagle Buddies] are interesting because their perspective is very different from ours."